2014: A Year in Review at Rutgers
As we look forward to 2015, Rutgers Today takes a look back at the milestones, achievements and big stories of 2014. The following stories and videos are not intended to be comprehensive and all-inclusive but to bring back memories and remind all of us that Rutgers is a vibrant and diverse place to live, work and study.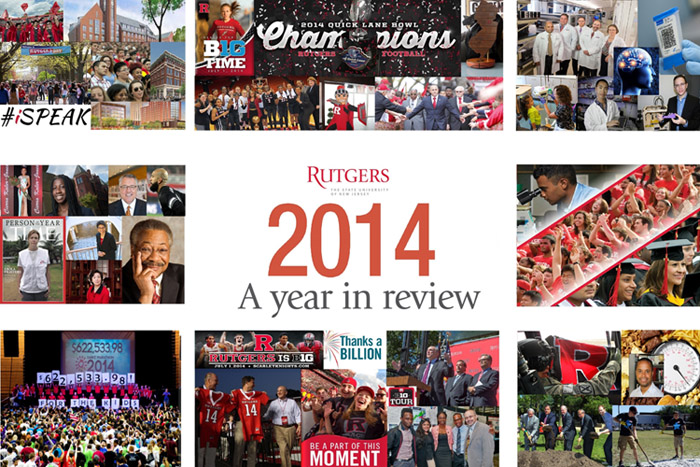 (Photo Montage Credit: Connor Montferrat)
 
TOP HEADLINES

Find out where Rutgers ranks among the world's top 1,000 universities in a new report by the Center for World University Rankings.
---

Rutgers Alumna Among Ebola Fighters Named Time Magazine Person of the Year
Ella Watson-Stryker was selected to exemplify the frontline workers who are risking their lives to save others and help contain the epidemic.
---

Rutgers Receives $10 Million Pledge to Advance Treatment of Cancer Patients
The two-year gift will support precision medicine approach involving clinical practice, research and teaching; clinical trials will benefit patients with rare and resistant cancers.
---

Rutgers football wins its sixth bowl game, defeating the North Carolina Tar Heels in its inaugural Big Ten season.
---

Rutgers Launches Survey to Assist White House Campaign to End Sexual Assault
Students in New Brunswick have an opportunity to be part of the national effort to eliminate sexual assault at colleges and universities. Read President Barchi's USA Today op-ed.
---

Rutgers Launches Campaign to Create Gloria Steinem Endowed Chair in Media, Culture and Feminist Studies
The new chair will focus on the creative and complex ways information technology and new media are changing society by reshaping culture and power relationships.
UNIVERSITY EXPANSION and ENHANCEMENT

Rutgers' College Avenue a Hub of Major Construction
Work is underway on the residential honors college, which is scheduled to open in fall 2015 and a new academic building and a 500-bed student apartment complex, both of which are scheduled for completion in 2016 to coincide with the 250th anniversary of the founding of the university.
The four-story, 145,000 square-foot facility will enable Rutgers to expand and accelerate its innovative research in drug design, alternative energy, biomaterials and nanotechnology.
---

Rutgers Launches Institute for Emergency Preparedness and Homeland Security
The institute – through Rutgers' resources and public-private partnerships – aims to thwart terrorism, prevent large-scale accidents and protect people and property in the event of attacks and disasters.
---

A New Life for a Landmark Building
A classic Newark structure will soon be turned into student housing and the Rutgers University-Newark chancellor's residence.
---

Read about several new services that will benefit library patrons as a result of Rutgers' membership in the Committee on Institutional Cooperation, including priority borrowing from libraries across the Big Ten.
---

Rutgers Recognized for Strides in Global Engagement
The award, named for the late Senator Paul Simon, recognizes the university's significant strides in providing a global education to its students, tackling global challenges through research and working with diverse communities at home and abroad.
---

Digital Studies Center Launches
The new center in Camden supports projects made possible by the convergence of digital technologies with the humanities, and the natural and social sciences.
---

Rutgers architect Elizabeth Reeves Lindh is helping the university get ready to celebrate its 250th anniversary by overseeing the restoration of some of Rutgers' oldest buildings.
RESEARCH HIGHLIGHTS

Zebrafish Help Rutgers Researchers Learn About Cancer Treatment
Thanks to zebrafish, scientists at the Rutgers Cancer Institute of New Jersey are working to create treatments tailored to individual patients.
---

Rutgers Scientists Discover New Link to Alzheimer's Disease
Rutgers researchers say exposure to DDT may increase the risk and severity of Alzheimer's disease in some people, particularly those over the age of 60.
---

Rutgers Researcher Studies Ice Worms to Help Extend Organ Life for Transplants
Donated organs must be transplanted into recipients during a very small timeframe, but that window could be extended by increasing ATP levels while the organ is on ice.
---

Rutgers Scientists Identify Structure of Virus that Could Lead to Hepatitis C Vaccine
Joseph Marcotrigiano describes an outer region of hepatitis C that enables the virus to evade the body's natural immune system response, causing persistent, chronic infection.
---

Rutgers Receives NIH Grant to Develop Rapid Ebola Test
David Alland is working to develop a test that could quickly diagnose patients in remote locations where the spread of Ebola has been rampant.
---

80 Years After First Sighting, New Frog Species is Confirmed
A Rutgers researcher and team of scientists have proven that a new frog species is living in wetlands from Connecticut to North Carolina.
---

Discover what a Rutgers study found out about the link between a wife's happiness in a long-term marriage and the happiness of her husband. Hint: Keep your wife happy.
---

Improving Babies' Language Skills Before They're Old Enough to Speak
When babies begin to distinguish sounds that make up language from all the other sounds in the world, they can be trained to more effectively recognize which sounds "might" be language.
---

Paving the Way for a Parkinson's Cure
James M. Tepper hopes to use a $3.4 million NIH grant to help speed the cure for Parkinson's, which affects more than 6 million worldwide.
---

Social Media and the 'Spiral of Silence'
A Rutgers study found that users of social media are reluctant to discuss political issues on sites such as Facebook and Twitter.
STUDENT EXCELLENCE

Believing in the Class of 2014
Former Gov. Tom Kean and football player Eric LeGrand encouraged thousands of Rutgers graduates to work together to change the world. Check out our Storify and read our story for the speakers' inspiring words.
---

The Class of 2018: Diverse, Accomplished and Largest Ever
One played a lead role in a hit Broadway musical. Another competes internationally in freestyle skiing. Yet a third has had an article published in a peer-reviewed journal.
---

A New Face for Rutgers Student Government
Kristine Baffo is the first African American, the first woman and the first Douglass Residential College student to serve as president of the Rutgers University Student Assembly.
---

Rutgers Physics Student Wins Prestigious Churchill Scholarship
Senior David Kolchmeyer is one of 14 American students awarded a full ride for graduate study in the sciences, engineering and mathematics at the University of Cambridge.
---

After Chaotic Years in Foster Care, Social Work Student Finds a Home at Rutgers
Fewer than 3 percent of foster kids nationally go on to college. Despite those odds, Gina Pearson, a senior social work major, has excelled at Rutgers, her first real home.
---

An Undergraduate's Life-Changing Research Experience
Katherine Lau led a team that created a prosthesis for a 4-year-old girl thanks to the Douglass Residential College's STEM summer stipend program.
---

Rutgers Medical Student Wins Mitchell Scholarship for Graduate Study in Ireland
Thomas Golden's interest in promoting public health was sparked by his great-grandmother's grim recollections of the 1918 Spanish influenza pandemic in Ireland.
---

An Inspirational Journey to Research the Stars
A Rutgers graduate student spent a month at the Vatican Observatory working alongside notable astronomers in a life-changing trip that was capped off by an audience with the pope.
---

Rutgers Journalism Students Receive Big Ten Network Award
What began as a class project is now among five student-produced stories to receive the Big Ten Network's first LiveBIG Student Solutions Journalism Award. Learn about the students' project.
---

Three Rutgers students earned the Barry M. Goldwater Scholarship, awarded for excellence in mathematics, science and engineering. Find out about their research in galaxy evolution, nerve cell reshaping and protein modeling.
---

Senior Benjamin Chin knows firsthand the power of peer support to help young people overcome addiction. Chin is Rutgers' second Luce Scholar, a fellowship program that blends professional experience with cultural immersion in Asia.
---

Bringing Dental Care to Ghana and Beyond
Senior Kwame Otuo-Achampong started a nonprofit to provide dental tools and the know-how to use them to the millions living without both as part of the Changemaker Challenge.
---

Senior Brian Robles applied to be part of the first colony on Mars, undeterred by the fact that he would never be able to return to Earth.
---

Rutgers' SCREAM Theater Program Focuses on Preventing Sexual Violence
Rutgers students are taking to the stage in an effort to prevent sexual violence on campus and use improv to show the impact of a sexual assault on those involved.
FACULTY and TEACHING

Rutgers Business School Strengthens Recruiting Power with $3 Million George Farris Chair in Entrepreneurship
This newly endowed faculty position honors the memory of a revered professor and dean and will enhance the school's recruiting power.
---

Rigoberto González Wins 2014 Lenore Marshall Poetry Prize
Awarded by the Academy of American Poets since 1994, this award recognizes the most outstanding book of poetry published in the United States in the previous year. Unpeopled Eden also won the 2014 Lambda Literary Award for Gay Poetry.
Donald L. McCabe believes academic integrity is important beyond the classroom. Learn about an award created in his honor as he prepares to retire.
---

Big Ten Benefits in the Classroom
Rutgers' membership in the Committee on Institutional Cooperation is opening up opportunities for students to take courses in less commonly taught languages and cultures.
---

Two Professors Named Fellows of Top National Science Association
Rutgers professors are among 401 members of the American Association for the Advancement of Science who have been elevated to the rank of fellow in the pre-eminent organization.
---

Darrin York Named New Jersey Professor of the Year
How do you give personal attention in a lecture class with 400 students? Find out how the Rutgers chemistry professor does it.
---

From Auschwitz Prisoner to Rutgers Scientist With an Enduring Mission
Professor and holocaust survivor Joel L. Lebowitz traveled to Paris to accept the prestigious "Grande Médaille" from the French Academy of Science.
---

Rutgers Physicist Elected to American Academy of Arts and Sciences
Named a MacArthur Fellow in 1987, theoretical physics expert Daniel Friedan has been elected to membership in one of the nation's most prestigious honorary societies.
---

Former President Richard L. McCormick discusses his lifelong connection to Rutgers and his time leading the university at a reading of his new memoir.
GOVERNANCE and ADMINISTRATION

Rutgers University Board of Governors Adopts University's Strategic Plan
The plan outlines ambitious aspirations for Rutgers' future – from faculty excellence and the student experience to infrastructure improvements and more aggressive alumni fundraising. Read about the strategic plans for Rutgers University-Camden and Rutgers University-Newark and Rutgers Biomedical and Health Sciences.
---

Introducing the New Chancellor of Rutgers University-Camden
Phoebe Haddon increased student scholarships, recruited and retained nationally known faculty and increased the diversity of student enrollment as dean of the University of Maryland's Carey School of Law.
---

Now, Officially, the Rutgers School of Nursing
Rutgers' College of Nursing and School of Nursing officially combined on July 1. The consolidation is expected to enhance collaboration and research opportunities.
---

Greg Brown Elected Chair of Rutgers Board of Governors
Greg Brown, a public governor whose term expires in 2017, had been vice chair of the Board of Governors. He earned a bachelor's degree in economics from Rutgers' Livingston College in 1982.
Peter March is an eminent mathematician with 16 years of experience as an academic administrator. March previously taught at The Ohio State University and served as divisional dean of natural and mathematical sciences.
---

Rutgers Names Wanda J. Blanchett Dean of the Graduate School of Education
Wanda J. Blanchett is a veteran administrator known for building bridges between universities and their host communities. She previously served as dean of the School of Education at the University of Missouri-Kansas City.
---
National Counterterrorism Expert Joins Rutgers School of Criminal Justice
John Cohen, who served as one of the federal government's leading counterterrorism experts, joined Rutgers to teach and serve as a senior adviser to the university's new Institute for Emergency Preparedness.
---

Gary Aston-Jones Named Director of Brain Health Institute
Gary Aston-Jones is considered one of the world's top neuroscientists. He has conducted seminal studies into brain systems that contribute to disorders such as attention deficit hyperactivity disorder (ADHD), autism, addiction, and Alzheimer's and Parkinson's diseases. 
---

Rutgers Business School-Newark and New Brunswick Appoints New Dean
Lei Lei is a longtime Rutgers professor and internationally recognized expert in supply chain management. Her contributions to the university include serving as founding director of the Center for Supply Chain Management and founding chair of the Department of Supply Chain Management and Marketing Sciences. 
---

New Dean for School of Criminal Justice
Internationally renowned criminologist Shadd Maruna was director of the Institute of Criminology and Criminal Justice at Queen's University in Belfast, Northern Ireland.
---

Economist Appointed First Paul Profeta Chair in Real Estate at Rutgers Business School
Morris Davis, a real estate and urban land economics professor from Wisconsin Business School, was chosen to help build Rutgers into a leading center for real estate studies and research.
PARTNERSHIPS and COMMUNITY INVOLVEMENT 

Record Crowd Enjoys Rutgers Day 2014
A record 84,000 people came to Rutgers Day to enjoy more than 500 programs and performances, as well as tasty food. Check out the Storify page and the Countdown to Rutgers Day blog for highlights.
---
$1.5M Gift from Embrace Kids Foundation Supports Endowed Chair at Rutgers Cancer Institute of New Jersey
The pledge from the Embrace Kids Foundation supports the recruitment of an academic leader and research in pediatric cancer and blood disorders.
---

Mellon Foundation Endows First Philosophy Chair at Rutgers
The new faculty position will be used to recruit a top philosopher for the highly ranked department. The Mellon Foundation has provided support over the past five years, allowing the philosophy department to enroll progressively stronger graduate classes, and enabled those students to complete important research. 
---

Rutgers Provides Free Dental Care to Underserved Children on 'Give Kids A Smile' Day
Give Kids a Smile often marks a youngster's first dental visit, sometimes several years after their first birthday, something the organizers would like to see change.
---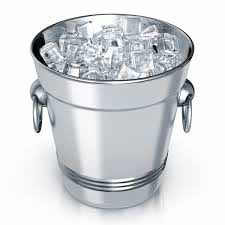 Rutgers Leadership Accepts Ice Bucket Challenge
Rutgers President Robert Barchi, joined by chancellors Richard Edwards, Nancy Cantor, Phoebe Haddon,and Brian Strom, accepted the #ALSIceBucketChallenge to raise awareness for medical research. Take a look.
---

Rutgers Future Scholars Changed One Family's Life
Four siblings in the Velez family were accepted into the program that helps low-income students get ready for college and then covers tuition and fees – if they are admitted to Rutgers.
Between 50 and 70 youth spend five weeks not only increasing their proficiency in the arts, but also their cultural understanding and critical thinking skills through team-building, workshops and discussions. 
---

Rutgers-NJTransit Partnership Gets Riders with Disabilities Where They Need to Go
The one-on-one program trains people with disabilities to use trains, buses and light rail in seven North Jersey counties: Essex, Union, Morris, Somerset, Bergen, Passaic and Hudson.
---

The annual Winter Classic Hockey Game pits Rutgers medical students againsts dental students in support of medical-related charities.
---

World Cup Superstar Tim Howard Inspires Tourette Syndrome Program
The leadership academy the North Brunswick native helped create at Rutgers will provide teens with skills to handle daily challenges.
---

A Boost for Underrepresented Health Care Workers
Learn about a partnership between the Rutgers School of Nursing-Camden and Cooper University Health Care to encourage health-care paraprofessionals from underrepresented populations to pursue nursing careers.
---

Rutgers Assists U.S. Navy in Re-Establishing Naval ROTC at Princeton
Under a new crosstown agreement among the Navy, Rutgers and Princeton, active duty Navy and Marine Corps instructors will teach Princeton NROTC midshipmen on the campuses of both universities, providing students an opportunity to earn a commission in the U.S. naval service.
---

Piano Helps Autistic Children Find Their Voices
Rutgers instructor Karen Kowalski teaches piano as a form of therapy for children with special needs.
ALUMNI
Rutgers Announces Hall of Distinguished Alumni 2014 Honorees
Five notable graduates were inducted during the 27th annual awards gala in May. Among them are a Tony award-winning playwright and lyricist and a NASA-recognized mechanical engineer.
---

Matt Rothenberg has fulfilled his dream of making it to the National Baseball Hall of Fame and Museum. Find out what he does in Cooperstown.
---

Vivian Salama oversees the coverage of the escalating Middle East tensions as Baghdad bureau chief for The Associated Press.
---

Rutgers Alum Named U.S. Botanic Garden's New Director
Working at a Renaissance era estate in Italy led Ari Novy to a doctoral program at Rutgers and a career path in plant science.
---

Chief J. Scott Thomson credited for a nearly 30-percent drop in crime in Camden, a city long considered one of the most dangerous in the country.
---

Two Graduates Win Soros Fellowships
Natalie Jesionka uses film to fight human trafficking. Mike Alvarez employs communications to raise awareness about mental illness.
IN MEMORIAM

Clement A. Price, Beloved Rutgers Professor, Dies at 69
Price, a nationally recognized historian, author and scholar, taught undergraduate and graduate courses that spanned U.S. history.
---

Carolyn Rovee-Collier, Pioneer Who Proved Infants Can Learn, Dies at 72
Rovee-Collier's groundbreaking work led to a new understanding of the capacity of babies to learn.
---

Peter Rona, Renowned Explorer of the Deep Ocean, Dies at 79
Rona served as a science director of Volcanoes of the Deep Sea, an IMAX film that took viewers down to deep-sea vents in the Atlantic and Pacific oceans.