When one steps into the spacious Philadelphia office of U.S. Attorney Jacqueline Romero and glances out her floor-to-ceiling windows, it is impossible not to be impressed with her vantage point overlooking Independence Hall, the hallowed landmark where the U.S. government took shape. How does she feel about the view? "I'll be honest with you—I'm going to choke up just talking about it," says Romero NLAW'96. She pauses and gathers herself before telling the story of her grandfather Diego, a fisherman from Spain who immigrated during the Great Depression. "He came alone at the age of 16," she says. "Because of the promise of our Constitution, he felt like he was going to have a fair shake here and be able to make a life for himself, and he would be treated with equal justice and all the things that our Constitution stands for. For me to be here today, looking out on this building and doing the job that I do, is the biggest privilege of my lifetime." 
Listen to a conversation with U.S. Attorney Jacqueline Romero and Rutgers Law School Co-Dean Kimberly Mutcherson in The Power of Attorney podcast. 
The job that she has been doing since last summer is serving as U.S. Attorney enforcing the Constitution and federal laws in the Eastern District of Pennsylvania, one of the nation's largest districts. Her appointment is groundbreaking. "This office that I sit in has been in existence since the days of George Washington," Romero says of the position created in 1789. "In 233 years, there has never been a woman, a Hispanic, or an openly gay individual appointed by the president to this position." 
She says that many interviews she has granted have emphasized her firsts and that she is often approached by strangers who congratulate her. "It is historic," she says. "I can't tell you how many times I have just walked down the street and strangers have come up and wanted to hug me—literally hug me on the street. That's amazing. I respect what it means to people."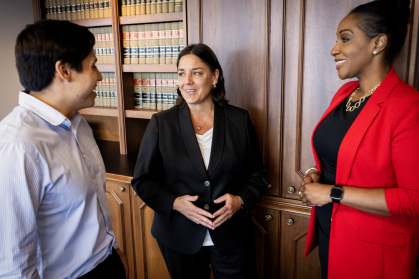 Although she gets choked up when talking about her grandfather and receives guests and staff members with genuine warmth and kindness, she is no softy. An experienced and accomplished trial attorney and an athlete who played competitive rugby and team handball, Romero is resolute, confident, and clearly in control. "I really enjoy helping people, and I enjoy going after bullies," she says. "When people are being bullies, it really gets under my skin." 
As the chief federal law enforcement official in charge of all federal prosecutions and civil litigation involving the United States in the district, Romero supervises 140 Assistant U.S. Attorneys and a staff of equal size. The district includes Philadelphia and covers nine counties with a population of more than five million people. Her office addresses a vast range of crimes: gun violence; the flow of fentanyl, opioids, and other drugs; domestic and international terrorism; financial fraud; corrupt officials; and the exploitation of vulnerable communities. Although it sounds overwhelming, Romero is undaunted. "I thrive on it, and I enjoy the challenge."  
Born and raised in Tenafly, New Jersey, Romero worked in the family's diner, Romero's Restaurant, where her father was the short-order cook and where she devoured newspapers as a child during downtime. At age 5, Romero declared that she would one day be a judge. 
After graduating from Trenton State College in 1993 (today, The College of New Jersey), Romero enrolled at Rutgers Law School in Newark, drawn to the school's Minority Student Program. "From the first day, it was like I had walked into a family gathering," she says. She credits the program with helping her get started in the legal field where women and people of color are vastly outnumbered. "The program does a tremendous job of not only making students feel welcome on day one, but also providing them with a roadmap of how to study and how to be successful." 
Two legendary Rutgers law professors were major influences on Romero. She took classes with Arthur Kinoy, who had been a lawyer for the Chicago Seven (antiwar protestors arrested during the 1968 Democratic Convention) and was a force in the civil rights movement. Romero often gave him a ride home to Montclair, New Jersey, where both lived, occasions when the two fell deep into discussions about legal cases. "I always joked that I was going to publish a book one day called 'Riding With Arthur,'" she says of the late Kinoy. "Those stories were life-altering for me." 
Professor Al Slocum NLAW'70, a founder of the law school's Minority Student Program who held positions as New Jersey's public advocate and public defender, demanded intense research on cases that he assigned. "If he called on you and you hadn't done all of that work, he'd throw you out of class," Romero says of the late Slocum. "He was really an institution and a formidable human being. He is the person who made me so meticulous and so organized and so hardworking because his class absolutely required you to be up past midnight almost every night getting prepared. He is probably why I am here today: because of my work ethic." 
Slocum encouraged Romero to start a law journal after she complained to him that there were very few diverse law reviews. "He said that in the future when people look back on history, they will look to law reviews to understand the legal issues of the day," she says. "If the voices of diverse people don't exist in those journals, their history will never be told." Inspired by his words, she worked with other law students and launched the Rutgers Race and Law Review, which debuted in 1996, the year Romero graduated. It remains in publication. 
Romero decided that she wanted to become a U.S. Attorney during her first year of law school after attending a career panel on campus that included Alberto Rivas NLAW'85, who was an Assistant U.S. Attorney (and is now a New Jersey Superior Court judge). "He was fired up about being an Assistant U.S. Attorney, being able to not only prosecute criminals but also have the prosecutorial discretion to make sure you're going after the right people for the right reasons," she says. "The tagline on my emails to my folks today is, 'Do the right thing for the right reasons.'" 
After graduation, Romero worked in a private law firm for a year before joining the U.S. Department of Justice in Washington, D.C., as a trial attorney in the commercial litigation section. She joined the U.S. Mint in 1998, serving as senior counsel before becoming an Assistant U.S. Attorney in 2006 in the district she now oversees. Romero's illustrious career has included several high-profile cases, among them a complex false-claims suit that led to a $422 million settlement with the Swiss pharmaceutical company Novartis. The most satisfying case in her career thus far, she says, was recovering 10 rare double-eagle $20 solid-gold coins—worth as much as $80 million today—that were stolen from the U.S. Mint in the 1930s. After an extended investigation and legal action that garnered worldwide media attention, Romero proved that the coins, which were in the possession of a family, had been stolen. The coins were returned to the U.S. Mint. "That case ate up 11 years of my life," she says. "These coins quite literally are a national treasure." 
Romero was appointed by President Joe Biden in April and confirmed by the U.S. Senate in July, gaining the support of Pennsylvania's two senators, one a Democrat and the other a Republican, and resulting in a unanimous vote—a rare agreement between the two political parties. "I'm someone who's a prosecutor and is tough on crime in a lot of ways," she says. "That probably spoke to both sides. I'm appreciative that they could both get behind that." 
Having had excellent mentors in law school and early in her career, Romero returns the favor by counseling law students, including those in the Rutgers Law School Minority Student Program. "It's particularly important for young minority students who don't come from legal backgrounds, money, and means, and who don't have mentors," she says. "It's important to embody success and model it for them." 
Romero has served as the president of the Hispanic Bar Association of Pennsylvania and on the board of the Philadelphia LGBTQ  Bar Association. "I've committed to those organizations simply because I am Latina and I am gay," she says. "I feel a commitment to giving back to people in the community, and those are organizations that I associate with by virtue of my background."  
Although she competed with the U.S. Olympic handball team in 2001, she passed on the option to practice full time with the squad because of work obligations, and she has given up rugby. She's an avid New York Yankees fan and has a seat saved from the old Yankee Stadium displayed behind her desk—a souvenir that doesn't always go over well in the Philadelphia office full of Phillies fans. 
Romero still wants to fulfill her childhood declaration of becoming a judge. "That's like saying you want to play for the Yankees," she says with a laugh. "That's between the senators and the president. But that will always be a goal."  
In the meantime, though, she says she wants to connect with the residents she serves. "I would love for people to look back and say, 'She was the people's U.S. Attorney.'"