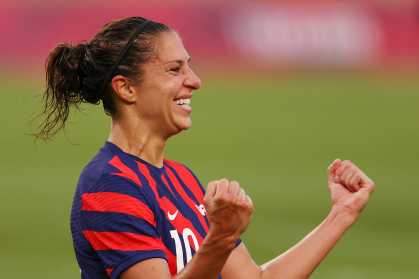 After a remarkable career as a professional soccer player that featured memorable performances in international competition, alumna Carli Lloyd retired in the fall. Lloyd RC'06 played in four World Cups, with the U.S. women's national soccer team victorious in 2015 and 2019, and four Olympics, winning gold medals in 2008 and 2012 and a bronze in 2021 (scoring two goals in her last Olympic match and bringing her total to 10, the most by an American).
A former FIFA World Player of the Year, she was one of the U.S. team's career leaders in goals, games, and honors. Her 128 goals rank fourth on the team, and Lloyd's appearance in 312 international matches places her second. She may be best remembered for her performance during the 2015 World Cup, when she scored three goals in the championship game to beat Japan, 5–2.
Lloyd made her debut on the national team at age 23, after playing with the Scarlet Knights from 2001 to 2004. She holds records for career points, goals, and shots and is a member of the Rutgers Hall of Distinguished Alumni and Rutgers Athletics Hall of Fame.