Women's participation in public office has grown over the past half century—thanks, in no small part, to the Rutgers Center for American Women and Politics, which is celebrating its 50th anniversary.
Television viewers watching President Joe Biden's State of the Union Address in March could not help but notice that he was sharing the dais with two of the most powerful officials in the U.S. government: Vice President Kamala Harris and Speaker of the House of Representatives Nancy Pelosi. The sight of them was a testament to how far women have come in attaining public office in the past 50 years. Back in 1971, when Ruth B. Mandel and Ida F.S. Schmertz launched the Center for American Women and Politics (CAWP) at Rutgers University–New Brunswick with a grant from the Ford Foundation, they faced questions about whether their work was necessary. Although only 15 women were serving in the U.S. Congress at the time, Mandel and Schmertz recognized that feminism's second wave was beginning to crest and were confident that more women would be elected to office and that like-minded scholars would be drawn to the new center.
Fifty years later, CAWP, part of Rutgers' Eagleton Institute of Politics, is nationally recognized as the leading source of scholarly research and data about women's political participation in the United States, which now includes 145 women serving in the 117th U.S. Congress. Its pioneering research laid the groundwork for Rutgers' doctoral program in women and politics, the first of its kind in the country. And the center's education and outreach programs—including Ready to Run, a primer for women considering public office—address women's underrepresentation in political leadership locally and nationally.
"The world has been remade in the 50 years since our founding," says Debbie Walsh, who joined CAWP in 1981 and has served as its director since 2001. "Women have gone from being political outliers, afterthoughts, to taking their place in offices at every level across the country. That trajectory, mirrored in our own growth and evolution, has been astonishing to witness." (Watch Rutgers president Jonathan Holloway interview Walsh in the Faces & Voices of Rutgers video series.)
As an undergraduate at SUNY Binghamton University in the late '70s, Walsh GSNB'80 came upon an article about CAWP buried in the Style section of The New York Times. Walsh, a native of Manhattan's Greenwich Village who was raised on a diet of politics and feminism, planned to pursue law school and activism. But the thought of studying near a unique center dedicated to women in politics prompted her to ditch that plan for a new one: earn a master's in public policy from Rutgers through the Eagleton Institute. Walsh's official arrival at CAWP as a staffer coincided with the center's 10th anniversary plans to host its second national conference.
 "We heard from women who said, 'We are all alone in our institutions, in our state chambers. We want to talk,'" says Walsh. "That's when we launched our national Forum for Women State Legislators. There were upward of 1,000 people, including journalists and activists, talking about women's political participation, policy, and process issues. We brought them together when nobody was bringing them together. That role was critical in shaping not just their experience, but also policy."
Under Mandel's directorship until 1995, the center hosted conferences, tracked demographic and biographic information on elected women leaders, and asked questions that still guide the center's mission: What barriers prevent women from entering politics and how do we overcome them? As CAWP's director, Walsh oversees the center's multi-faceted programs, including Teach a Girl to Lead®, NEW Leadership®, and Ready to Run®, which, respectively, speak to girls, college students, and women to provide them with the resources to become effective leaders in the political arena.
The bipartisan programs have prepared thousands of women for political engagement in New Jersey and at dozens of institutions around the country where the programs have been replicated. New Jersey's only woman governor, Christine Todd Whitman, is among the notable figures who have worked with Ready to Run participants, students in the NEW Leadership program, and CAWP's women and politics undergraduate classes.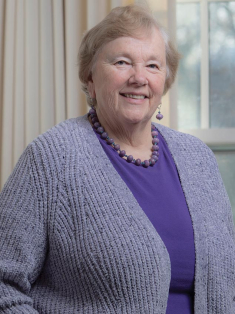 "The Center for American Women and Politics is the only place in the country where you can get a full understanding of all that women have contributed to our democracy," says Whitman, a Republican who governed the state from 1994 to 2001. "Their archives are without precedent. But more than that, the center provides classes to teach about the challenges of running for office and the ways to structure a successful campaign. CAWP is an invaluable resource for scholars, political activists, and candidates."
Donna Brazile, Democratic political strategist, author, and syndicated columnist, cites CAWP for being a forerunner in striving to level the political playing field for women. "Five decades before #MeToo, the Center for American Women and Politics was breaking down barriers and creating opportunities for women to soar," she says. "CAWP taught us how to measure success and to dare to take our seats at the table—one folding chair at a time, to paraphrase the late, great Shirley Chisholm. For 50 years, the center has built a community of women public leaders, encouraging women to stop running from politics and start running for office."
Walsh says Mandel's mentorship taught her two important lessons: knowing when to deviate from the plan and how to stand her ground. She watched Mandel do both in 1984 when PBS's Frontline made an 11th hour decision to change the title of a CAWP-produced documentary on women in politics. "We named it Not One of the Boys, and they wanted to name it Just One of the Boys, and Ruth said, 'We'll pull it,'" Walsh remembers. "Ruth taught me that if you make a threat like that, you have to be ready to follow through on it. Frontline backed down."
Walsh credits Mandel with having the foresight to create Florence Eagleton grants through funding from the Ford Foundation to stimulate scholarly studies. CAWP's focus on research attracted Susan Carroll, professor of political science and women's and gender studies, to CAWP in the late 1970s, where she assisted with a nationwide survey of women public officials before she joined the center full time in 1981 as one of the center's first faculty members.
"There was virtually no scholarship at that time about women and politics; the one bit that existed was Jeane Kirkpatrick's book Political Woman," says Carroll, of the 1974 work based on research that Kirkpatrick conducted during CAWP's first conference of 50 women state legislators. "Kirkpatrick's major conclusions were that political women do exist."
Before retiring in 2021 as a senior scholar with CAWP, Carroll authored significant publications on women's political participation and paved the way for future feminist scholars by helping develop Rutgers' doctoral program in women and politics in 1986. As the center's scholarship grew, CAWP broadened its surveys of politicians to address the specific qualities that women bring to public office and what influences their leadership. "They bring those diverse experiences to office with them, and it does affect their priorities: the way they see their world, their responsibilities, and who they care about," says Carroll. "Many women in politics seem very tuned in to being a voice for the voiceless. Regardless of ideology, they have a commitment to seeing other women getting involved in politics. They don't want to be the only woman in the room."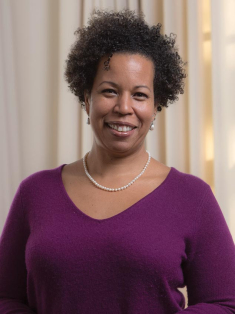 Kimberly Peeler-Allen knew Black women were woefully underrepresented in politics long before she became a visiting practitioner at CAWP in 2019. But as a political consultant and cofounder of Higher Heights for America, a national organization building the political power and leadership of Black women, Peeler-Allen needed the numbers to prove it to potential donors. She approached CAWP and spearheaded the idea for the center's first report on The Status of Black Women in American Politics in 2014.
"We've never had a Black woman governor, and only two Black women have served in the U.S. Senate," says Peeler-Allen. "When you look at that in proportion to the population, the results are very stark and very jarring and very motivating to many people. CAWP has continuously been the source on all numbers, so when they came out with this report, people took notice because they are such an authority."
During the second half of CAWP's existence, rapid digitization of scholarly research in combination with the rising number of women in politics helped catapult their research and scholars into local and national conversations. Today, CAWP's decades of analysis are mined regularly by journalists and pundits who rely on the center's statistics and expertise to provide background for political stories and discussions about expectations for women in the political sphere.
Now, a new generation of graduate students studying women and politics will be supported by Ruth B. Mandel grants. Maud Mandel made an endowment donation after her mother's death in 2020.
"Women are less than one-third of office-holders in every level of office we study," Walsh says. "There is so much left to do. We are eager to build upon our unique role in the struggle for women's political equity and have great hope for what the world will look like in another 50 years."