Rutgers Alumnae in the WNBA
Rutgers University–New Brunswick has produced 25 professional athletes who have played in the WNBA.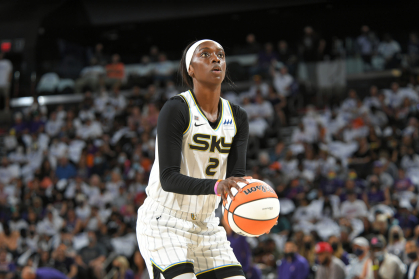 Twenty-five years ago, in 1997, the Women's National Basketball Association (WNBA) played its first game. Since then, the league has showcased the best players from around the world and the college ranks, including Rutgers University–New Brunswick, which has produced 25 pros in the intervening years under the leadership of retiring head coach C. Vivian Stringer. The 2022 regular season—which began in May, hosts its all-star game on July 10, and concludes its record 36-game schedule on August 14 (followed by a month of playoffs)—features five former Scarlet Knights stars. Last season, the Chicago Sky, one of the league's 12 teams, won their first WNBA championship by defeating the Phoenix Mercury and relying on Kahleah Copper SAS'16, who was named the finals' MVP, averaging 17 points and 5.5 rebounds. Other Rutgers alumnae have left their mark, too. Cappie Pondexter RC'06 the league's fifth all-time leading scorer. Tune in to see these athletes in action via national broadcasts and streaming.
Kahleah Copper SAS'16
Chicago Sky
Guard-Forward
Champion and Finals MVP (2021) • All-Star (2021)
Betnijah Laney SAS'15
New York Liberty
Guard-Forward
All-Star (2021) • Most Improved Player (2020)
Epiphanny Prince RC'10
Seattle Storm
Guard
Champion (2020) • Second Team All-WNBA (2015)
Kia Vaughn RC'09
Atlanta Dream
Center
Scored 2,000th Career Point (2020)
Erica Wheeler SAS'13
Atlanta Dream
Guard
All-Star Game MVP (2019)