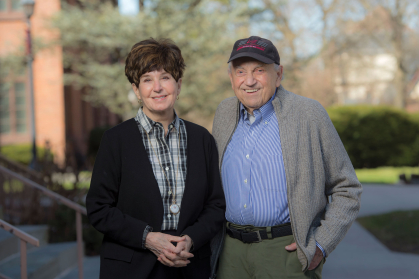 Alumni Sandy Jaffe and Linda Stamato fund the creation of a research fellowship at the Honors Living-Learning Community at Rutgers University–Newark.
Attending Newark's Weequahic High School more than 70 years ago, alumnus Sandy Jaffe was certainly no honors student. The son of Eastern European immigrants, he preferred comic books to homework and graduated near the bottom of his class. But he thrived at Rutgers University–Newark, attending night school and working days, and then graduated from Harvard Law School. "I was what they call a 'late learner,''' he says. Jaffe recently teamed up with alumna Linda Stamato to invest in a program that values student potential and life experience over GPAs: the Honors Living-Learning Community (HLLC), their latest gesture of commitment to Rutgers–Newark.
Jaffe NCAS'54 and Stamato DC'62, GSNB'77 have funded the creation of a research fellowship that would help replicate the HLLC program nationally. It's based on an intergenerational group of students working together at the new HLLC learning and residential facility at Rutgers-Newark. Although many have been academically successful, others weren't in a position to realize their potential as students earlier in life. A key admissions factor at HLLC is a commitment to social justice and community building. The program acclimates them to college life and hones their skills to become top scholars. More than half are from the city, and many are children of immigrants and the first in their families to attend college.
"Honors students should be chosen based on grit and promise, not solely on academic standing or test scores,'' says Stamato. Born in Newark, to which she frequently returned while being raised in Essex County, she earlier demonstrated her dedication to Rutgers–Newark during her 12 years serving on the Rutgers Board of Governors. In 1985, the year after completing three years serving as its chair, she gave the commencement address at Rutgers–Newark, a moving experience for her. A year later, Stamato, along with Jaffe, cofounded the Rutgers Center for Negotiation and Conflict Resolution at Rutgers–Newark, which has since moved to the Edward J. Bloustein School of Planning and Public Policy at Rutgers University–New Brunswick, where the two are policy fellows. Her position is one of many prominent ones that she has held since arriving at Rutgers in 1971, among them trustee, dean, and chair of search committees for presidents and deans.
To again assist a Rutgers cause—this time with a gift to HLLC—was a natural for Stamato. As for Jaffe, Rutgers opened the doors to everything for him: "At Rutgers–Newark back then, all that was required was to fill out an application and show up," he says. "Having the chance to go to school at night nearby enabled me to begin the process of learning how to learn.''