Jennifer Robertson is the keeper of the Big Cat Falls exhibit at the Philadelphia Zoo. She is among the alumni acting as stewards and interpreters of nature, serving in New York City, South Dakota, and Camden.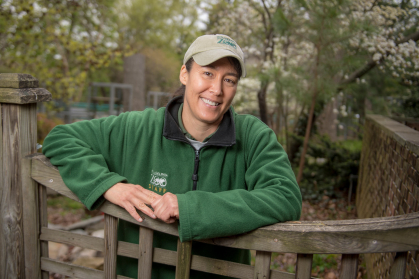 For alumna Jennifer Robertson, working at the Philadelphia Zoo isn't like herding cats; it is herding cats. Big ones. As keeper of the Big Cat Falls exhibit, Robertson CC'97 trains pumas, jaguars, cheetahs, African lions, Amur tigers, snow leopards, and Amur leopards—not just to be compliant, but to participate in their own health care. "We have that close bond with them," says Robertson, a zoo employee for 17 years, the last 12 in her current role. "They're like family. If they're sick, I'm constantly thinking about them and worrying about them."
Training these large cats, some of which can weigh 600 pounds, is a far cry from the antics of circus lion-tamers. With adult big felines, keepers have "protected contact." "There's always a barrier between me and the cat," says Robertson, who majored in animal science at Rutgers. "We have them come to us. To do that, we have to establish positive relationships with them. We have to earn their trust."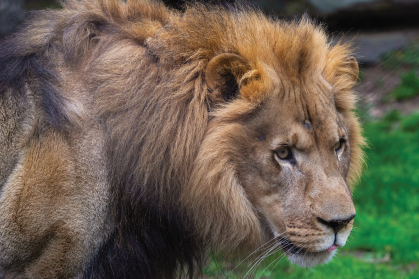 Although being near dangerous animals might be frightening, that's not the scariest thing that's happened to Robertson. COVID-19 is. "Big cats have really been impacted by COVID-19 since it is highly transmissible from people to cats," she says. "Across the country, we've had five fatalities in snow leopards, three in lions."
Besides COVID shots, Robertson also gives vaccinations for rabies, canine distemper, and feline distemper. Amazingly, the cats get these shots voluntarily. Like their domesticated cousins, big cats love milk. To prep them for shots, Robertson squirts milk in their mouths and desensitizes them with a blunt needle to let them know they'll be jabbed soon. "They participate," she says. "They'll line up along the mesh, lie down, and get their shots."
To anesthetize big cats, zoo vets used to depend on dart guns—causing stress, triggering an animal's adrenaline, and reducing drug effectiveness. "It took them forever to fall asleep," Robertson says. "Now they come right up, we inject them, and sometimes they fall asleep right there."
Shots are one thing. But imagine training a 600-pound cat to let you shave its tail and draw blood. Enticed with a reward, the animals will "line up, lie down, then give me their tail through the mesh," Robertson says. After she helps them overcome their fear of the shaver's buzzing, she can draw blood samples to help in preventative care.
"I feel honored to be in the presence of these animals every day," says Robertson. "When zoo guests come, we tell the cats, 'You have a job to do. Look cute because you're educating the public.' Through them, we can help guests understand the plight these cats face in the wild."