"I was a medical student during Hurricane Sandy and I think the COVID-19 crisis is a bit of an echo of that. New Jerseyans take care of one another and they know what's important," says alumna Laryssa Patti, an emergency medicine doctor at Robert Wood Johnson University Hospital in New Brunswick.
"I'm feeling that same vibe now. We're going to take care of each other; we're going to get through this."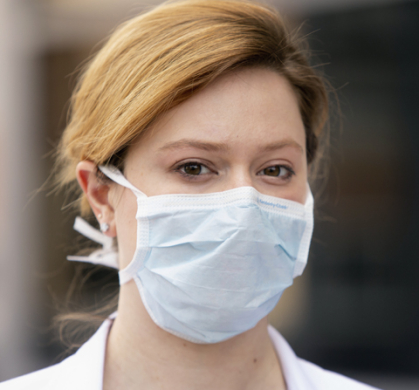 Patti SAS'10, RWJMS'13 is on the front lines of the COVID-19 pandemic in two important ways. As an emergency medicine doctor, she treats patients coming in with symptoms of the disease. As the emergency medicine clerkship director at Rutgers Robert Wood Johnson Medical School, Patti prepares medical students to be tomorrow's ER doctors. Here's what she knows now from helping to fight the contagion.
"Hand hygiene has never been as important as it is now. It sounds so trite, but this is a droplet virus; it lives in spit. So, wash your hands!" 
"Our residents are working their regular schedules and handling a lot of patient care. They are truly on the front lines." 
"People in New Jersey have been responsive so far and it's reassuring that they're staying home, trying to limit their excursions. But I worry that people aren't going to be able to keep it up for a long time." 
"Patients don't necessarily come to the emergency department with a label of what is wrong with them. You have to think critically and talk to and examine the patient to figure out what's going on. Helping them is very gratifying, in a real-time way." 
"Yes, I worry about personal protective equipment for health care workers, and I'm afraid we're going to run out of masks. I'm worried about space in the hospital and whether we have enough beds and ventilators to treat patients. And I'm worried about my own family."
"It's been a challenge for the med school to move all of our classes online but we're trying to deliver the same educational quality remotely as we do in person. We're doing a lot of education remotely, discussing clinical findings and cases." 
"My husband and I have been taking a lot of walks around the neighborhood lately. I feel like all of our neighbors are doing this, more than in the past, because there's nothing else to do! But it's been nice to chat with neighbors … from a distance."