Rutgers University Mingus Ensemble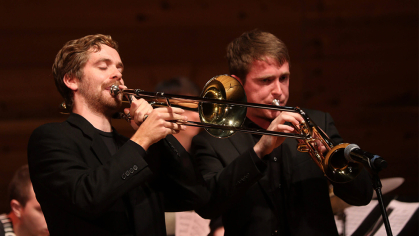 Join the Rutgers University Mingus Ensemble for a virtual Facebook concert.
The Rutgers University Mingus Ensemble is an elite musical group at the Mason Gross School of the Arts featuring the music of jazz icon, Charles Mingus. The ensemble helps students master technique, improvisation, repertoire, and sight-reading to prepare them for successful careers in the performing arts.
Pioneer jazz bassist, Charles Mingus, was a 20th century icon of soulful hard bop, whose music encompassed components of gospel, free jazz, and even classical music. Moving beyond tradition, his compositions challenged classification and fostered a vehicle into new territories of expression. His rich legacy as a brilliant and prolific composer lives on and continues to inspire artists and listeners alike. Repertory bands such as the Mingus Big Band, Mingus Dynasty, and Mingus Orchestra continue this lush heritage in Mingus' honor, to the adoration of many.