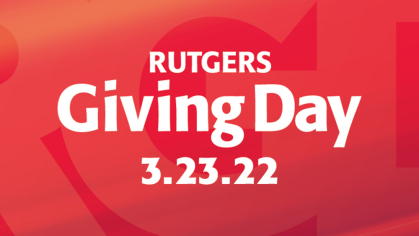 At Rutgers, we're driven to improve the human condition—to better the world. We strengthen and support communities. We conduct research in service to the common good. And we make sure our students can pursue an excellent, life-changing education and the extraordinary opportunities that can come with it. Together, we show the world what excellence looks like.
This Rutgers Giving Day, March 23, we're counting on you to help Rutgers help the world. Our global community will unite in a daylong celebration of excellence as together we build pathways to a brighter future. Please support a Rutgers cause, school, or program you care about. 
You are essential to Rutgers Giving Day—with your gift, your voice, and your passion for Rutgers. There are countless ways to support Rutgers excellence and create pathways to a brighter future. You can provide vital opportunities for Rutgers students through programs like the president's Scarlet Promise and Scarlet Service efforts—and many others. You can give directly to the researchers working to make the world well. You can support whatever part of Rutgers feels like home to you. Together, on Rutgers Giving Day we have the power to make a meaningful impact.
Along with your gift, please spread the word on social media using #RUGivingDay. You can show your friends and the people in your network how to get involved in our beloved community. Please take part in fun social media challenges that can provide additional support for your favorite Rutgers causes. For one day, your generosity goes even further.
There is no Rutgers Giving Day without you. On March 23, help Rutgers help the world.