Rutgers Big Chill 5K 2023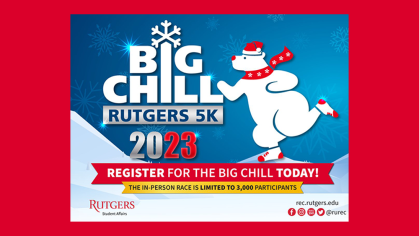 The Rutgers Big Chill 5k is a charitable event that has served the Rutgers University-New Brunswick, NJ community since 2003. This year's event offers both an in-person and virtual race.
The in-person race will occur on December 9 at 10 a.m., with runner check-in on December 8 (3-6pm) or December 9 (8-9:30am). The Rutgers Big Chill has been a staple within the Rutgers University-New Brunswick Community for 20 years and is enjoyed by thousands of runners yearly. We aim to continue the Big Chill tradition while giving back to the community and keeping participants active and motivated.

In-Person Race
December 9, 2023 | College Avenue Gym | 10am start
$25 In-person race fee + $10 toy donation
Virtual Race
Location of your choice | Complete Virtual Race and Submit Times from December 4 - 11, 2023
$25 Virtual race fee
Both in-person and virtual participants will receive a commemorative long sleeve shirt (available during runner pick up or mailed to you).
Proceeds from the race will benefit the No Hungry Knights Scholarship Fund.