Concert: Dave Soldier Orchestra Presents "The People's Choice" Music & More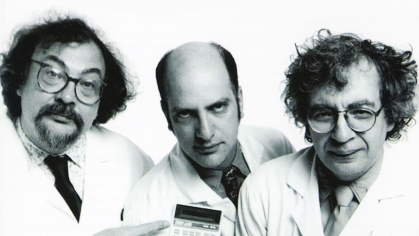 June 8: Reserved spots are sold out.
If open seats become available on Sunday, they will be filled on a first come, first served basis.
In conjunction with the Zimmerli retrospective exhibition Komar and Melamid: A Lesson in History, join us to engage in a musical experience like no other, as composer Dave Soldier teams up with Russian-American artists Vitalty Komar and Alex Melamid to present a unique and eccentric show alongside Talujon Percussion, led by conductor Gene Pritsker.  
The Dave Soldier Orchestra presents The Most Wanted Music and The Most Unwanted Music, written from the results of a poll about people's likes and dislikes. Soldier's compositions were inspired by Komar and Melamid's project that is best known as The People's Choice (1994-97), currently on view in the Zimmerli exhibition. For the first time in 25 years, they also perform The Most Unwanted Music: a 26-minute number that features an operatic soprano singing rap lyrics and children screaming advertisements, with bagpipes, atonal organ, harmonica, harp, banjo, piccolo, and tuba. In addition, the concert features the live premieres of The Most Wanted Music and Soldier's "Symphony #1: the Ganesha," a transcription of music from the Thai Elephant Orchestra.
The performance is followed by a reception.
Dave Soldier is one of the most eclectic, prolific minds in contemporary music. From forming the Thai Elephant Orchestra - an ensemble of 16 elephants in northern Thailand - to his forays into punk with The Krotopkins, Soldier has consistently pushed sonic boundaries with each new project. He also has performed and arranged pieces with John Cale, Bo Diddley, Kurt Vonnegut, and many other greats in the world of classical and jazz.  
* Read the recent New Yorker profile about David Soldier (aka David Sulzer), "The Wild World of Music," which explores what elephants, birds, and flamenco players teach a neuroscientist-composer about music.
* The concert also will be performed at Le Poisson Rouge in New York City on June 18.
Free visitor parking at the Zimmerli is available by pre-registration at go.rutgers.edu/zamparking0611. Please note, parking is limited to the designated lots listed on the registration page. Until this process is completed, your vehicle is not registered and you may receive a citation. Special event parking and special event permits are only for visitors to the university and does not include free metered parking. Faculty, staff, and students must park only in lots where they are authorized to park. Please note, this is a unique link for this event and not valid for any other dates or events.