Engineering Your Future
Prepare yourself for a successful and rewarding career in today's expansive and diverse engineering profession with the School of Engineering at Rutgers University–New Brunswick. Learn within a connected community of students and nationally recognized faculty, gain the real-world experience employers seek through a key internship or co-op, and find a career path that aligns your ambition and your talent.
Undergrad engineering, NJ/NY public universities
Explore 10 lets students survey all majors before declaring
Average reported salary for recent grads
82% career placement six months post-graduation
Alumni are current CEOs, COOs, or presidents
Why Choose the School of Engineering?
If you want to be part of a diverse, dynamic community that shares a passion for visionary thinking and creative problem-solving, if you want instruction from prominent faculty in a state-of-the-art learning environment, and if you want to apply your knowledge to make the world a better place, then the School of Engineering is for you.
Student Success
"As an undergrad, I didn't expect to take on mechanical engineering research that would ultimately lead to a first authorship on an article in a peer-reviewed journal."
BS/MS Dual Degree Recipient
Arielle Gamboa ENG'19, GSNB'20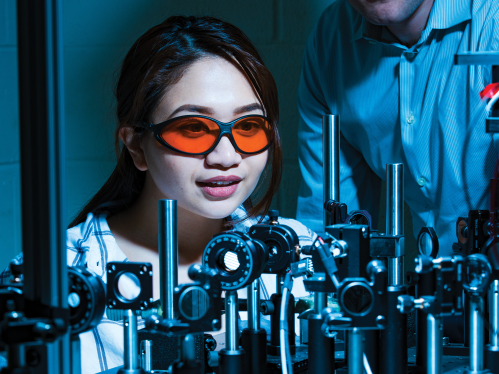 10 Engineering Majors to Explore
Explore all 10 engineering majors before asking you to decide on the right fit for you. Our Introduction to Engineering course features presentations by faculty members and demonstrations, giving students the opportunity to explore fields of engineering that may be new to them or not as widely known.
Program Spotlight:
Electrical and Computer Engineering
Electrical engineers are in the forefront of technology that continually transforms our rapidly changing world. From developing advanced navigation systems and self-piloted vehicles to designing "smart" homes and cyber security systems, electrical and computer engineers have a profound impact on how we live and how society will continue to progress for generations to come.
Students have access to cutting edge research laboratories, such as the Wireless Information Network Laboratory (WINLAB), the Microelectronics Research Laboratory (MERL), the Center for Intelligent Cyber-Physical Systems (ICS), and the Center for Autonomic Computing (CAC).
Electrical and Computer Engineering is one of the Rutgers largest engineering departments with 38 faculty, 840 undergraduates, and more than 240 graduate students.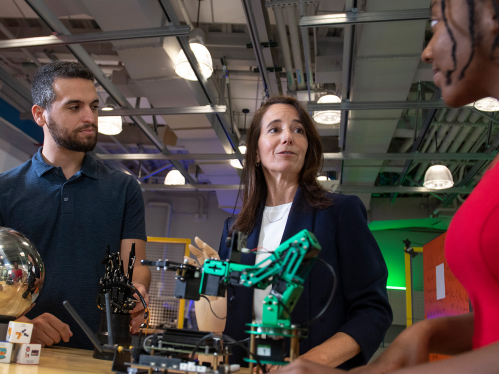 Departments and Programs
Programs in the School of Engineering are ABET accredited. 
Spotlight: Research Labs and Groups
Aerospace, robotics engineering, nanomedicine, fluid mechanics—these are just a few of the specialties at more than 20 labs and research groups at the School of Engineering. Learn with the esteemed faculty who run the labs and use state-of-the-art equipment as you pursue your research interests and explore the curriculum at the School of Engineering.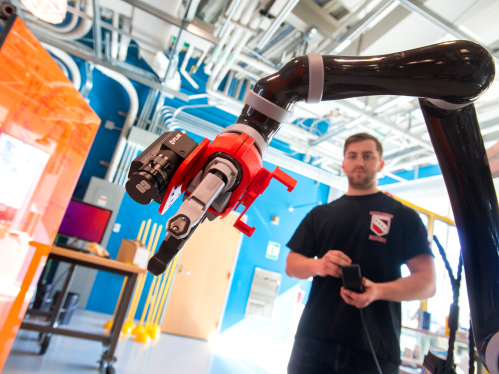 Discover the School of Engineering
School of Engineering students have big ideas and pursue projects and solutions that make the world a better place to live–and they have a great time doing it.