The Scarlet Knights defeated Temple 61-14 at SHI Stadium in their season opener Saturday, a decisive victory that not only showcased the team's growth but reunited the Rutgers community at a public event on campus for the first time in 18 months.
"Today is just remarkable to me," said President Jonathan Holloway during a live half-time interview. "I'm walking around (SHI) Stadium – the Provident Bank Club, the concourse – everybody is smiling and that's a lovely thing."
With all that has happened since the last time fans were in attendance – a global pandemic, social and political unrest, isolation, and the recent historic flooding –  the faithful arrived with earned enthusiasm. Not only was it time to finally cheer together again, it was also time to reconnect and appreciate seeing familiar faces.
"I got here earlier to attend to my coffee stands, so I took it all in," said radio analyst and former Rutgers football player Eric LeGrand, a 2014 Rutgers-New Brunswick graduate who also celebrated his 31st birthday on Saturday. "The excitement of the fans tailgating, people hugging, it was awesome to see. It warms the heart."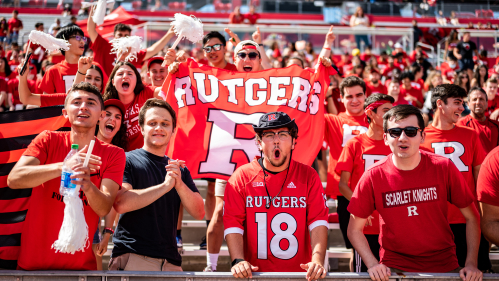 On the field, Rutgers took care of business in a 47-point win that included consecutive touchdowns by brothers Bo and Max Melton to the delight of their parents, former Rutgers football player Gary, and Vicky, who starred on the women's basketball team. They were among the 52,519 announced fans to watch the brothers play their first college game together.
ESPN highlighted the scores as its "Best Family Moment" during college football's opening weekend.
Together for the first time were also an estimated 10,000 students who showed up in convincing fashion despite the postponed and earlier kickoff at noon. The Asbury Park Press highlighted the "Riot Squad," the official student section/fan group, in an article deeming the day's experience "more than a game, it was a revival." 
Veteran members of the Rutgers community offered similar assessments.
"Over a year of pandemic-induced frustration and isolation from Rutgers Fandom came pouring out on Temple," said Kenneth Breslauer, Linus C. Pauling Distinguished Professor in the Rutgers-New Brunswick School of Arts and Sciences. "The multigenerational fan base of students, faculty, staff, alums, and Rutgers supporters of all origins, unleashed their pent-up Rutgers pride."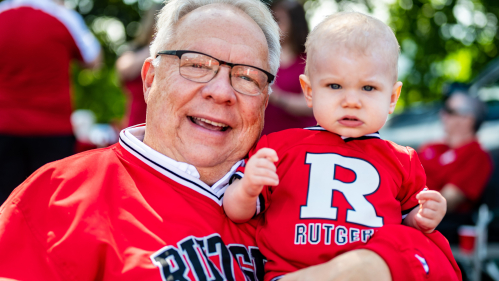 Greg Schiano, in his second season back and first with fans, was quick to acknowledge the student and fan impact during his post-game press conference.
"I was pretty darned impressed by our students," he said. "They did a heck of a job. They were loud. It was great energy, great excitement, and to all our fans, really. I mean, think about what this area, this state and this area just went through, and to have that kind of crowd, it's a testament to the fan base we have and what we have to look forward to."
Those students and fans travelled to the game on roads that had been under water 48 hours earlier as a result of historic rainfall in the wake of Hurricane Ida. The season opener, scheduled for Sept. 2, was postponed, as six counties were declared major disaster areas.
"There's a lot of hurt in New Jersey," Gov. Phil Murphy told Good Morning America on Friday. "We're still not out of the woods."
Among the structures to experience flooding due to the Raritan River's overflow was the Hale Center, which houses the football program. The Star Ledger reported on an "interesting 48 hours" that saw more than two dozen facility operations members mobilize to ensure that the game could be played as rescheduled.
"This is a special day for Rutgers," said Director of Athletics Pat Hobbs. "Everybody worked together to make sure that it happened, because our community certainly deserves it."
When Saturday morning finally arrived and the water receded, the crowds arrived – students, fans, alumni, parents, faculty and staff – who comprise a Rutgers community eager to be back, but also mindful of its responsibility to stay.
"If people did not adhere to the guidelines and our students had not gotten vaccinated, we couldn't pull this off today," said Holloway. "Thinking of essential staff, the operations crews, if they weren't superheroes we wouldn't be here. Just look at where we were 48 hours ago. It's amazing."
"All credit really goes to the people coordinating and delivering care in the hospitals and clinics, giving people vaccines, and those just helping others out," Holloway added. "This is a day to absolutely celebrate all those heroes."