A Taste of Culinary History: Celebrating Rutgers 250th Anniversary Through Food
New class brings Rutgers anniversary alive by giving students a taste of what people ate over the last 250 years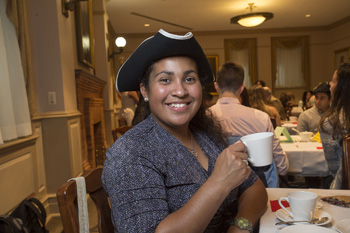 'When it comes down to it, everything is connected to food in one way or another. We want students to come away with a sense that things haven't always been the way they are now, and to learn about the part Rutgers has played to help change the food supply.'

 

– William Hallman
Most of the food Rutgers students eat today did not exist when the university was founded in 1766.
Pizza hadn't been created yet, sushi was unheard of, and spaghetti and meatballs wouldn't appear in the dining halls for nearly 200 years. Even something as basic as the bread students ate 250 years ago would have been different because wheat was not widely available.
"Students in 1766 would have been entirely unfamiliar with ramen noodles, Pop Tarts, Oreos, peanut butter, Cheerios, tacos or many other things that are the mainstay of the diets of many of our students today,'' said William Hallman, chair of Rutgers Department of Human Ecology.
As Rutgers gears up to mark its 250th anniversary, Hallman is working with two other human ecology professors – Cara Cuite and Mary Nucci – teaching a class that celebrates the university's history by studying the evolution of the foods we eat. The course also highlights Rutgers' role in shaping the food supply since the university's first classes were held in a downtown tavern called The Sign of the Red Lion.
Each lecture includes a tasting related to the topic of the day. Students have tried 10 different kinds of tomatoes, a variety of breads and cheeses, ate pheasant and grass-fed beef and sampled dry rubbed and smoked bacon – which takes significantly longer to produce than the brined bacon sold in stores. They attended a formal tea service at Winants Hall, Rutgers' first dorm, where they learned about some of the customs students would have been familiar with centuries ago.
"This class can bring the founding time alive in a way that is hard to do otherwise,'' Cuite said. "It's a way to use our senses to experience the same things that students would have experienced back then to provide a tangible connection to the past.''
Students say the course is like nothing else they have experienced in a classroom and is building excitement about Rutgers' milestone anniversary.
"The class is taking us through the history of food, but it is also taking us through the history of Rutgers – which is pretty cool,'' said Veronica Tortella a first-year student from Paulsboro. "You feel like you are part of something bigger because Rutgers has been around multiple times our lifespan.''
The course, part of a series of Byrne seminars that introduce first-year students to research, is one of several being offered within the next year tied to Rutgers' anniversary. Other Rutgers 250-themed classes focus on art history, the role of the pharmaceutical industry in New Jersey and student life in the post-World War II era.
In the culinary history class, students had a lesson in the origins of grape juice, which was developed in Vineland by Thomas Welch, a prohibitionist who wanted a non-alcoholic alternative to use for church sacraments. Students are also learning about Rutgers' partnership with the Campbell's Soup Company during the 1930s to develop a tomato that ushered in the world of mechanized food processing and the university's research to create a heartier and sweeter cranberry.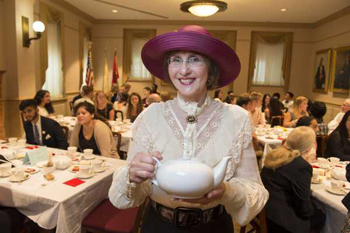 "I told students that it's important to realize you are connected to a university with a tremendous reputation for its agricultural contributions,'' Nucci said. "The Rutgers research we talk about in class is a perfect way to celebrate 250 years because we are highlighting that not all research is done now but it was also done in the past.''
The class also provides an opportunity for students to learn about the evolution of food production, farm labor and other economic issues.
"When it comes down to it, everything is connected to food in one way or another,'' Hallman said. "We want students to come away with a sense that things haven't always been the way they are now, and to learn about the part Rutgers has played to help change the food supply.''
The professors are working with Rutgers Dining Services to bring the class to a memorable end. They plan to offer a culminating meal that will feature foods sourced from New Jersey with a menu that will include venison, cranberries, blueberries, pumpkin and squash.
Students will also get a taste of how the American classic apple pie has changed from the time of Rutgers' founding. In 1766, an apple pie would have used local varieties of tart apples that are no longer common. Granny smith and many of the other apples that are staples in pies today didn't exist 250 years ago. 
"It's a completely different atmosphere than any other class I have taken in my life,'' said Connor Robertson, a first-year student from Medford. "You get to eat food, nothing is better than that, and you get a taste of what people were eating over the ages.''