Rutgers University‒Newark to Spark Arts Collaboration In Iconic Downtown Building
Board of Governors approves project in former Hahne & Company department store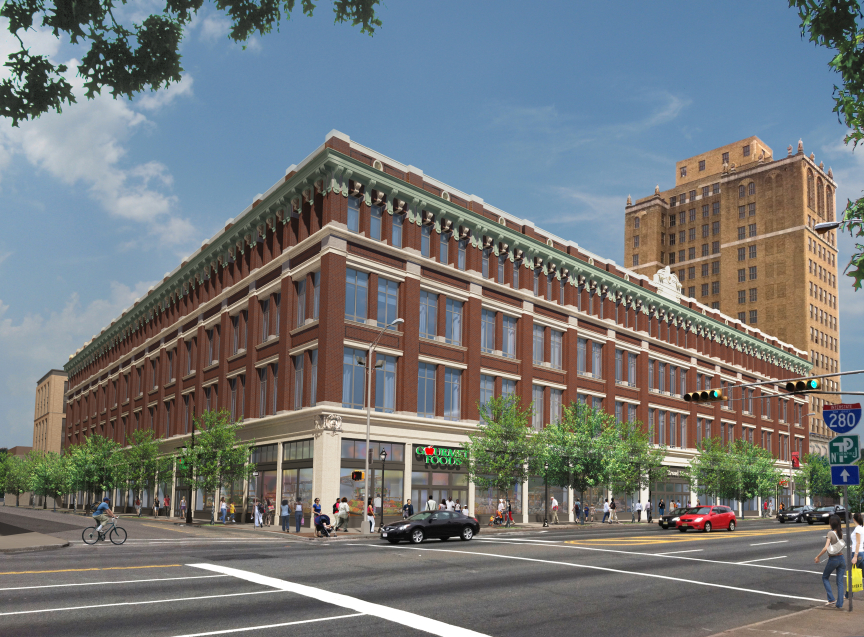 The Rutgers University Board of Governors has approved "Express Newark: A University - Community Collaboratory," a bold plan to cultivate artistic expression locally that resonates globally by facilitating public scholarship and community engagement among Rutgers University-Newark (RU-N) faculty, staff and students with community partners and residents of Greater Newark.
"Express Newark" will catalyze collaborative programming through a wide array of arts- and humanities-based uses. From the multi-purpose creative to the flexible exhibitive, programs will include an arts incubator, communication media center design consortium, print shop, portrait studio, and lecture hall/maker space, as well as new exhibition and performance spaces for programming by the RU-N Institute of Jazz Studies ‒ the world's foremost jazz archive  ‒ and the Newark Museum. 
Equally important as the components within is the effort to engage the community through all of Express Newark's programs and spaces, with each component featuring a community-based aspect and a direct and open link to Greater Newark and its citizens.
Housed in part of the historic former Hahne & Company department store in the heart of downtown Newark, Express Newark will bring RU-N studio artists, printmakers, photographers, theater director-producers, journalists, authors, and humanists together with community arts and culture organizations and local schools to cultivate new talent.  Among the community collaborators beyond the Newark Museum will be the New Jersey Performing Arts Center, Gallery Aferro, Newark Print Shop, Aljira Gallery, Hycide Magazine, Newark First, GlassRoots, the Edison National Historical Park, WBGO and VII visual documentary collective.
"Express Newark leverages the talent, creativity, and commitment of RU-N's superlative studio, performing, and literary artists, humanists, and journalists, with the phenomenal assets of Newark as a cultural capital and the power of the arts to transform cities through intergroup dialogue, exploring identities, and spurring entrepreneurship," says RU-N Chancellor Nancy Cantor.  "We aspire for Express Newark to play a pivotal role as a 'third space,' where the university and community come together to advance scholarship, strengthen our community, and build the momentum behind Newark's renaissance."
With a focus on fostering collaborative academic and research programs, supporting public scholarship, investing in spaces and places to engage the world, and cultivating civic dialogue—as it will, for example, through the Newark Writers Series ‒ Express Newark directly addresses priorities identified in the RU-N Strategic Plan, which was released last month, helping fulfill RU-N's role as an anchor institution in Greater Newark.
A multi-year initiative already underway that will benefit from the new facilities and partnerships is "The Newest Americans," a multidisciplinary research project to document the lives, communities, challenges and aspirations of RU-N students whose families are among the newest in America. Faculty and staff members; students; and collaborating artists, journalists, and community members associated with the project will have a presence in all of the programmatic areas of Express Newark, rendering their research findings in multiple documentary and art media, focused on how new immigrants and their communities are both adapting to and transforming New Jersey through transnational, social, cultural, and virtual networks.
Express Newark will occupy a portion of three floors of the 440,000-square-foot Hahne & Company building, purchased last year by Newark-based Hanini Group in partnership with L&M Development.  The Board of Governors authorized Rutgers to spend up to $25 million, contingent upon securing approximately $8 million from various incentive programs and cost projections that would enable the university to complete and operate the project. The location fronting Military Park is prominent and iconic, serving as both a beacon and a bridge to further connect Rutgers University ‒ Newark with the city.  Bordered by Broad, New and Halsey streets, it will become a vital link between the commercial Broad Street corridor and the developing arts district along the axis of Halsey Street.
---
Media contact: Peter Englot, 973/353-5541, peter.englot@rutgers.edu