Rutgers University Board of Governors Inducts New Members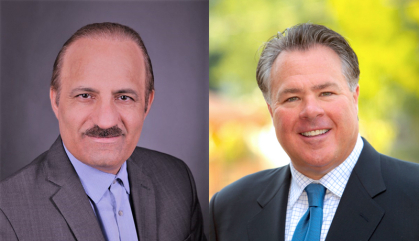 Mohammad A. Zubair, a physician specializing in pulmonary disease and sleep disorder medicine in New Jersey for nearly 30 years, and Kevin P. Egan, a member of the New Brunswick City Council and St. Peter's Hospital Foundation Board of Trustees, were inducted into the Rutgers University Board of Governors today. They join the board as public governors appointed by New Jersey Gov. Phil Murphy and confirmed by the state Senate.
"Mohammed and Kevin bring valuable and diverse backgrounds and perspectives to the Board of Governors," said board Chair Mark A. Angelson. "Mohammed has deep experience and insights into our state's complex health care system, and Kevin brings an extensive background in local government and business. We look forward to their contributions toward moving Rutgers University forward during a challenging time."
Zubair, who has extensive experience treating underserved populations in urban centers, is director of the Sleep Disorder Center at Newark Beth Israel Medical Center, an attending physician for the brain trauma unit at JFK Medical Center in Edison and he runs his own clinic in Woodbridge. With the help of other Pakistani American physicians, he also established a free clinic in Plainfield, open Sundays, to fill a gap in community health care. He has served as chairman of medicine, director of pulmonary medicine and director of respiratory and sleep disorder medicine at Bayonne Medical Center.
A prominent leader in the state's South Asian and Muslim communities, Zubair is a founder of both the Association of Physicians of Pakistani-descent of North America - New Jersey Chapter and the state's Pakistan Day Parade. The Scotch Plains resident replaces Susan McCue on the board for a partial unexpired term ending June 30, 2025.
Egan, a lifelong resident of the City of New Brunswick and a graduate of Rutgers School of Management and Labor Relations, is a 38-year member of the International Brotherhood of Electrical Workers Local 456 and has served on various committees, charities and assignments for the local union that covers 18 counties in the state. Currently a business representative and trustee for the local's pension and annuity funds, he has served on the boards of the New Brunswick State Theatre, the New Brunswick Parking Authority, St. Peter's Hospital, and the Middlesex County Board of Taxation. He is also a member of the Middlesex County Building and Construction Trades Council and the New Jersey Schools Development Authority.
Egan previously served as New Brunswick City Council president and is also a member the city's Elks Lodge and Knights of Columbus. He replaces Martin Perez on the board for a partial unexpired term ending June 30, 2025.