Rutgers Study Seeks to Identify Factors for Children at High Risk for Severe Illness From COVID-19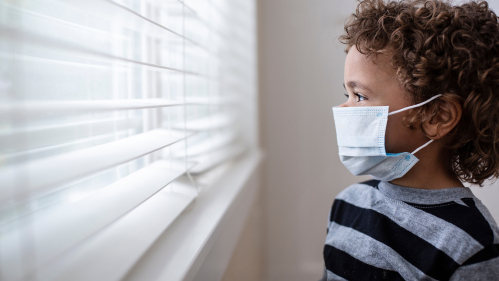 Rutgers researchers have been awarded $1.6 million from the National Institutes of Health to help create a national collaborative network to identify risk and protective factors that may allow clinicians or public health professionals to predict which children are at the greatest risk for serious illness from SARS-CoV-2 infection, the virus that causes COVID-19.    
While children are less likely than adults to become severely ill, some develop severe acute respiratory illness and are also susceptible to multisystem inflammatory syndrome (MIS-C), a critical illness that can occur several weeks after infection. 
The two-year grant from the Eunice Kennedy Shriver National Institute of Child Health and Human Development (NICHD) of the NIH will support the development of a national network that will ensure that children from around the country can be a part of the study.
The project is designed to incorporate a variety of scientific perspectives – clinical, sociodemographic, epidemiologic, and biological – and integrate multidimensional data that allow clinicians and public health professionals to identify which children are at highest risk for developing severe illness following infection of SARS-CoV-2. 
 The grant was awarded to Lawrence Kleinman, professor and vice chair for academic development and chief, Division of Population Health, Quality, and Implementation Science (PopQuIS) in the Department of Pediatrics at Rutgers Robert Wood Johnson Medical School.
"If we can identify pediatric patients or communities at-risk for serious illness due to infection from SARS-CoV-2, then health care providers can be particularly vigilant with children at higher risk of getting the disease," said Kleinman, principal investigator with Daniel B. Horton, assistant professor of pediatrics and epidemiology at Robert Wood Johnson Medical School, and Maria Laura Gennaro, professor of medicine and epidemiology at New Jersey Medical School. "We also can identify others who are potentially at low risk so we may prioritize where resources for diagnosis and treatment are directed."  
The COVID-19 Network of Networks Expanding Clinical and Translational approaches to Predict Severe Illness in Children (CONNECT to Predict SIck Children) two-year grant will support the collection of inpatient, outpatient, community and epidemiological data. The information will be analyzed by artificial intelligence – machine learning – and model-based methods to help predict at risk children.
Children previously diagnosed with either COVID-19 or MIS-C and those who have had mild or asymptomatic infections with SARS-CoV-2  will be included in the study, providing survey data, including social determinants, and saliva and blood samples to identify persisting biological factors associated with severe disease. Additional participants will be recruited from throughout the network, including newly infected children with severe COVID-19 or MIS-C identified through real-time surveillance.  
The grant is funded for two years with the potential for the research team to receive an additional two years of funding at more than $1 million per year.  
Partners in the research include Bristol-Myers Squibb Children's Hospital at Robert Wood Johnson University Hospital, an RWJBarnabas Health facility in New Brunswick, NJ, and New York Medical College with Maria Fareri Children's Hospital, part of Westchester Medical Center Network, Valhalla, NY, among other medical and research institutes.