Rutgers Students Learn Cybersecurity During Big Ten Internship
A group of students spent part of their summer learning how to hunt down viruses, thwart hackers, and protect organizations from ever-increasing cyber threats during a one-of-a-kind internship program with a cybersecurity operations center cofounded by Rutgers.
Along with students from Indiana University and the University of Nebraska, four Rutgers students learned the ropes of cybersecurity and got hands-on experience and training through OmniSOC – a shared cybersecurity operations center for higher education cofounded by Rutgers and located at Indiana University.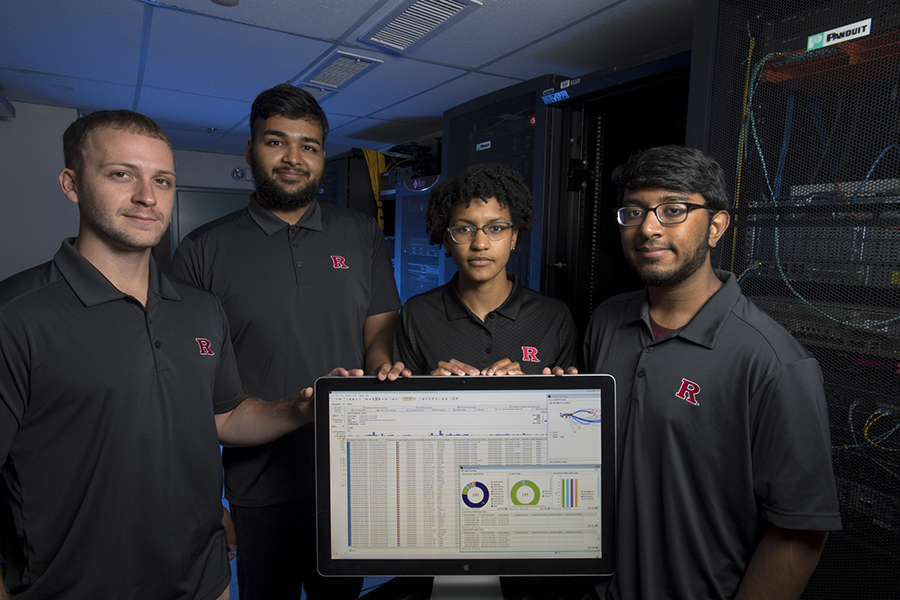 Rutgers students Mathew Benitez, Jason Jacob, Casandra Begin and Manav Patel learned the ropes of cybersecurity this summer through OmniSOC (Photo: Nick Romanenko).
---
The internship was designed to provide students with an inside look at a large-scale security operations center and introduce them to real-world cybersecurity experience. The Rutgers students spent one month at Indiana University and one month at Rutgers working with cybersecurity experts from OmniSOC. They went on field trips to major organizations, such as AT&T, Cisco, and the FBI, to meet with IT professionals and security experts and further the real-world learning of the internship.
Casandra Begin, a recent Rutgers University-New Brunswick graduate, said she was always curious about cybersecurity and information technology careers. For her, the OmniSOC internship was the ideal opportunity to get practical cybersecurity experience before she starts a master of information program at the School of Communication and Information this fall.
"My favorite part about this internship was learning under the guidance of different professionals within OmniSOC," said Begin. "Having access to their expertise and knowing that they have many years of experience within the cybersecurity industry was invaluable during my time at Indiana University and with my home team at Rutgers. I learned a great deal from asking these mentors various questions and getting advice on career goals within the IT field."
The OmniSOC cybersecurity operations center was founded by Rutgers and four other Big Ten institutions: Indiana University, Northwestern University, Purdue University, and University of Nebraska-Lincoln. Begin and the other students learned the skills required to protect large-scale networks through collaboration – which is an emphasis at OmniSOC.
"Through sharing threat intelligence, higher education institutions collectively benefit from knowing what actions to take and how other trusted partners are affected," says Scott Borbely, manager of security operations in the Rutgers Office of Information Technology. "The pooling of technology resources provides greater efficiency and leverage overall."
According to the Bureau of Labor Statistics, employment for information security analysts is projected to grow 28 percent from 2016 to 2026. Information security analysts are sought after to help prevent hackers from stealing critical information or causing problems for computer networks.
"At Rutgers, we feel exposing young talent to the depths of cybersecurity efforts through this internship program is paramount for the future," says Borbely. "Universities, especially Rutgers, are a natural place where the security leaders of tomorrow can play a valuable role today."
For Tom Davis, executive director and Chief Information Security Officer at OmniSOC, Indiana University, the OmniSOC internship program supported the universities' missions of teaching and learning. "We couldn't have been more pleased to work with the Rutgers security team and students on this important initiative," said Davis. "The goal of the internship program is to enhance employability, improve academic outcomes, and crystalize career choices for our students. We believe these types of opportunities are critical to prepare our students for successful cybersecurity careers."
"At Rutgers, we feel exposing young talent to the depths of cybersecurity efforts through this internship program is paramount for the future." – Scott Borbely
During their time in Indiana, the students met with different teams at OmniSOC each week. Much of their work involved determining how to detect significant cyber threats. Initially, they learned how logs were generated and aggregated from computers, servers, and other machines across each OmniSOC member. Then, they inspected the logs to see if they could spot incursions in various IT systems. After filtering through the information, the data containing the flow of network traffic would be shared with the appropriate schools so they could take action.
Threat-hunting alongside OmniSOC security analysts was one of the jobs the students enjoyed the most. They learned how to analyze and visualize data and recognize threats from hackers through the Linux operating system and various tools like Elasticsearch, Logstash, and Kibana. The students also attended lectures on topics like networking, how to successfully run a security operation, and how to handle incident responses.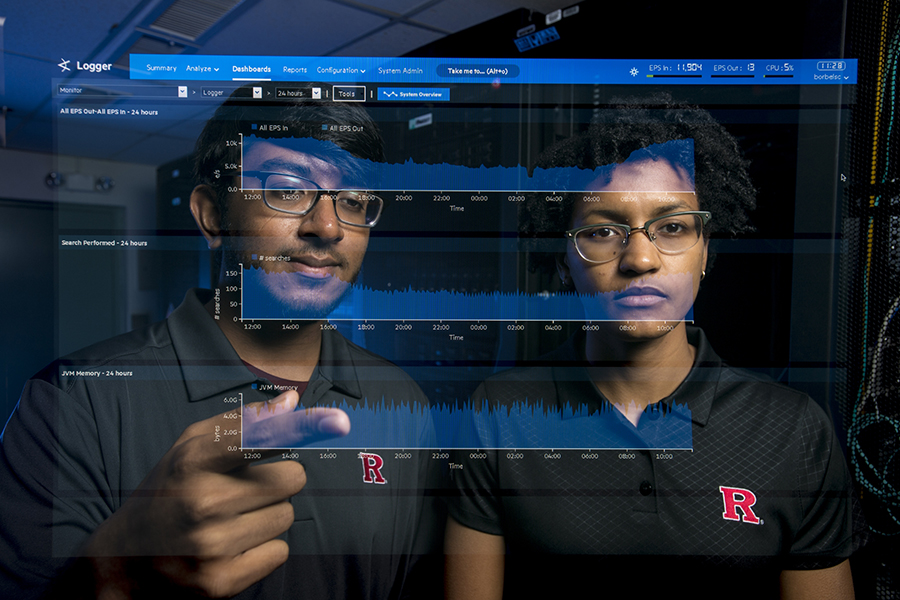 Manav Patel and Casandra Begin viewing one of the university's security information and event management dashboards in ArcSight. (Photo: Nick Romanenko)
---
"Cybersecurity within higher education has many challenges. Providing access to important resources, while protecting users from digital threats, is becoming increasingly difficult as the technology is constantly changing," says Borbely. "Today, security teams must be able to adapt quickly to emerging threats and use creative ways to combat new methods of attack."
Manav Patel, a rising junior studying computer science at Rutgers-New Brunswick, said he knew in high school that he wanted to have a career in IT, and working in the information security area of the Office of Information Technology only confirmed his career aspirations. The OmniSOC internship helped Patel extend this hands-on knowledge beyond Rutgers.
"The biggest benefit was meeting all of the people involved," he said of the internship. "We worked really well with the other Big Ten students and bonded with them both in and out of the workplace. The OmniSOC staff were friendly and took the time to really show us what they do with multiple presentations and field trips. I got to learn so much, but most importantly, I had fun doing it."