Brian Montecinos from Rutgers University-Newark is focused on protecting our air and water after summer internship
Brian Montecinos thought he would become a civil rights or immigration attorney until he took a course at Rutgers University-Newark on global sustainability. That is when he realized if he didn't help take the lead on protecting the planet, the rights of individuals wouldn't mean much.
 
"Even though a lot of what we learned would make anyone feel pessimistic and think we were doomed because we haven't paid enough attention to our water, air, land and overall global sustainability, the professor who taught the program made us realize that we could do something about it,'' Montecinos said.
This summer, Montecinos, a senior at Rutgers-Newark, took his first step in a plan to becoming an environmental lawyer. He was among 100 students selected to participate in the first Rutgers Summer Service Internship (RSSI) initiative. The program provides funding to open up public service opportunities for students and connect them with nonprofit organizations or direct-service government offices.
Montecinos spent two months at Future City Inc., a nonprofit organization in Elizabeth that works with racial and ethnic communities to foster sustainable development and support for policies that protect the water and land and ensure healthy homes and neighborhoods.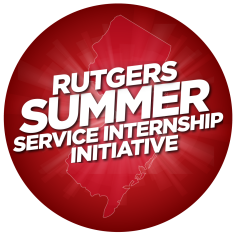 Montecinos met with community leaders and residents to discuss what needs to be done to upgrade the watershed infrastructure that channels rainfall and snowmelt to reservoirs, bays and the ocean. He also worked to build an understanding of why it's critical to support sustainable practices, from eliminating waste to turning off the tap and taking shorter showers.
"The problem is that we don't as a society understand that water is such a precious resource," said Montecinos, a student at Rutgers Business School-Newark and New Brunswick, who is majoring in finance and political science with a minor in legal studies. "If we don't do something to address this, in the future there will be wars over water."
One of the most important messages the Clifton resident said he helped deliver during his internship was to local residents who were fishing and then selling or eating the contaminated catch from a stretch of the Passaic River that leads into the Newark Bay.
"When we were going around, we saw masses of people fishing, putting the fish into their coolers and then just leaving either to eat or sell what they caught," Montecinos said. "We would tell them if you just like to fish, throw it back after you catch it, just don't eat it."
After completing the internship, Montecinos took his interest in promoting sustainability to the next level. He ended his summer with an intensive course that provided immersion in sustainable living at Kroka Village, a working farm in New Hampshire.
The program, offered through the Rutgers-Newark Office of Global Initiatives and Experiential Learning, required Montecinos and nine other students participating to leave their cells phones and electronic devices home.
They lived off the grid, slept in yurts – tent-like structures that have been the primary style of homes in Central Asia for thousands of years – and used compost toilets, which took the place of traditional plumbing. Instead of eating meat, which takes a significant toll on the environment, they mostly ate vegetables that were grown at the farm. Rainwater was collected and used for washing dishes and clothes and for taking showers. 
Nothing was wasted, Montecinos said.
"The program was literally mesmerizing," he said. "My whole life has been in the city, constantly on my electronic devices. When you remove them and get put in a rural community, it is a transformative experience."
The 21-year-old said he felt like he was in a bubble away from the outside world. "This place takes sustainability to a whole new level," he said.
Both summer experiences focused on building relationships and connecting to a community bigger than you, Montecinos said. It was different than his life growing up in an urban environment where the focus was usually not on goals that affect an entire community, he said. 
"President Holloway created the RSSI program to connect college students to the roots of our community in order to build relationships," he said. "Both of my summer experiences showed me how important relationship building is both individually and in the community and provided me with an even better understanding of how everyone serves a purpose."