Rutgers Selects Canvas as Official Learning Management System
Transition to replace multiple systems with one will occur over next few years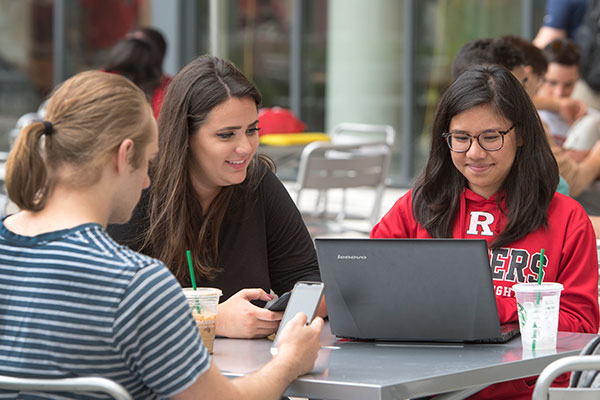 Canvas will be the university's official learning management system (LMS)—a decision aimed at enhancing the learning and teaching experience for students and faculty, Rutgers leaders announced.
Learning management systems have become essential tools in higher education, used for everything from assignments and syllabi to content sharing and discussion groups. Known for its ease of use, flexibility and mobile capabilities, Canvas is the choice of more than 3,000 universities, school districts, and other institutions, including many of Rutgers' peers. Canvas will replace the multiple systems being used across Rutgers as they are phased out over the next few years.
"By choosing Canvas, we are taking a significant step to enhance the educational experience at Rutgers," said Michele Norin, senior vice president and chief information officer. "The move from multiple systems to a single, universitywide LMS will foster collaboration, reduce complexity and simplify the learning and teaching experience for Rutgers students and faculty."
The decision to transition to Canvas was made after careful consideration by an LMS committee comprised of faculty, staff and student representatives from across the university, as well as a thorough review of peer institutions. As an enterprise-wide technology, Canvas will be managed and supported by the Office of Information Technology.
A new website for the transition, Go Canvas at https://gocanvas.rutgers.edu/, provides resources for students and faculty, including how-to guides, information for instructors looking to migrate courses to Canvas and a Frequently Asked Questions (FAQ) document.
"An initiative of this magnitude will not happen overnight, and we want to reassure you that instructors will be given ample time to make the transition," said Barbara A. Lee, senior vice president for Academic Affairs. "We recognize the many issues raised by this step, including important concerns and questions about course migrations, faculty training, technical support and other issues."
A steering committee will soon be formed to ensure involvement by faculty, staff and students as the university embarks on the considerable planning required for this initiative.  While no official timeline has been developed, the project team will work directly with schools and departments throughout the process to develop a transition schedule that meets their individual needs.
To learn more about the university transition to Canvas, please visit https://gocanvas.rutgers.edu.