Rutgers Professor Wins Peabody Award for Uncivil
Chenjerai Kumanyika, co-creator of popular podcast, is recognized for "The Raid," an episode that documents the largest covert raid in the Civil War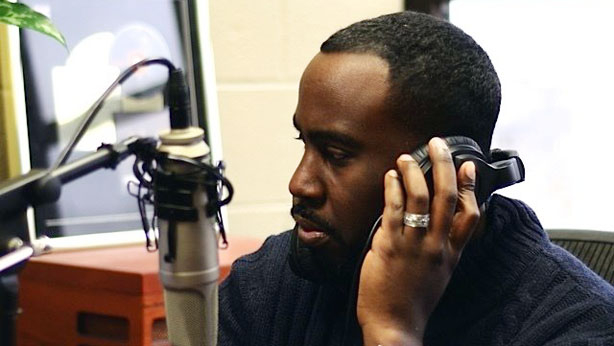 "Through "Uncivil," we wanted to demonstrate how cutting-edge journalism and media can teach the history of the Civil War," he said, "and show how it connects to issues that still structure the lives of Americans today."

 

–  Chenjerai Kumanyika

 
Chenjerai Kumanyika, an assistant professor of journalism and media studies at Rutgers New-Brunswick's School of Communication and Information, has won a Peabody Award  – which honors enlightening and invigorating stories in TV, radio and digital media –  for an episode of "Uncivil," a podcast that tells the overlooked stories of the American Civil War.
Kumanyika,  co-executive producer and co-host of "Uncivil,"  and journalist Jack Hitt,  won the Peabody in the radio/documentary category for their episode "The Raid," which recounts the real-life story of the planning and execution of a covert operation (behind Confederate troop lines) that led to the freeing of 750 enslaved men, women and children.
Kumanyika said he was hopeful that the show would resonate with the public but is still stunned about the victory.
"The Peabody Awards is an extremely important honor. I feel happy that my team, who believed in the project and worked so hard, received validation," said Kumanyika, who credited the team at Gimlet Media, the Brooklyn company that produces "Uncivil." "Our win speaks to public's interest in critical histories. Millions of people have listened to the 10 episodes." 
Kumanyika will deliver the acceptance speech at the Peabody Awards ceremony, which will take place May 19 at Cipriani Wall Street in New York City. The ceremony will be hosted by Hasan Minhaj, senior correspondent on Comedy Central's The Daily Show with Trevor Noah.
"The Raid," the winning episode, was the first episode of the first season, combines historical data and oral histories with descendants of people who lived and fought in the Civil War.
"We submitted 'The Raid' to the Peabody Awards," Kumanyika said, "because it's an episode that combines in-the-field reporting with rigorous historical work and the best of radio story techniques. The story challenges ideas and beliefs that many Americans have heard about the Civil War, and how it shapes the present. This episode is really exciting – we've even had people reach out for the film rights."
A recent report in the by the Southern Poverty Law Center found that only 8 percent of U.S. high school seniors could identify slavery as the central cause of the Civil War. For Kumanyika that fact reveals a deeply impoverished national history curriculum.
 "All one has to do is read the articles of secession, which consistently cite slavery as the reason for secession. Slavery was the foundation of the entire American economy and capitalism – insurance industries, banks and universities – was deeply implicated in it. 'Uncivil' is about understanding the character of this country and how our contemporary power arrangements came to be."
Kumanyika said he often hears comments related to the current political climate, such as, "Americans are more divided now on issues of race and class than ever before." In fact, he said, "This country has never been united on these issues. Another myth I hear a lot is that 'our country split in half over the Civil War.' "As other historians have noted, there were 3.9 million slaves who were already split! Sometimes people say that the South lost the war, rather than the confederacy lost the war. I understand why people say that. But this ignores the abolitionists and formerly enslaved blacks in the south who felt like they had won."
Kumanyika, who holds a doctorate in mass communication, said his work on "Uncivil" benefits his students in many ways. "I teach about issues related to gender, race and class, and 'Uncivil' addresses all of them," Kumanyika said. He also teaches a class on podcasting.  "Through my work with Gimlet on "Uncivil" and my work with NPR, The Moth, or with John Biewen, I can give the students a very real sense of what we do in this industry and provide them with direct connections to it."
Kumanyika, whose research focus is on cultural and creative industries and social justice, said the ability to create essential historical context is threatened in an environment where journalist are pressured to stay exclusively focused on a relentlessly unfolding present."
"Through "Uncivil," we wanted to demonstrate how cutting-edge journalism and media can teach the history of the Civil War," he said, "and show how it connects to issues that still structure the lives of Americans today."
"Most of the work I do is for publication in scholarly journals, which are written for the scholarly community. But 'Uncivil' has had millions of downloads, so this is a different and much more far reaching form of engagement."