Rutgers Opens New Academic Building, Student Housing on College Avenue Campus
Students return to new and renovated facilities at Rutgers University-Camden, Rutgers University-Newark, Rutgers University-New Brunswick and Rutgers Biomedical and Health Sciences
NEW BRUNSWICK, N.J. – Members of the Rutgers University community may have difficulty recognizing College Avenue this fall.
Just in time for its 250th anniversary in November, the university is opening a 175,000 square-foot academic building on the former site of the New Brunswick Theological Seminary and a three-building complex of student apartments on what was a parking lot at the corner of College Avenue and Hamilton Street.
The completion of the buildings marks the culmination of the College Avenue Redevelopment Initiative that broke ground in 2013. The first major project, the residential Honors College, opened in September 2015.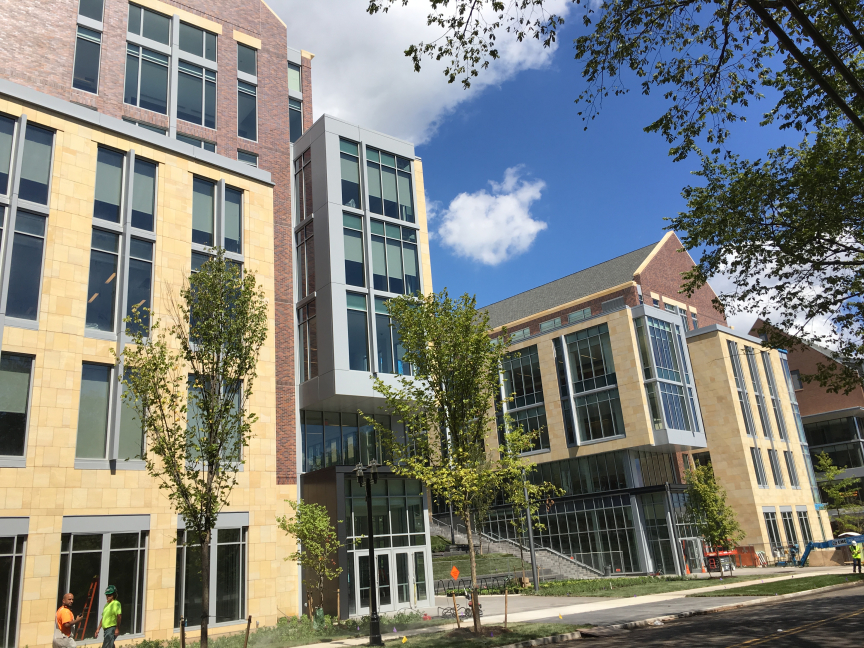 "These projects are the result of a unique collaboration among Rutgers University, the New Brunswick Development Corporation, the New Jersey Economic Development Authority, New Brunswick Theological Seminary, and Rutgers Hillel," said Antonio Calcado, senior vice president, Institutional Planning and Operations. "Thanks to the leadership and vision of President Robert Barchi, Rutgers will continue to provide a quality educational and residential environment for our students."
The $116 million Rutgers Academic Building – the first new academic facility on the College Avenue Campus since the 1970s – will contain modern lecture halls, large and small classrooms, informal learning spaces as well as conference rooms and faculty offices and will be the new home of the School of Arts and Sciences.
Rutgers has invested more than $3 million this year in an ongoing program to upgrade classrooms throughout the university system.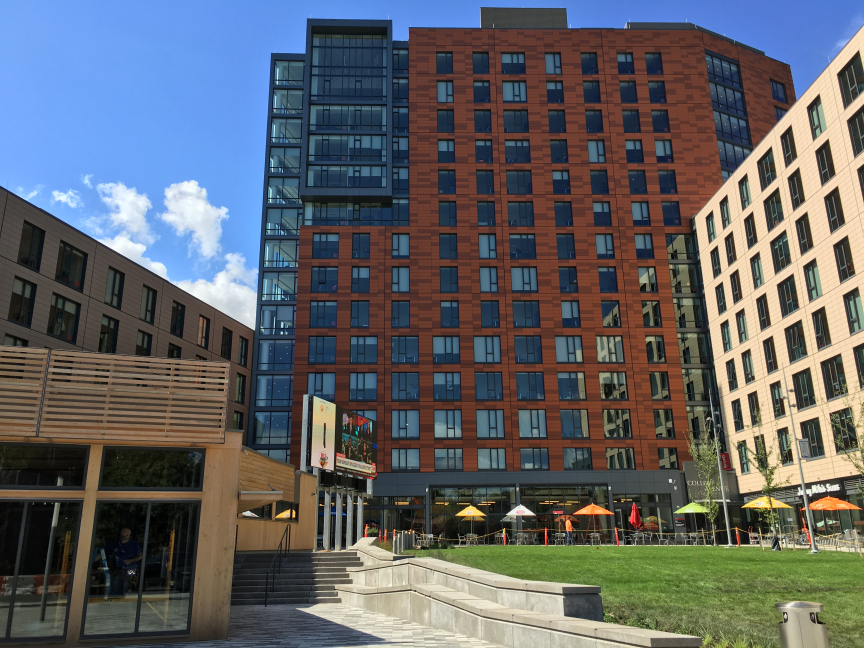 The 440-bed Rutgers Student Apartments contain single bedroom apartments, with up to four bedrooms in a U-shaped apartment unit. Featuring welcoming common areas and study spaces, Wi-Fi, and a variety of dining options on the ground floor, the new housing facility is designed to encourage an active and energetic environment. The highlight of the $91 million complex is a 25,000-square-foot public green space – "The Yard" – that will serve as a focal point for students, faculty, staff and the surrounding Rutgers community with seating, a boardwalk and a large outdoor video screen. The last housing project opened on the College Avenue Campus was University Center in 1994.
Students, staff and visitors will see many new and renovated facilities across the Rutgers University system, including:
Rutgers Biomedical and Health Sciences

Research Tower – Reconstruction of 12,000 square feet of existing space for teaching and classroom simulations on the sixth floor of the Research Tower for the School of Health Professions.
Cancer Institute of New Jersey – A $2.6 million, 2,500 square-foot reconstruction of the CINJ pharmacy.

Rutgers University-Camden

Alumni House – A $2.5 million renovation and restoration of 312 Cooper Street, the former Red Cross Building. Built in the early 19th century, it is located within the Cooper Street Historical district. This 8,000 square-foot space will be occupied by the Alumni Development Office.

Rutgers University-Newark

Robeson Campus Center Renovations – There are more than $1.1 million in improvements throughout the Robeson Campus Center, including renovations to the cafeteria and the commuter and cyber lounges that feature new furniture, flooring, ceilings and lighting.
Classroom Renovations – Approximately 20 classrooms in Hill, Smith, Boyden and Conklin Halls have been upgraded with new flooring, lights, seating and A/V equipment.

Rutgers University-New Brunswick

Kathleen W. Ludwig Global Village Living Learning Center – A new 37-bed residence on the Douglass Campus. This 19,000 square-foot, $11.5 million facility will be the new home of the Global Village Learning Community. It will include lounge, assembly, classroom and kitchen spaces as well as a public section offering students a supportive living learning experience.
Louis Brown Athletic Center – Replacement of ventilation infrastructure and installation of new AC systems.
In addition, more than $8 million in roof replacements and renovation of existing student housing.
Established in 1766, Rutgers, The State University of New Jersey, is America's eighth oldest institution of higher learning and one of the nation's premier public research universities, educating more than 67,000 students and serving people throughout New Jersey. Rutgers University-New Brunswick is the only public institution in New Jersey represented in the prestigious Association of American Universities. Rutgers-New Brunswick is also a member of the Big Ten Conference and its academic counterpart, the Big Ten Academic Alliance – a consortium of 14 world-class research universities.