Rutgers Office of General Counsel Honored for Excellence
The New Jersey Law Journal Awards Rutgers for Top In-House Legal Department
Rutgers University Office of the General Counsel is the New Jersey Law Journal's top in-house legal office among corporate, private and public organizations in the state.
The university counsel's office will receive the journal's General Excellence award on June 20 for navigating challenging disputes and transactions, showing a commitment to diversity and to mentoring students, and taking innovative approaches to the evolving role of in-house counsel.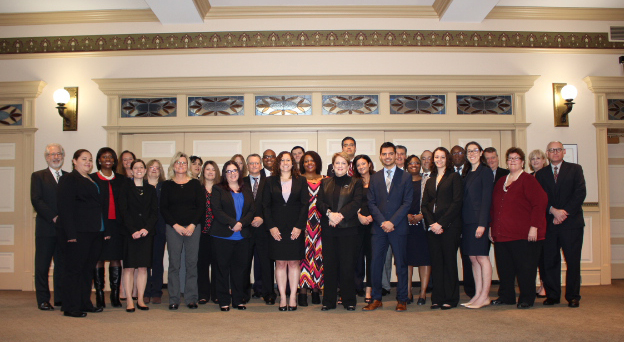 "This is the office's award," said John Hoffman, Rutgers' senior vice president and general counsel. "I am most proud of how everyone has shined – the attorneys, paralegals and the administrative staff – and their ability to work together to leverage resources and collaborate on some very difficult issues."
Hoffman, the former acting attorney general of New Jersey, arrived at Rutgers to lead the Office of the General Counsel in March 2016. During the past year, he said the office has been formally structured to revolve around four practice groups:  health care; transactional and real estate; labor and employment; and litigation and general academic and student affairs.
The counsel's office also has added staff, including one assistant general counsel, one associate general counsel and a deputy general counsel for health care. In the past year, the office has updated its document management and email systems and launched an electronic client survey system to seek feedback from clients.
"We are upgrading all of our systems so we can build a 21st-century law firm for the university," Hoffman said.
The general counsel's office handles a tremendous variety of legal matters, including those arising from:
all types of litigation involving students, faculty, administration and the boards
the acquisition of properties and university construction projects, as well as related capital raising projects
NCAA Division I and Division III Athletics, as well as intramural and recreation programs
employment and human resource issues related to 27,000 full- and part-time employees
research grants and related intellectual property issues
labor relations involving the 27 unions representing various university employees, including all labor arbitrations
student affairs involving 65,000 full- and part-time students, including issues related to academic integrity, free speech, student conduct and discipline, immigration, sexual harassment, residence life and student government
international students, faculty and academic affiliations
the university's governing boards
the university's public safety department including the university-wide police department covering the campuses in New Brunswick, Newark, and Camden.
In addition, in the past year, the counsel's office has played a key legal role in the integration and expansion of RBHS, and the creation of Rutgers Health and Rutgers Health Group. Rutgers Health is designed to bring all clinical services involving Rutgers' 1,500-plus physicians, dentists, nurses and other clinicians into one integrated professional faculty group practice throughout New Jersey. Rutgers Health Group will be the arm of Rutgers that partners with other entities to secure care for residents of New Jersey and beyond.
The New Jersey Law Journal also is honoring the in-house counsel offices of Sanofi U.S. for its pro bono work and BASF Corp. for its diversity.
"It's a fantastic honor," Hoffman said. "The office is and should be proud of being recognized throughout the state for what we've accomplished. We look forward to being able to serve the university and its respective clients in the incredible challenges that lie ahead, including the continued integration and expansion of RBHS and our continued integration into the Big Ten."
---
For media inquiries, contact Dory Devlin at dory.devlin@rutgers.edu or 848-932-0559.