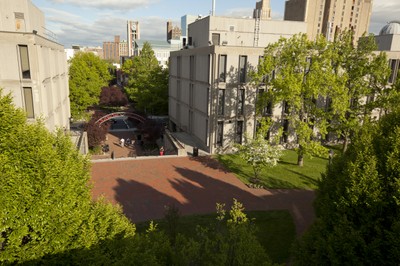 Rutgers University, Newark, has been recognized in two categories of the
2013
U.S. News & World Report
rankings of American college and universities, released Sept. 12, 2012.
Rutgers-Newark has been ranked 115th in the U.S. News' first tier category of "Best National Universities," an advancement from a ranking of 143rd in this category in the fall of 2011.
In addition, Rutgers-Newark has been ranked first in the U.S. in the category of "Ethnic Diversity" for national universities, for the 15th year in a row since  U.S. News & World Report established this category.  The largest ethnic group at Rutgers-Newark is Asian-American, representing 24% of the school's student population.
Philip Yeagle, interim chancellor of Rutgers-Newark, stated, "The spirit and track record of academic excellence here at Rutgers University in Newark has received well deserved recognition with these latest rankings.  Rutgers-Newark continues its proud tradition of educational opportunity for an historically multi-ethnic student body; we are pleased to have been ranked once again, for the 15th consecutive year,  as the country's most diverse national university."
The U.S. News & World Report Best Colleges rankings compare more than 1,600 accredited four-year schools with widely accepted standards of excellence. Among the many factors that determine the rankings are: peer assessment, graduation and retention rates, SAT/ACT scores, student selectivity, average class size, and alumni giving.  U.S. News classifies Rutgers University, Newark, among 280 other "national universities," a designation created by the Carnegie Foundation for the Advancement of Teaching.  Rutgers-Newark is a "research intensive" institution offering numerous master's and doctoral degrees in addition to undergraduate degrees.
U.S. News & World Report's rankings are a popular and comprehensive research tool for students and parents considering higher education opportunities.  The full listings are available at www.usnews.com/colleges. 
ABOUT RUTGERS UNIVERSITY, NEWARK       
Rutgers-Newark is home to the Newark College of Arts and Sciences, University College, the Graduate School-Newark, Rutgers Business School-Newark and New Brunswick, the School of Law-Newark, the College of Nursing, the School of Criminal Justice, the School of Public Affairs and Administration, and extensive research and outreach centers, including the Center for Molecular and Behavioral Neuroscience, the Cornwall Center for Metropolitan Studies, the Institute on Ethnicity, Culture and the Modern Experience, and the Institute of Jazz Studies.  Approximately 12,000 students are currently enrolled in a wide range of undergraduate and graduate degree programs offered at the 38-acre campus in Newark, N.J.  For more information please visit www.newark.rutgers.edu
Media Contact: Helen Paxton
973 353 5262
E-mail: paxton@andromeda.rutgers,edu