The awards were postponed for a second year, but the recognition is no less meaningful
When nominations for the 64th annual Grammy Awards were announced in November, Tom Nazziola went looking for a distraction.
The composer and percussionist had submitted pieces for consideration in several categories but was too anxious to sit through the livestream to hear the results.
"I didn't really get excited because these things are so unclear and almost like a crapshoot," says Nazziola, who decided to go shopping. "I didn't really think that it would happen."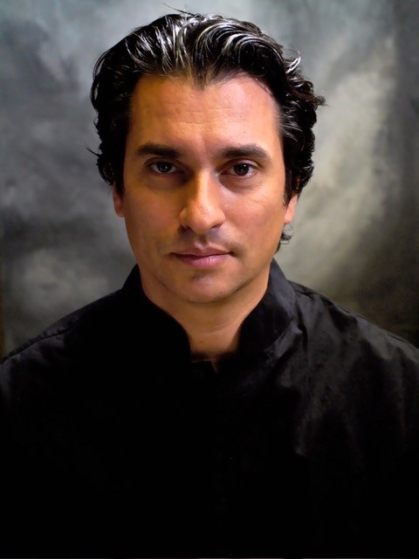 Then, a message on his phone from a friend watching the broadcast left him in shock: his piece "Cat and Mouse" was nominated for Best Instrumental Composition, a category with 415 submissions.
"I was just staring at the text. I couldn't believe it; I had to confirm it just to make sure of the piece and the category because that one was the hardest," says Nazziola, who graduated from Mason Gross School of the Arts in 2019 with a Ph.D. in composition.
"Cat and Mouse" is a rhythmic showcase of vibraphone, marimba and udu, a Nigerian clay-pot instrument, that Nazziola composed in the style of a Bach invention, "where one line starts and the other line comes in and there's this whole activity of one line chasing the other like a cat and mouse," he explains. 
The piece is from the album Distant Places, a collection of songs that exemplify his interest in global sounds and varying musical influences. Flexibility in composition is a hallmark of Nazziola's work, which spans film scores, orchestral and vocal pieces, jazz tunes and more over the past two decades.
"The spread in the kind of writing I do reflects my background and what I grew up listening to—I've gone through everything from the Beatles to hardcore jazz to classical to Middle Eastern music," Nazziola says.
Nazziola worked on writing and recording Distant Places while earning a Ph.D. at Rutgers, and says while creating music for the album and balancing the degree is "probably the hardest thing I've ever done," the hectic time had its perks. Several works were performed by university groups including Helix! New Music Ensemble and Rutgers Percussion Ensemble.
Nazziola's music has also been performed by ensembles including the Chicago Philharmonic Orchestra, Bang on a Can, VocalEssence, and the New Jersey Youth Symphony and has been featured on TV and radio, including John Schaefer's New Sounds show on NPR member station WNYC-FM. 
Several other Mason Gross community members are also nominated for Grammys this year, including faculty member and jazz pianist Bill O'Connell for his arrangement of Richard Baratta's work "Chopsticks," and alum Peter Martin, whose ensemble Third Coast Percussion is nominated in three categories for their album Archetypes.
For Martin, the nominations for Best Chamber Music/Small Ensemble Performance, Best Contemporary Classical Composition, and Best Engineered Album, Classical feel like a rebirth of art that was swept aside by the pandemic. Released in early 2020, the album is a collaboration with Brazilian father-and-daughter musicians Sérgio Assad, a guitarist, and Clarice Assad, a multi-instrumentalist performer, vocalist and composer.
Martin and his bandmates had plans for a national tour of Archetypes, an album of 12 works exploring universal characters and personalities from mythology, stories and legends, but were only able to perform it live twice before the country shut down.
"This album was the great casualty of the pandemic because we had been able to record it but were never able to support it with touring as we normally would," says Martin, who graduated with a B.A. in percussion performance in 2002. "When this nomination happened, it felt like a resurrection of the album and the concept and the ideas." 
Third Coast Percussion has earned three previous nominations in the Best Chamber Music/Small Ensemble Performance category—and won in 2017 for their recording of Steve Reich's works for percussion—but consideration in additional categories this year was unexpected, Martin says.
"That was a huge treat and thrill for us because it's the first time, and we're nominated along with these composers that we admire so much," says Martin. "It's a humbling experience."
Both Nazziola and Martin had booked trips to Los Angeles for the awards ceremony scheduled for January 31, which has been postponed to April 3 in Las Vegas. 
Nazziola says he expected the postponement given the recent surge in COVID cases. With so much uncertainty around large events, he has turned his attention to more concrete plans, including returning to Rutgers to teach an orchestration class this spring. 
He is also releasing a new album with his ensemble, the BQE Project, in February, which includes Nazziola's original scores for silent films, cartoons, and early cinematic classics from the 1920s and '30s.
While Martin is hopeful to attend the rescheduled ceremony, he's focusing on editing the band's next album, which will be released in the spring.
"As musicians, if we've learned anything the last few years, it's that you have to be fluid and accept things and learn to pivot as things change in this ever-evolving climate," says Martin.
No matter what happens, for Martin, it truly is an honor just to be nominated on what has been a bumpy road in the performing arts.
"For all the musicians, it still doesn't change the fact that all this amazing art was created over this last year, and people are being recognized for it," Martin says. "In one sense, there's a way to look at it as how positive it is that all this art has been able to be made during this mess."