Rutgers M.D.-Ph.D. Candidate Wins American Medical Association's National Research Competition
Leelabati "Leela" Biswas earns acclaim – and a grand prize of $10,000 – for her efforts to validate a genetic biomarker tied to miscarriages
A one-size-fits-all approach to health care – especially when it comes to infertility – didn't sit well with Leelabati "Leela" Biswas. So, the aspiring physician-scientist sought answers in a genetics lab at Rutgers University–New Brunswick. 
All those hours on Busch Campus paid off big time for Biswas: She's the 2022 winner of the American Medical Association (AMA) Research Challenge. 
Biswas, who is pursuing a dual doctoral degree in medicine and microbiology and molecular genetics (M.D.-Ph.D.) from Rutgers Robert Wood Johnson Medical School, earned a grand prize of $10,000 for her research, "Decoding Pregnancy Loss, Validating a Novel Genetic Biomarker of Poor Egg Quality." Biswas also took part in an episode of the association's podcast, AMA Making the Rounds. (The finals of the competition aired on YouTube.) 
Infertility, Biswas said, "is a more prevalent issue than a lot of people realize," adding that a minimum of about 10% of ovary-bearing individuals – "estimates can range even higher" – are diagnosed with infertility in the U.S. "So, that's one out of every 10 individuals at least." 
Poor quality eggs often have the wrong number of chromosomes. If these eggs are fertilized, they most frequently result in early miscarriages. 
Biswas's research beat out nearly 1,200 entries in the competition, which the AMA describes as "the largest national, multispecialty research event for medical students, residents and international medical graduates."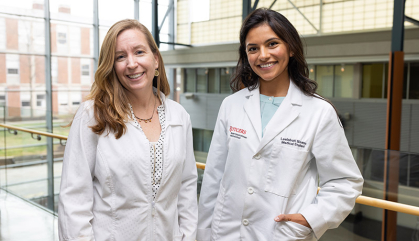 "We are incredibly proud of Leela and the research she has conducted to improve maternal health," said Amy P. Murtha, dean of Rutgers Robert Wood Johnson Medical School and a board-certified obstetrician whose research focuses on risks for preterm birth. "Training to become a physician-scientist is a valuable opportunity for our medical students to learn how science and medicine intersect to enhance human health. Leela's investigations add to the evidence-based knowledge our specialty can use to inform better patient care for individuals who experience infertility and pregnancy loss."
Seeking to identify a genetic predictor of infertility, Biswas conducted her research in the lab of Karen Schindler, an associate professor at the Human Genetics Institute of New Jersey and the Department of Genetics at the Rutgers Schools of Arts and Sciences. 
Biswas said the award brings "a lot of attention to a really important, pressing, understudied and underfunded issue, as well as highlights the excellent training and research being done here at Rutgers. I think it will help springboard continued studies as well as help me become a physician-scientist who really focuses on precision medicine and bringing better solutions to individuals that are more personalized and based on who they are and what makes them them." 
Schindler called Biswas "a true academic." 
"Leela really thinks deeply about the science – and the broader implications of the science," said Schindler, who has been with Rutgers for 11 years. "She's the type of person that if she's at a seminar, she will have at least five questions for that speaker. It's just always fun to have a conversation with her because she just has really unique perspectives and ideas." 
Schindler added, "I just feel so fortunate that she decided to do her Ph.D. in my lab because it's been a lot of fun teaching her, but also learning from her." 
Leela really thinks deeply about the science – and the broader implications of the science.

Karen Schindler

Associate professor at the Human Genetics Institute of New Jersey and the Department of Genetics at the Rutgers Schools of Arts and Sciences
Biswas said that while maternal age can be an effective predictor for poor egg quality, that isn't the case for everyone, as some people may have a genetic disposition for low-quality eggs. With that in mind, Biswas sought to identify a genetic biomarker tied to miscarriages. 
"Poor egg quality is typically not the end point that people are looking at," Biswas said. "A lot of times, studies will look at other conditions related to fertility." 
Being able to detect whether somebody has high-quality eggs or poor-quality eggs is important, she said. 
"If you're 28 and you have the egg quality that you'd expect for somebody who is 40, you won't know before trying to become pregnant because the only biomarker we have is age – and there's no predictive test, there's no imaging test, there's no blood test to tell you if your eggs are of good quality," Biswas said. 
Her research involved taking a cohort of nearly 3,000 patients from a local infertility clinic, selecting 200 patient samples from individuals who had extreme rates of egg aneuploidy (having the wrong number of chromosomes in cells) relative to maternal age and then using genetic sequencing to identify variants. Those variants were tested in mouse eggs, which are similar to human eggs. The variants found in the human genomes were then introduced into mouse genomes for more detailed studies. 
Leela's preliminary findings indicate that genetic variants in the KIF18A protein-coding gene cause aneuploidy in mouse eggs, pointing to causing aneuploidy in human eggs, Schindler said. 
Biswas, who was born in Maryland and moved to New Jersey when she was 6 months old, earned a bachelor's degree in biochemistry at Widener University in Chester, Pa., and completed her undergraduate research thesis at Thomas Jefferson University in Philadelphia before enrolling at Rutgers Robert Wood Johnson Medical School. 
"Rutgers was a natural choice," Biswas said. "I get to be relatively close to home and part of an institution that I've been familiar with my entire life as a bastion of excellent clinical care, as the premier academic medical center in the state of New Jersey. It's an excellent institution." 
She added: "I have great mentors at Rutgers, both in the medical school and the graduate school."