Rutgers Marks Grand Opening of New Brunswick Performing Arts Center
Rutgers University's Mason Gross School of the Arts marks the grand opening of the New Brunswick Performing Arts Center, a $172 million redevelopment project that promises to transform New Brunswick's downtown cultural arts district and provide new performance and professional opportunities for students at Mason Gross, the university's arts conservatory.
"The opening of NBPAC creates a tremendous opportunity for Mason Gross students to strengthen the reputation of New Brunswick as a performing arts destination and to perfect their skills and artistry in a state-of-the-art performance space," said Rutgers University–New Brunswick Chancellor Christopher J. Molloy. "This outstanding public-private partnership will provide cultural enrichment and economic benefits far beyond the great city of New Brunswick."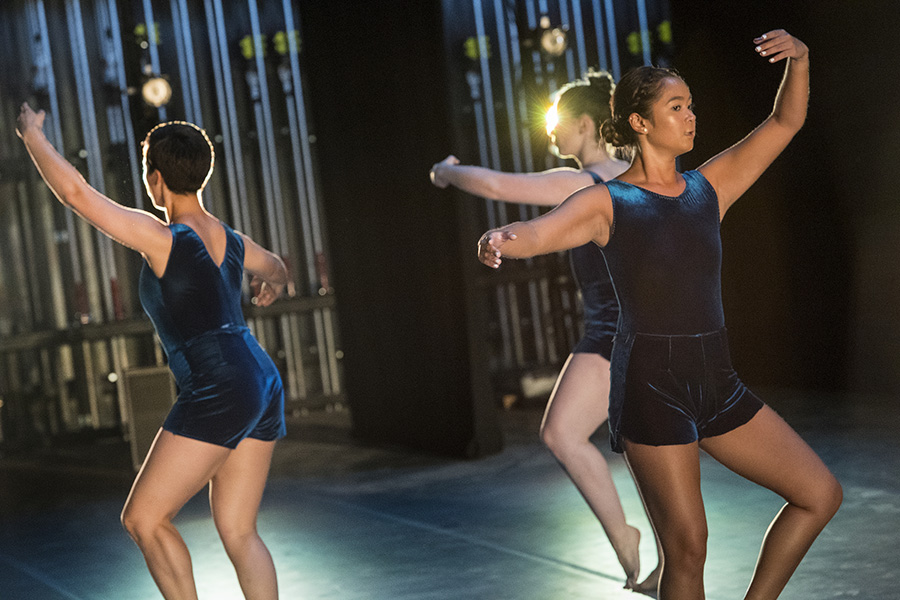 Mason Gross performers dance to "Heaven on One's Head" by faculty member Pam Tanowitz in the new performance space
(Photo: Nick Romanenko)
---
Mason Gross, one of NBPAC's four member performing arts organizations along with American Repertory Ballet, George Street Playhouse, and Crossroads Theatre Company, celebrated the new space during a private event on Wednesday evening with a student dance performance of Heaven on One's Head, a work by Mason Gross faculty member and acclaimed choreographer Pam Tanowitz. 
"Rutgers has been rooted in the city for more than 250 years. This partnership is an extension of our commitment to nurturing the arts in New Brunswick," Mason Gross Interim Dean Gerry Beegan said. "We have nearly 1,200 young artists on campus. NBPAC presents an opportunity for us to bring a slate of enjoyable and thought-provoking performances and films to a wider audience. We expect that this will provoke dynamic creative exchanges between our theater artists, musicians, dancers, and production designers and a range of new collaborators." 
Julia M. Ritter, chair and artistic director of the Mason Gross dance department, said, "NBPAC will provide new opportunities for student performers to get 'discovered' by new audiences ​who come to the performances, and share their feedback on social media. NBPAC is a wonderful resource and its presence here offers opportunities for innovative collaborations across disciplines and community partners."
Ritter noted that NBPAC will benefit Mason Gross students and faculty through, among other things, technology that will allow for more experimentation during productions and added space for performances by visiting guest artists.
Jose Lapaz-Rodriguez, a dance department sophomore who performed in Tanowitz's ensemble on Wednesday, said, "I am most excited about NBPAC's location in the heart of downtown New Brunswick, because it will get more people to New Brunswick, and more eyes on the dedicated hard work by performers."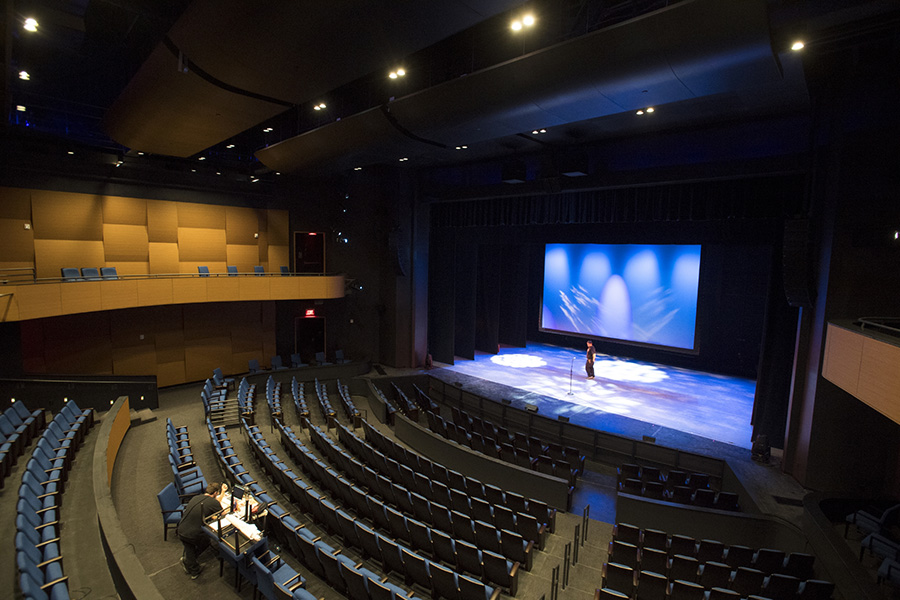 The new performance space includes technology that will allow for more experimentation during productions and added space for performances by visiting guest artists. (Photo: Nick Romanenko)
---
The performing arts center was developed through a public-private partnership between the New Brunswick Development Corporation (DEVCO), Rutgers University, Pennrose LLC, the City of New Brunswick, Middlesex County, the New Jersey Economic Development Authority, New Brunswick Cultural Center, and New Brunswick Parking Authority.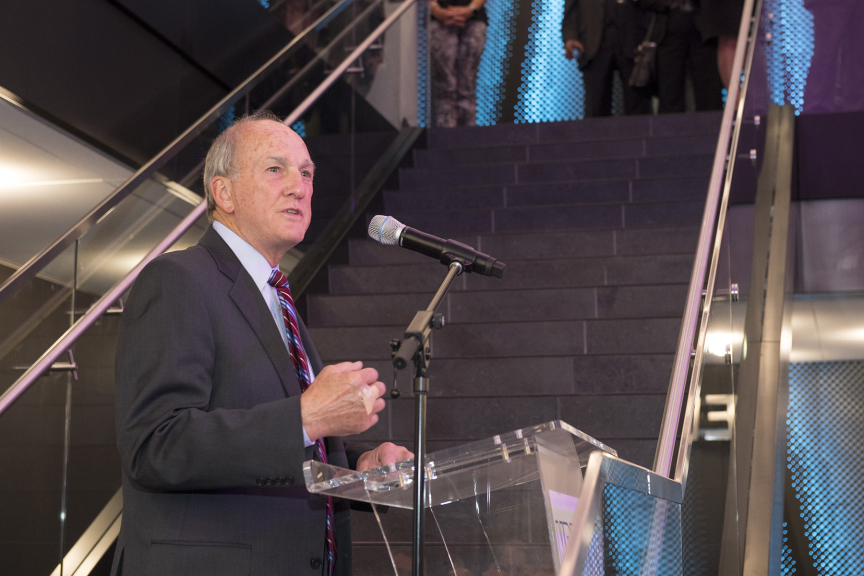 Christopher J. Paladino, the president of DEVCO, managing owner of NBPAC and a Rutgers alumnus, said, "Rutgers has always been an integral part of the New Brunswick experience. NBPAC is another opportunity for Rutgers students to engage with the broader community. Not only will NBPAC afford Rutgers students the opportunity to perform in a state-of-the-art facility, but it will also allow Rutgers to broaden its audiences by collaborating with three professional theater and dance companies. The arts have always been a driving force for the local economy, and NBPAC will help expand artistic offerings and audiences that will solidify New Brunswick as a hub for the performing arts in New Jersey."
The 75,000-square-foot performing arts center includes two state-of-the art proscenium-style theaters designed to accommodate musical theater, dance, opera, and dramatic theater; a two-level orchestra pit; wing space for opera and ballet performances; and three rehearsal studios that replicate the performance stage spaces. It is part of a 450,000-square-foot, 23-story, mixed-use facility that also includes 30,000 square feet of office space.
Mason Gross has scheduled a full slate of fall 2019 dance, film, music, and theater events at NBPAC including performances by the Rutgers Symphony Orchestra, Rutgers Jazz Ensemble, and Rutgers Theater Company, and its visiting filmmaker series. Tickets for Mason Gross events at NBPAC are available for purchase only through the NBPAC website, NBPAC.org.
---
For media inquiries contact Cynthia Medina at c.medina@rutgers.edu