Rutgers Love Story Leads to Birth of Online Wedding Business
Erik and Beth Kent graduated before the World Wide Web became popular, but now run an online wedding planning resource for the Garden State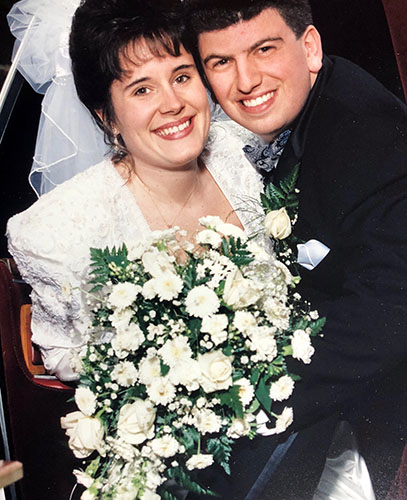 Creating a popular website was one of the last things on their minds when Erik Kent and Beth Voxland met as sophomore communication majors, bonding over an art history course in Voorhees Hall at Rutgers-New Brunswick.
In fact, when they both received their bachelor's degrees in 1992, and married in Rutgers' landmark Kirkpatrick Chapel two years later, the idea of online anything was mostly just the stuff of science fiction.
But in 1995, on a visit with fellow alumni Diane Rintzler and John Yen, they discovered their friends were using this newfangled thing called The Internet to research wedding venues and vendors in the Garden State.
Erik, originally of South Orange, had what he recalls as an "Aha!" moment.
"When Beth and I got married, we did our research the traditional way: bridal shows, newspaper ads, bridal magazines. But this was something new," the entrepreneur says. And it was something they could develop from the ground up.
That is how a love story that started at Rutgers led to the birth of a business.
A few years after planning their wedding the old-fashioned way, the pair launched NJWedding.com, a first of its kind online resource for couples planning nuptials in the Garden State.
The website matches engaged couples with caterers, florists, disc jockeys, banquet managers, photographers – anyone with a service to offer to make a special day even more memorable.
"We're not wedding planners," Erik explains. "What we do is to allow engaged couples to search for various services and make appointments directly with them. Essentially, we're building a community of wedding professionals who advertise their services with us."
This Valentine's Day, the couple will celebrate 22 years since they launched the business as a true labor of love.
The undertaking was an outgrowth of Erik's work at the time managing special sections for the Worrall chain of newspapers and Beth's job as a bookkeeper/manager at an advertising agency Erik's family had long owned in Newark.
They are now part of a $1.8 billion New Jersey industry with more than 47,800 "I do's" exchanged in the state last year, according to the industry website "The Wedding Report." They run the website from the Belle Mead home they share with their three children, Ellie, 19; Zoe, 16; and Ian, 13.
The couple built the business by reaching out to all the vendors who had helped make their own wedding a success, and created networks from there. Their first positive response came from Wayne Owens, the minister who officiated at their marriage at the historic Rutgers chapel, and who had remained in touch with them over the years.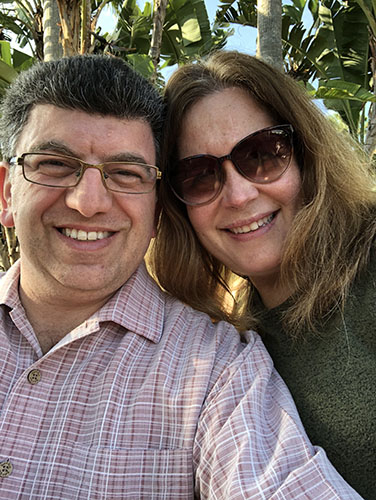 Today, more than 300 business owners and service providers post photos, blogs and advertisements on the site, lured by the opportunity to reach potential clients via social media.
The couple keeps an eye on what's hot these days, and what's not, on the wedding scene. They have even expanded their family business with the recent addition of NJParenting.com, a companion site for planning birthday parties, Bar and Bat Mitzvah ceremonies, Sweet 16 celebrations and other life-cycle events.
When it comes to wedding planning, rustic is definitely in, Erik says, with barns, family farms and wineries attracting party-planners by the score. Also in: photo booths and Jersey Shore weddings from Long Beach Island to Cape May to Asbury Park, gazebos, drone photography and indoor sparklers on the dance floor.
Definitely out, both observe: cookie-cutter weddings reflecting little or none of the personalities or quirks of the couple joining their lives together.
"We've probably had a part in helping brides and grooms connect to vendors thousands of times over the past 22 years," says Beth. "I love being part of something that contributes to so many happy wedding days. ''