Rutgers Graduate Fills New Brunswick Food Desert Through Organic Farm
James Klett, a 2019 graduate, can be found during the season at the New Brunswick Community Farmers' Market on the Cook campus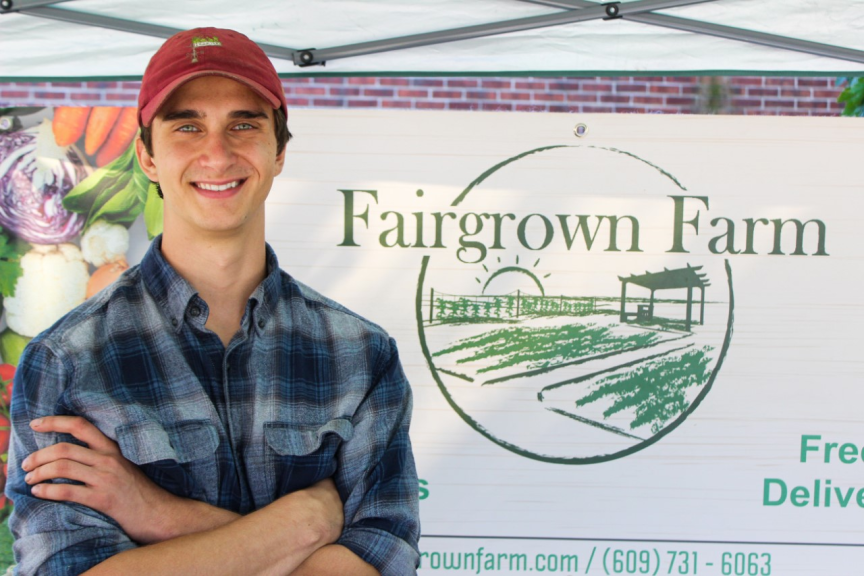 Rutgers Business School-Newark and New Brunswick alumnus James Klett doesn't come from a farming background and never thought it would be his life's work.
That was until he visited his brother, an artist who was renting a cow barn for a workspace, and seeing a newly plowed field made him think that farming, no matter how unorthodox it seemed, might be his destiny.
"For some reason I looked at this as a kid and thought, I could do that, I could start farming. I talked to the owners and ended up leasing the land," Klett said. "I got five friends together, wrote up a business proposal and just started doing it. I fell in love with it."
The 2019 Rutgers Business School alumnus, who graduated with a minor in agriculture, can be found during the season at the New Brunswick Community Farmers' Market on the Cook/Douglass campus. He sells vegetables grown at Fairgrown Farm, his organic farm on an eight-acre plot off Aunt Molly Road in Hopewell.
"I started farming my senior year of high school in Montgomery and was farming every summer while I was studying at Rutgers. I would drive home every day in the springtime trying to get all my plants ready and then in the summer."
Klett officially created his agricultural business two years ago, filing the necessary paperwork while sitting in class. He chose to major in business, he said, because he knew that he eventually wanted to run his own business, he just wasn't sure what that business would be. But after spending summers farming, he decided to stay the course in business and take a minor in agriculture.
"I need to grow crops. But at the same time, I need to budget, manage employees, navigate the law and sell the stuff," Klett said. "It's in all these different facets of my job that I really make use of my business education."
Klett has his own farm sharing trade, delivering fresh produce to people around the community and selling large portions of fresh vegetables to restaurants including Nomad Pizza, Antimos Italian Kitchen, Lucy's Kitchen and the Whole Earth Center in Princeton.
 "When it comes to fresh food and more specifically high-quality locally sourced organic food, New Brunswick is a food desert," he said. "This is a problem that a lot of students as well as low-income families face, so the nice thing about our market is we are able to make that available for the community and even more so, provide very high-quality organic produce."
Klett says the work is extremely challenging but he can't imagine doing anything else.
"There is something addictive about the work, it is really hard, it's manual labor, but when you start doing it there's something about being connected to the land, working outside, feeling tired at the end of the day and producing something that is tangible that people can enjoy and is providing nutrition," he said. "There is immense fulfillment in this work, and it is kind of hard to leave once you start doing it – you're drawn to it for some reason."