Esther Salas tapped as first Hispanic woman on U.S. District Court in New Jersey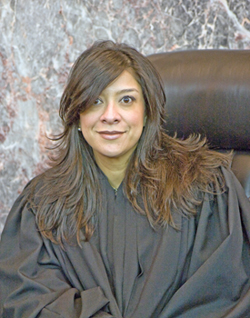 Esther Salas says the Minority Student Program at Rutgers School of Law-Newark provided her with academic and social support.
Esther Salas, the daughter of a Cuban mother and a Mexican father, learned earlier than most children to negotiate the ins and outs of bureaucracy.
Later, the 1991 Rutgers graduate would credit her encounters with welfare officials, insurance agents, and teachers as the unofficial start of her career in advocacy – a career that reached a milestone in mid-June when Salas became the first Latina to serve on the federal U.S. District Court for the District of New Jersey.
"My mother was 22 when she came here with no English, no education. All of her five children chipped in and helped her navigate through the maze," Salas recalls of her childhood in Union City.
In 1979, when she was 11, a fire in her apartment building destroyed all the family's belongings. Although no one was harmed, Aurelia Salas ultimately had to go on welfare, a proud and hard-working woman forced by circumstances into what she saw as an unpalatable situation.
Her daughter assumed a role common to the children of immigrants: translator and interpreter.
"When I look back, that was a pivotal moment for me," Esther Salas recalls. "If you track what I've done over my career, you'll see I tended to do a lot of public service. I learned that you need to be a voice for those who don't have one."
Despite setbacks in her mother's life – including leaving an abusive marriage – the elder Salas managed to keep her three boys and two girls out of gangs, off drugs, and on the right educational path: All graduated from college, and Esther Salas went on to become the first in her family to attend law school, earning her law degree in 1994 from Rutgers-Newark.
"Law school was challenging, so I truly appreciated the Minority Student Program and all the support it offered, both academic and social," the new judge says. "Dean Janice Robinson encouraged all of us to interact, and coached us on things like putting an outline together and writing a brief. "
Many issues facing law school students hit minority students particularly hard, including fear of the unknown and potentially crippling self-doubt. "You looked around and felt like there wasn't anyone you could relate to back then," Salas says of her early years in law school. "That's a recipe for disaster if one doesn't get a handle on it quickly. I was lucky enough to utilize what MSP offered – it helped me figure out how to take an exam, how to write a strong paper."
The program provides academic support, mentoring, and internships to students who demonstrate through a history of socioeconomic, educational, or cultural experiences that they have been disadvantaged. 
Salas returns the favor every year when she speaks at the minority student orientation in August, sharing her narrative and offering words of encouragement.
As an undergraduate, Salas also participated in Rutgers' Educational Opportunities Fund program, which provides financial support to students from economically disadvantaged families. She received her B.A. in 1991 from Rutgers in New Brunswick, where she was a political science major with a double minor in philosophy and Puerto Rican and Caribbean Studies.
Salas's nomination to the federal bench drew acclaim from many quarters, among them the Hispanic National Bar Association, which represents more than 100,000 attorneys, judges, law professors, legal professionals, and law students. Salas was HNBA's president in 2001.
"Her longstanding reputation of being an excellent trial lawyer and fair judge is a testament to her ability to serve our judiciary with distinction, and we are proud to see her advancement," said current president Diana Sen.
As a newly minted attorney, Salas served as a law clerk to Eugene J. Codey Jr., of the Superior Court of New Jersey. After a stint as an associate at the Garces and Grabler law firm, she worked as an assistant public defender for a decade before being named a federal magistrate judge to the U.S. District Court for the District of New Jersey in 2006.
Last December, President Obama nominated her as a U.S. District Court judge on the recommendation of U.S. Sens. Frank Lautenberg and Robert Menendez, both D-N.J.
Salas recalls the confirmation process – including an interview at the White House and a hearing before the Senate Judiciary Committee in March – as both nerve-wracking and awesome. Beyond the normal pre-trial jitters, the hearing day featured an added twist: The elevator heading up to the committee room stalled on its trip up, trapping Salas with husband, Mark Anderl, and their 10-year-old son Daniel.
"They literally had to pry open the doors and we had to jump down," the North Brunswick resident recalls. "It seemed to take forever, but it was probably 10 minutes."
Despite the drama, Salas ultimately won unanimous approval by the Senate. On June 14, she stood tall in a Newark courtroom as U.S. District Judge Jose Linares swore her in. Linares will serve as her mentor as Salas tackles a docket that will soon rise to 300 cases.