Rutgers Engineering Professor is a Woman of Firsts
Lisa Klein has been a pioneering professor and scientist, faculty union president and strong supporter of women and minorities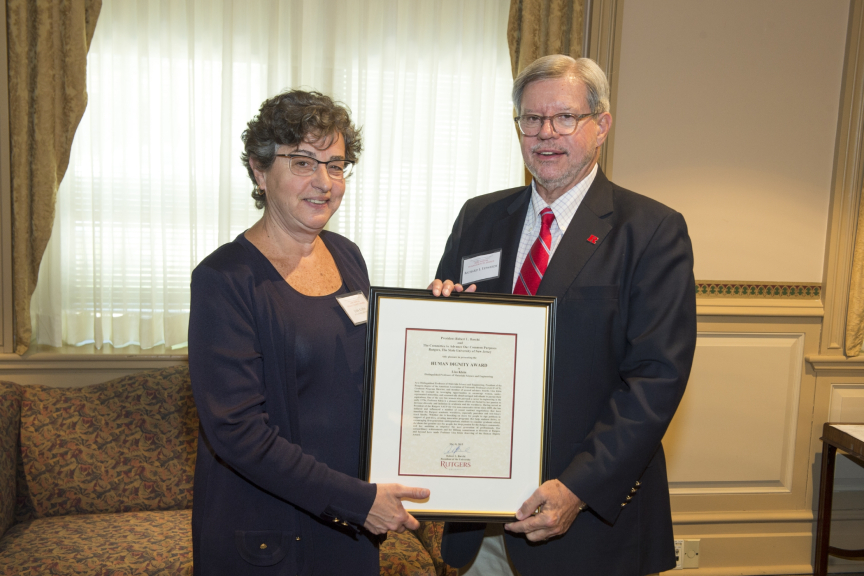 'I have a lot of undergrads who work with me and I've always advocated for underrepresented groups to come and work in the research labs, especially in the summertime. I've worked with a number of the programs at Rutgers that encourage women to stay in the technical fields.'

 

- Lisa C. Klein
Lisa C. Klein is a woman of firsts.
She was the first female professor in Rutgers University's School of Engineering in 1977.
She's performed pioneering research on sol-gel processing – a low temperature way to make ceramics and coatings that led to energy-saving coatings for windows.
She became the first woman elevated to professor II in the School of Engineering. It's the equivalent of today's distinguished professor status.
"At first, it was lonely to be the only woman faculty member in the School of Engineering," said Klein, 64. "It prompted me to look elsewhere within Rutgers, so I met women in chemistry and geology. Also, I found the Douglass Project for Rutgers Women in Math, Science, and Engineering, which has been a great affiliation for many years."
Although a network of female faculty developed after the School of Engineering began adding women to their ranks, today less than 25 percent of engineering students and faculty are women. It's been a slow process, Klein said, pointing to the 32 years it took before a second woman was hired in the Department of Materials Science and Engineering, where Klein has devoted her career.

For decades, Klein – a strong supporter of women and minorities in science – has led the graduate program in the Department of Materials Science and Engineering, and still carries a heavy teaching load.
She has five shared patents, three of them covering sol-gel processing. The process created window coatings that help keep buildings warm in the winter and cool in the summer and are widely available through SageGlass and other companies. The fourth patent covers a sol-gel fiber used in fluorescing and the fifth patent is for a sol-gel coating for an oxygen concentrator. Today, Klein's conducting research on anti-corrosion coatings for steel and other metals.
In addition to her research and teaching, Klein served two terms as president of the Rutgers AAUP-AFT, the union that covers more than 7,000 faculty members and others. Her efforts aided postdoctoral fellows and non-tenure track faculty.
Richard Lehman, professor and department chair in the School of Engineering, said Klein is the type of person who takes on a job and gets it done.
"Not only has her career been amazing scientifically and professionally, but she's always available to students, and she's always active in school and department functions," Lehman said.
Klein, a native of Wilmington, Delaware, earned a bachelor's degree in metallurgy at Massachusetts Institute of Technology in 1973. She was the sole woman to get such a degree that year. She continued on and earned a doctorate in ceramics in 1976 at MIT, minoring in geology.
"In the late 1970s, people were becoming much more energy-conscious because of the oil embargo," she said. "So I think there was a general sentiment in the glass industry that there's got to be another way. Sol-gel processing is something that I read about and thought was interesting and I decided to give it a try."
Through the years, Klein has won numerous engineering and other awards including a 2015 Human Dignity Award from Rutgers for her lifelong commitment to encouraging women, minorities and economically disadvantaged people to pursue their aspirations.
"I have a lot of undergrads who work with me and I've always advocated for underrepresented groups to come and work in the research labs, especially in the summertime," Klein said. "I've worked with a number of the programs at Rutgers that encourage women to stay in the technical fields."

Laura Fabris, an associate professor in the Department of Materials Science and Engineering, looks to Klein as a role model and for inspiration. "Lisa has done a lot of service supporting women in the profession, so she has kept a human side in addition to her professional side, which is quite difficult to do because of the demands of our job," Fabris said.
---
For more information, please contact science communicator Todd B. Bates at 848-932-0550 or tbates@ucm.rutgers.edu.