Visitors learn what New Jersey's only Big Ten research university has to offer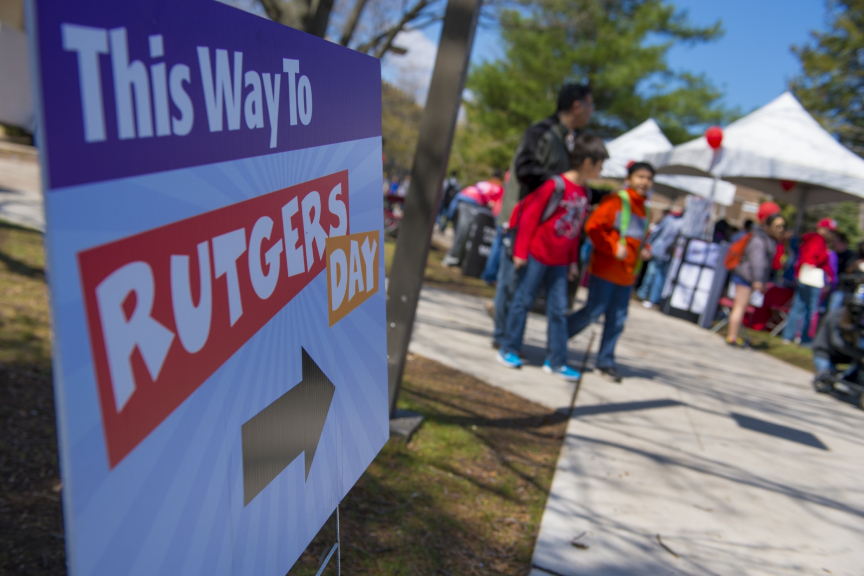 Despite cool morning temperatures, sunny skies brought out a record crowd of 91,000 to the seventh annual Rutgers Day where visitors had the opportunity to learn about the research, service and education taking place at New Jersey's only Big Ten research university.
The popular spring event – which also coincided for the first time with Alumni Weekend – kicked off in the morning with the Rutgers Day and Alumni Parade. Alumni hailing from the Class of 1945 through the present marched from College Avenue to Voorhees Mall to the joyful beat of the Rutgers Marching Band.
The Rutgers Scarlet Knight mascot led a trio of costumed characters key to Rutgers' history – Paul Robeson, Mabel Smith Douglass and Colonel Henry Rutgers – enlivened by the Rutgers dance team and cheerleaders.
With nearly 500 programs, Rutgers Day has become a spring tradition and a show-and-tell for New Jersey residents of all ages.  This year, those who attended the daylong event had a bevy of activities -- science, sports, crafts and animals to history, English, theology, theater arts and politics – from which to choose.
"It's always a good time, I like to see what RU is up to," said Christine Dobnarksy, a Deptford resident who received her undergraduate degree in exercise science from Rutgers in 2012 and hopes to return for graduate school.
For the Rees family, Rutgers Day is an annual must. Karen and Jim Rees, who graduated in 1988 from Rutgers as an English major, come every year from their Middlesex home. This year, they got to see their daughter, Jackie, a criminal justice major, play her piccolo and march with the Rutgers Marching Band. She "lives and breathes Rutgers," her mom said.
Nearby, at the School of Arts and Sciences Tent of Big Ideas on College Avenue, festival goers learned how to conquer stress, why antibiotics shouldn't be overused, how pollsters know what you think before you open your mouth, and why New Jersey's favorite son, Bruce Springstein, is so beloved.
At the Rutgers University-Camden booth, visitors created their own Rutgers shields using stamps, markers and crayons for decorations while kids got to watch and participate in Lego demonstrations conducted by a team from Rutgers University-Newark. 
Rebecca Leventhal-Pearlstein and her sister, Rachel Leventhal-Weiner, who came to celebrate her 15th reunion, stopped with their families at the Rutgers Athletics mini-combine and face painting booth.  As Leventhal-Pearlstein's son, Jack, got a rainbow painted on his face, the sisters, both Rutgers grads, said it was the first time in several years they had been back.
 "It's a gorgeous day, and everything looks great. The campus looks so different," said Pearlstein-Weiner, who lives in West Hartford, Connecticut. "There is a lot that's new, but there's a lot that's old, too."
Healthy food demonstrations at the Cook/Douglass Campus and the art of making liquid nitrogen ice cream at a science demonstration on the Busch Campus were popular with the crowds.
"It tastes better than regular ice cream," said 10-year-old Cristian Perry of Piscataway, who was there with his mother and sister and thought the long line was well worth the wait. 
Inside the observatory on Busch, others lined up for a look through a telescope with a Mylar filter for a glimpse at sun spots.  In the mechanical and aerospace engineering tent, members of the Rutgers chapter of the American Institute of Aeronautics and Astronautics told kids and adults how they built several planes and flying machines on display.
The Rutgers New Jersey Agricultural Experiment Station used Rutgers Day to unveil the Rutgers Scarlet Strawberry, which went on sale to the public for the first time at the master gardener plant sale Saturday morning. The Scarlet Strawberry, in development for the last 10 years, is bred to thrive in the New Jersey climate.
"One farmer told me he would plant as many as I could get him because he loved it,'' said Bill Hlubik, a department head for the Cooperative Extension of Middlesex County. "He liked the flavor and he liked the production quality."
Meanwhile, at the start of the 4H State Dog Show on Cook Campus, a band of about 20 deer ran around the perimeter of the show grounds.  "It felt like we were on the Serengeti!" said Jean Scalea Bjugstad, who was attending the show with her son, Julian, and his Collie/Newfoundland dog, Bear. "All the dogs sat up and took notice and there was lots of barking."
As always, the 41st annual New Jersey Folk Festival was a big hit with festival goers who helped celebrate maritime folk culture with performances offered throughout the day featuring musicians, dance and vocal workshops and circus arts. There was a pie-eating contest for kids and basket weaving, surf board and boat-building demonstrations for adults.