Rutgers Class of 2020: Diverse, Accomplished and Largest Ever
Nearly a third of newly entering undergraduates are the first in their families to attend college
Robert Mostello of Somerville, an engineer with several patents to his name, is following a long-held dream to earn a bachelor's degree in English literature – at the age of 79.
Tanaisa Brown is a community activist who has advocated for educational reform and adequate school funding in her home town of Newark. Anastasia Boganovski of Fanwood, a world-class swimmer, carried the flag of Macedonia at the opening ceremonies of the 2016 Rio Olympics.
And Courtney, Kaitlyn and Jared Rone, triplets from South Brunswick, have chosen three separate university locations – Camden, Newark and New Brunswick –  on which to leave a mark.
Meet the Rutgers University Class of 2020, a record-breaking 8,600 students-strong across all campuses statewide, selected from a pool of more than 39,000 hopefuls.
The number of applications represents a 4 percent increase over last year.
"We're expecting our largest first-year class universitywide, as well as record first-year classes in Newark and Camden," said Courtney McAnuff, vice president for enrollment management.
McAnuff said approximately 6,500 of the first-year students are headed for the New Brunswick and Rutgers Biomedical and Health Sciences (RBHS) campuses. Approximately 1,450 will launch their Rutgers careers in Newark and another 650 have opted for Rutgers-Camden.
The university is also welcoming about 4,750 transfer students universitywide.
Out-of-state and international students represent 17 percent of the first-year class in New Brunswick. Coming from 35 states and 55 countries, the incoming class joins a community of students from more than 115 countries and all 50 states, as well as the District of Columbia and Puerto Rico.
The five most popular home nations are China, India, South Korea, Taiwan and Turkey.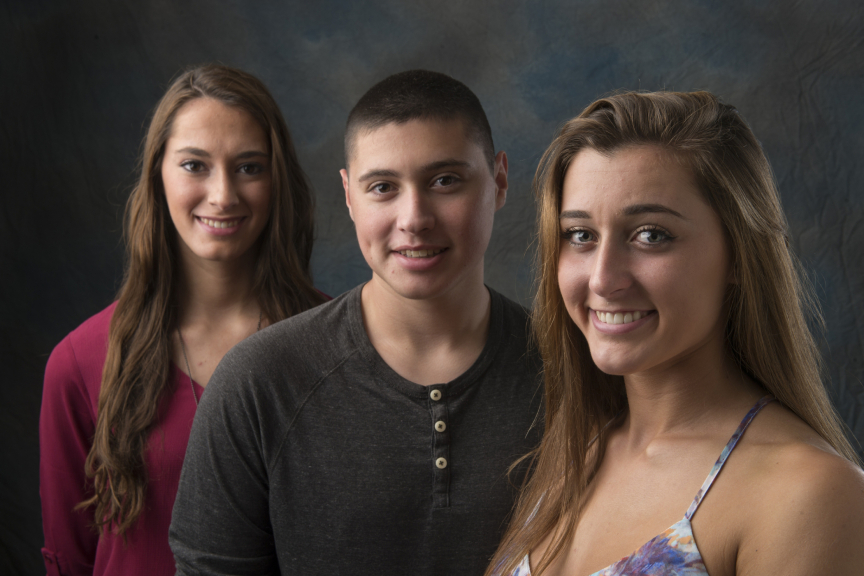 They're a smart bunch, as well: 66 percent of the incoming students in New Brunswick/Rutgers Biomedical Health Sciences represent the top 20 percent of their high school classes, and the number of valedictorians and salutatorians across all campuses is 140.
The average SAT score for regularly admitted students in New Brunswick/RBHS was 1888, almost 10 points higher than last year.
For their majors, the new students are flocking to business, health professions and related clinical sciences such as premed and pharmacy, biological and biomedical sciences, engineering, and computer and information sciences.
The Rone triplets, recent graduates of South Brunswick High School, represent a microcosm of the university's wide-ranging opportunities.
Kaitlyn Rone has a penchant for helping people and a passion for learning about how the human body works. She singled out Rutgers-Camden for its nursing school and its honors college.
"I want to be a pediatric nurse practitioner, and Camden has an accelerated program which works for me and motivates me," said Rone, who has served as an EMT for the Kendall Park emergency squad as well as working as a lifeguard at local gyms and pools.
With an eye on ultimately working in counterterrorism in the federal Department of Homeland Security, her brother Jared has enrolled at Rutgers-New Brunswick, with plans to major in political science.
A fourth-generation Eagle Scout, Jared Rone created Change for Change as part of his qualifying project.
After designing and building four red and blue coin donation boxes out of wood and plexiglass, the 17-year-old set them out for display in restaurants, recreational centers and other venues. The first round of donations yielded $650; those funds and future donations will go to South Brunswick Social Services.
Last February found Kaitlyn and Jared's sister Courtney being crowned Miss Teen New Jersey International 2016. This summer she competed in the national pageant in Florida, representing the Garden State.
Although she didn't win, she came away excited about the people she'd met and the experiences she'd had, and determined to carry through on her pageant platform: "Body Image: Finding Strength in Your Scars."
Nine-hour spinal fusion surgery in May of her junior year of high school left the aspiring model with two metal rods and 28 screws in her back and side, which corrected her scoliosis.
Since then, she has been reaching out to children worldwide via social media with a simple but powerful message: Your dreams need not be shattered, no matter what life throws at you. Your scars show where you have been, not where you are going.
She's still undecided about her future major at Rutgers-Newark, but leans toward mass media with a double major in journalism, and is eyeing a possible transfer down the road to the New Brunswick campus to keep all options open.
For all the siblings, the prospect of being apart for more than a week at a time is a bit daunting, they admit, but they vow to stay connected through Facebook and other platforms, and are looking forward to jumping on a train to visit each other's dorms.
Her children's choice of the state university is both a source of pride and an affirmation of the central role Rutgers plays in her family's life, their mom Heidi Rone says.
She's no stranger herself to the university, which this year is celebrating the 250th year of its founding. In September, Heidi Rone will begin her fourth year as principal secretary for the Scarlet Knights Women's basketball team.
Other notable facts about the newly entering undergraduates (includes first-year and transfer students):
More than 2,800 are the first in their families to enroll in college.
More than 1,300 have a parent who attended Rutgers.
About 50 percent of incoming students are of African American, Latino or Asian background.
More than 10,000 incoming students will receive financial aid. 
About 500 will be enrolled in the Honors College in New Brunswick, now entering its second year. More than 77 percent of those are from New Jersey. Honors College average SAT score is 2170.