First of a kind grant allows university to inform professionals and the public about con artists in the wake of catastrophes
As if natural disasters aren't bad enough, a parade of con artists always follows in the wake of these catastrophes. They prey on vulnerable victims, many of whom are elderly or may have functional or cognitive limitations. The scamming often begins within hours after the event and can extend for months and years, as it has following Hurricanes Sandy and Katrina.
Now, a first-in-the state initiative is underway to provide preventive education and training to stop exploitation of vulnerable adults in New Jersey. The Department of Human Services' Adult Protective Services, a unit of the Division of Aging Services, has awarded a grant to Doug Behan, director of continuing education for the Institute for Families, School of Social Work, to develop and deliver a curriculum about exploitation following a disaster.  
The goal is to educate vulnerable adults as well as the trusted community members and professionals who assist them. Everyone, from professionals who are mandatory reporters of exploitation to others who may not consider themselves on the frontlines of recognizing exploitation, can be a part of the solution to this growing problem.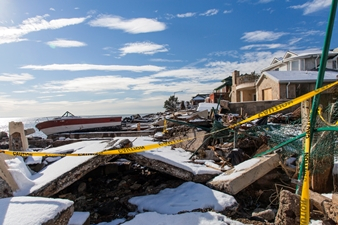 "People who have been through a disaster are in a vulnerable place and have lost their equilibrium and many are experiencing post-traumatic stress. They are in desperate need of services and can be conned fairly easily. It is vital to raise consciousness at all levels throughout the state about this type of exploitation," says Behan.
The Rutgers team will hold a free fall conference open to law enforcement, social service workers, business owners and the general public on topics related to the exploitation of at-risk populations, including the disabled, mentally impaired and the elderly.  A follow-up conference will be held in the spring of 2015. Another component of the $239,924 grant project involves conducting up to 60 free educational seminars throughout the state, beginning next summer and running through September 2015, at any place where these populations can be reached, including church groups, senior centers, hospitals and small nonprofit agencies.
After the Storm, Another Tragedy
Post-disaster scams range from inferior work on property to the outright stealing of down payments. The top five perpetrators of post-disaster frauds are identity thieves, dishonest contractors, public adjusters and attorneys, hurricane reinvestment strategists, and illegitimate nonprofit agencies. The IRS warned consumers following Hurricane Katrina that fraudulent schemes are perpetrated by phone, Internet, email or door-to-door solicitations. In the first days following Hurricane Andrew, Florida's attorney general's office received 200 complaints of fraud.
The Oct. 29, 2012, Superstorm Sandy has been ranked as one of the 25 deadliest U.S. cyclones and one of the costliest, causing $65 billion in damage. Patricia Findley, associate professor of social work, conducts research on emergency preparedness and physical and mental health concerns, and worked with Superstorm Sandy survivors. She found that one of the most prevalent scams after the storm was mold remediation. 
"Many elderly people were taken in by this scam, which often involved door-to-door visits, Findley said. "Instead of removing the mold, the fraudulent contractors would just put up walls and lay down the new floor on top of it. With the heat of the summer, the mold has grown back and is presenting a health concern for older adults or anyone with allergies or asthma."
Rutgers School of Social Work was awarded a $400,000 grant from the Robin Hood Foundation to provide clinical mental services after the storm to be delivered as part of the training of our graduate students. In early summer, as the mold became a health issue, Rutgers nursing students were sent out to educate the population on the harmful effects.
With limited social networks, the elderly and those with disabilities often have fewer resources for rebuilding, leaving them open to scams. After a scam, they may also be reluctant to report it, says Colleen Beach, continuing education coordinator at the school.
"Older people may feel shame about the exploitation experience and fear repercussions if they alert family members,'' Beach said. "They worry that being taken by a contractor could fortify the argument that they are not capable of living alone. Shame coupled with the possibility of their judgment being impaired by this traumatic event could lead to a decision that reporting is more dangerous than being exploited."
The curriculum will be focused not just on at-risk populations, but also on trusted community members who may be alerted to the scams. 
"It is vital for the general population to have knowledge to prevent this from happening. Older adults are more likely to seek assistance from trained workers and those familiar with the senior community. We hope to train these trusted community members,"  adds Beach.
---
Contact:  Beth Salamon, Communications Office, SSW, 848-932-5340, bsalamon@ssw.rutgers.edu