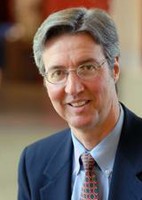 NEW BRUNSWICK, N.J. – Ralph Izzo, chair, president and chief executive officer of Public Service Enterprise Group Inc. (PSEG) in Newark, was elected to a one-year term as chair of the Board of Governors of Rutgers, The State University of New Jersey, at today's board meeting here. Izzo was inducted as a Public Governor of Rutgers in 2009. His term runs through 2014.
Izzo, who in 2002 earned an MBA from the Rutgers Graduate School of Management – now Rutgers Business School-Newark and New Brunswick – succeeds the Rev. M. William Howard Jr. as chair of 11-member body.
Prior to assuming his current positions, Izzo was president and chief operating officer of Public Service Electric and Gas Co. (PSE&G). Since joining PSE&G in 1992, he has been elected to several executive positions within PSEG's family of companies.
"Dr. Izzo has been prominent and effective in many causes of importance to the citizens of New Jersey, including higher education, energy policy and the preparedness of the 21st century workforce," said Rutgers President Richard L. McCormick. "The Rutgers community will benefit from his leadership on the challenges we face in serving our many stakeholders during these difficult economic times."
Izzo began his career as a research scientist at the Princeton Plasma Physics Laboratory. He acquired broad public policy experience as an American Physical Society Congressional Science fellow in the office of former U.S. Sen. Bill Bradley, and also served four years as a senior policy adviser in the office of former New Jersey Gov. Thomas H. Kean, specializing in energy, science and technology.
A staunch environmentalist, Izzo is a board member for the New Jersey Chamber of Commerce, the New Jersey Utilities Association, the Nuclear Energy Institute and the Center for Energy Workforce Development.
Besides his MBA from Rutgers, Izzo earned his Bachelor of Science and Master of Science degrees in mechanical engineering and his doctorate in applied physics from Columbia University. He was inducted into Rutgers' Hall of Distinguished Alumni in May 2009.
Izzo  recently took part in the Rutgers Business School's CEO Speaker Series.
Established in 1766, Rutgers is one of the nation's premier research universities, serving more than 53,000 students on campuses in Camden, Newark and New Brunswick.
The Board of Governors also recognized the achievements of 12 recent graduates and three current undergtaduates, who won prestigious national honors during the 2009-2010 academic year.
Media Contact: Steve Manas
732-932-7084, ext. 612
E-mail: smanas@ur.rutgers.edu