New Doctor of Health Administration Degree Program at Rutgers-New Brunswick
The Rutgers University Board of Governors unanimously approved a new Doctor of Health Administration degree program within the Edward J. Bloustein School of Planning and Public Policy at Rutgers University-New Brunswick. 
The doctoral-level program will expand opportunities for mid-level and senior executives with the training and skills required to advance as leaders in health care administration. 
"We are excited to add to our degree offerings a program that we expect will be instrumental in training the next generation of leaders in hospitals and other health care settings," said Stuart Shapiro, interim dean of the Bloustein School.
The 66-credit program will include 15 credits in leadership courses, 15 credits in applied research and 21 credits in an applied research project. Qualified applicants must have five years of relevant work experience and master's-level training. Those with a master's in health administration will be able to transfer up to 42 credits per faculty review for course equivalence. The program will not require applicants to submit GRE scores. 

Plans call for an initial cohort of 10 students once admissions begin, said Ellen T. Kurtzman, professor and executive director of the health administration program.
"I am thrilled that health administrators and managers in New Jersey and its surrounding states will be able to expand their education and advance their careers with this new program," Kurtzman said.
The Doctor of Health Administration program has been approved by Shapiro and his faculty, Rutgers-New Brunswick Chancellor-Provost Francine Conway, Executive Vice President for Academic Affairs Prabhas V. Moghe and President Jonathan Holloway.
Howard Marchitello Named University Professor
The Rutgers University Board of Governors appointed Howard Marchitello, a Rutgers University–Camden professor of English, a University Professor.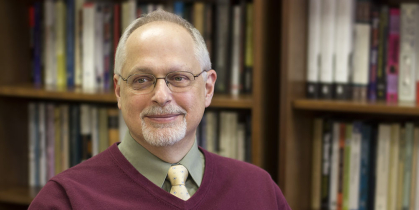 President Jonathan Holloway recommended Marchitello be named a University Professor in recognition of his far-reaching contributions to Rutgers-Camden. Previously dean of the Faculty of Arts and Sciences, Marchitello has served as a faculty member and in a variety of leadership positions since joining Rutgers-Camden in 2009.
Marchitello was chair of the Department of English from 2009 to 2012, associate dean for research and the Graduate School of Arts and Sciences from 2012 to 2016, senior associate dean for research and the Graduate School of Arts and Sciences from 2017 to 2018 and, most recently, dean of the Faculty of Arts and Sciences.
Under his tenure as dean, the unit embarked upon strategic hiring initiatives that provided an influx of promising young scholars from diverse backgrounds, conceived new degree-granting programs, increased graduate enrollment and promoted the pursuit and procurement of highly competitive grants and other significant research activity.
As a professor, Marchitello is widely respected for his scholarly work on the relationship between the cultures of literature and science in the 16th and 17th centuries. He has authored and edited numerous influential volumes with Cambridge University Press and Oxford University Press, among others. He also has advanced public humanities through his service on the board of the New Jersey Council for the Humanities and won approval to relocate the home of this statewide entity on the Rutgers-Camden campus.
As a University Professor, Marchitello has the privilege of teaching and conducting research across disciplines, schools and all Rutgers campuses.
Former Vice Chancellor for Research Benedetto Piccoli Appointed University Professor
The Rutgers University Board of Governors appointed Benedetto Piccoli, a Rutgers-Camden Distinguished Professor of Mathematics, a University Professor, effective January 1, 2023. The inaugural Joseph and Loretta Lopez Chair in Mathematics, the first endowed chair at Rutgers-Camden, Piccoli has served on the faculty since 2009.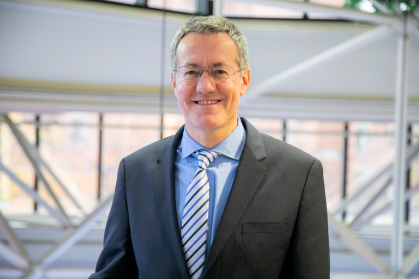 Internationally recognized for his work in the application of systems biology toward optimal control for biomedical and biomechanical systems, Piccoli has held numerous administrative roles at Rutgers-Camden, including director of the Center for Computational and Integrative Biology and associate provost for research. He served as vice chancellor for research from January 2020 until his return to the faculty in January.
Piccoli's strategic leadership has helped to refine a centralized campus research office and generate meaningful collaborations and partnerships across Rutgers as well as with other organizations and universities. His work and contributions toward the recognition of Rutgers-Camden as a Carnegie R2 Doctoral University has positioned it as a national center for innovation.
The Piccoli Lab uses computational biology and mathematical modeling to tackle questions in a host of fields. Ongoing projects range from the study of metabolic pathways to better understand tuberculosis treatment, to modeling techniques to better understand the COVID–19 pandemic, to using control algorithms to further the capabilities of autonomous vehicles.
Piccoli has earned numerous honors in recognition of his research, including his induction into the inaugural class of fellows of the American Mathematical Society. He has also served on editorial boards of several journals, is the founding editor of Networks and Heterogeneous Media and has authored articles in top-level journals such as the Journal of Differential Equations, IEEE Transactions on Intelligent Transportation Systems and the Archive for Rational Mechanics and Analysis.
Daniel B. Jones Appointed Benjamin F. Rush Jr. Chair in Surgery
The Rutgers University Board of Governors appointed Daniel B. Jones, professor and chair of the Department of Surgery and assistant dean at Rutgers New Jersey Medical School, to the Benjamin F. Rush Jr. Chair in Surgery, effective July 11, 2022.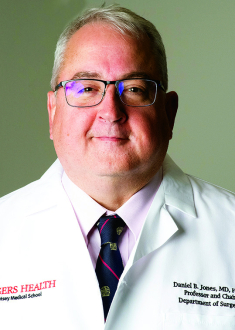 Highly regarded for his skill in minimally invasive surgery and surgical outcomes, as well as for his contributions to clinical care and education, Jones is renowned for research that has led to improved safety and efficiency in the operating room. He has published more than 210 peer-reviewed articles, 30 books and 90 book chapters, and has earned numerous honors and awards.
The past president of the Society of American Gastrointestinal and Endoscopic Surgeons
and the Association for Surgical Education, Jones has received the Distinguished Educator Lifetime Achievement Award from the Association for Surgical Education and the Andrew Warshaw Master Educator Award from the Society for Surgery of the Alimentary Tract.
A graduate of Cornell University and Weill Cornell Medical College, Jones completed his residency and research fellowship at Washington University in St. Louis before founding the Southwestern Center for Minimally Invasive Surgery at the University of Texas Southwestern Medical Center in Dallas. In 2003, he joined Harvard Medical School and the Beth Israel Deaconess Medical Center, where he was professor of surgery, chief of the Division of Bariatric and Minimally Invasive Surgery and vice chair of the Department of Surgery. Jones also founded and directed the Carl J. Shapiro Simulation and Skills Center at Beth Israel Deaconess Medical Center.
The Benjamin F. Rush Jr. Chair in Surgery was established in 2015 with a generous gift from the estate of Dr. Benjamin F. Rush Jr., along with funds raised by the Department of Surgery and matched by an anonymous donor. Rush Jr. was the founding chair of the Department of Surgery at New Jersey Medical School in 1969.
Rutgers Advances Participation in Innovation Center
The Rutgers University Board of Governors approved a tentative funding plan for Rutgers' portion of the New Jersey Health + Life Science Exchange (HELIX), a public-private development planned in downtown New Brunswick. 
The HELIX, which will be developed by the New Brunswick Development Corporation on a site across from the New Brunswick train station, is designed as an innovation center providing businesses, universities and researchers with critical space in which to work, learn, experiment and collaborate. State-of-the-art laboratories, offices and work and learning spaces will come together at the site to foster research, treatment and business breakthroughs. 
Pending final approvals by the state and consent from the Rutgers Board of Trustees, Rutgers' estimated $567 million portion of the project will be funded largely through a state appropriation included in the state's FY2023 budget and tax credits administered through a New Jersey Economic Development Authority program. The university will finance about one third of the project cost.