New Jersey Connection to Japanese Internment Explored in Rutgers Exhibit
States of Incarceration, a traveling project curated by college students around the country, brings to light a little-known chapter in the state's history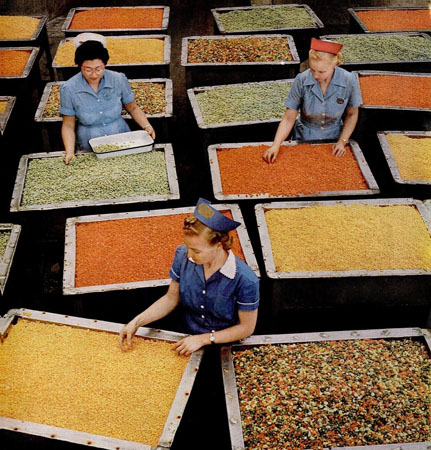 "This is not the sort of history you see in a museum that feels like an abstract thing. . .I hope people who see this exhibit can appreciate how relatively recent this was and will draw parallels to today and consider how we are going to be remembered 60 years from now.''

 

– Sabah Abbasi
During World War II, 2,500 Japanese Americans, deemed a threat to national security and incarcerated by the government because of their race, came to a small town in South Jersey for a chance at freedom.
They entered a work-release program that offered low-paying jobs at Seabrook Farms, a pioneering business in Cumberland County that produced frozen vegetables. But they still found themselves bound by what one worker called "invisible restraints." They had no option to leave, put in long hours and paid most of their salary back to the company to cover food and housing costs.
Their story, a little-known chapter in New Jersey history, has been brought to light by a group of students at Rutgers University-New Brunswick as part of a national traveling exhibit called States of Incarceration. The goal of the exhibit, on display at the Douglass Library, is to start a dialogue to bring about change.
"Seabrook Farms is an interesting case study that shows how detention has been used to target Americans who at certain historical moments have been deemed undesirable,'' said Andrew Urban, an assistant professor in the Departments of American Studies and History who brought the project to New Brunswick.
"There are so many clear lines of connection to the history of detention practices used against Japanese Americans to the current debates about Muslim Americans, their surveillance and immigration more broadly,'' Urban said. "By shining a light on Seabrook Farms, we can trace a line from that moment to the present and explore how things have changed and how they have remained the same.''
The exhibit – an initiative by the Humanities Action Lab, a coalition of colleges and universities based at Rutgers-Newark collaborating to produce student- and community-curated public projects around pressing social issues – will be on display through March 9. It also will be the topic of a three-day conference exploring the history of Seabrook Farms and issues that agricultural workers face today.
Students from more than a dozen colleges and universities from around the country curated the States of Incarceration exhibit. Groups at each location contributed local stories that examine the causes and toll of incarceration. The project was previously on display at Rutgers-Newark, where students contributed panels on the detention of immigrants in Elizabeth, N.J. 
"This is not the sort of history you see in a museum that feels like an abstract thing,'' said Sabah Abbasi, who helped develop the panels on Seabrook as part of an American studies class she took with Urban in 2015.
As part of their research, students listened to interviews with Japanese Americans who were incarcerated during World War II and are still alive today.
"It was especially relevant to me as a Muslim American living during a time of renewed xenophobia and anti-immigrant rhetoric,'' Abbasi said. "I hope people who see this exhibit can appreciate how relatively recent this was and will draw parallels to today and consider how we are going to be remembered 60 years from now.''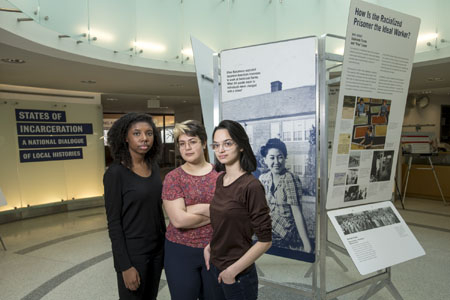 Urban said he wanted to bring the project to New Brunswick because it gave students an opportunity to research an overlooked chapter in New Jersey history and have their work reach an audience beyond Rutgers. He picked the topic of Seabrook Farms because it added another dimension to the understanding of incarceration: Japanese Americans who had committed no crimes were denied due process based on their ancestry and removed from their homes. They came to Seabrook farms as a captive labor source.
"No one in New Jersey knows about this place which is remarkable to me because it is so important to the history of labor, immigration and farming,'' he said.
Urban learned about the story of Seabrook Farms through Kayo Denda, a Rutgers librarian who worked with the Seabrook Educational and Cultural Center to add their content to the New Jersey Digital Highway, a digital repository maintained by Rutgers.
Students in Urban's 2015 class developed the panels on Seabrook included in the exhibit. A new group is working on the project with Urban through the Aresty undergraduate research program. They are giving tours of the exhibit to classes and will help run the conference, which begins Feb. 28 and includes a talk by author John Seabrook, the grandson of the founder of Seabrook Farms, who is currently working on a family history.
As part of the conference, the students also curated panels on the opioid crisis in New Jersey and worked to bring a production of The Castle – a play that casts formerly incarcerated individuals and explores themes about social reintegration – to New Brunswick.
Jazmyn Carrington, a senior political science major and Douglass Residential College student, has been inspired to activism through her involvement with the exhibit.
"I want people talking about it and being aware of the issues, but I also want to find ways to do something about it,'' said Carrington, who plans to volunteer this summer with a program that offers tutoring for people who are incarcerated.
"An education is the greatest tool anybody can have,'' Carrington said. "If I can get involved with tutoring so someone can get their GED while incarcerated, I feel like I am doing something more than just talking about it.''
---
For media inquiries contact Andrea Alexander at andrea.alexander@rutgers.edu or 848-932-0556