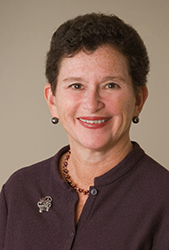 Nancy Cantor, whose 35-year academic career has been dedicated to expanding the mission of universities to better serve the needs of society, will become the new chancellor of Rutgers University's Newark Campus.
Rutgers President Robert L. Barchi announced Cantor's appointment at today's meeting of the Rutgers University Board of Governors. Cantor, who has been chancellor and president of Syracuse University since 2004, will assume her new position at Rutgers-Newark on Jan. 1.
"I am excited to welcome Nancy to Rutgers as our Newark chancellor. She is an outstanding scholar recognized internationally for her work in understanding individual perceptions and behaviors in social environments. Over her career, Nancy has also held leadership positions at some of our nation's best schools," President Barchi said. "She has always pursued excellence in higher education and shown a strong commitment to issues of accessibility and community engagement. She is the ideal fit to be our Newark chancellor and we look forward to her arrival on campus."
Under Cantor's leadership, Syracuse University launched Scholarship in Action, a vision that challenges higher education institutions to engage all corners of their communities – in such key areas as environmental sustainability, neighborhood and cultural entrepreneurship and urban school reform. Through the Scholarship in Action program, Cantor has developed an institutional model that demonstrates how public and private research universities can act both as engines of prosperity and, perhaps more importantly, as agents of social mobility and social change.
The Scholarship in Action program focuses on providing real-world learning environments for students, creating "Education for the World, in the World." Cantor has demonstrated a deep dedication to higher education's public mission, for which the Carnegie Corporation recognized her with its Academic Leadership Award.
"As a social psychologist, I am devoted to the action research tradition where scholarly excellence and social impact go hand in hand," Cantor said. "As an educational leader, I have devoted my advocacy to making more real the promise of higher education as the road to social mobility, a context for democratic practice and a participant in community building and public problem-solving.
"Rutgers-Newark is a place where all of these impulses come together in a remarkable way – as a research university creating innovation, engaging in public scholarship, educating the next diverse generation and partnering to make a difference in a remarkably resilient city where the global becomes local, and the future is being charted," Cantor added. "I am very grateful to be able to be a part of that future, and part of the community of experts that will make it happen."
During her tenure at Syracuse, Cantor completed a $1 billion fundraising campaign and was widely praised for her commitment to making the university more diverse and accessible. She also has been responsive to the realities and pressures facing today's institutions of higher education and is dedicated to providing educational opportunities for first-generation students, the children of newly immigrated families, veterans returning from service, and the students who are now in often under-resourced inner-city and rural schools.
Prior to her appointment at Syracuse, Cantor served as chancellor of the University of Illinois at Urbana-Champaign; provost and executive vice president for academic affairs at the University of Michigan; dean of Michigan's Horace H. Rackham School of Graduate Studies and vice provost for academic affairs. Cantor also was a professor of psychology and senior research scientist at the Institute for Social Research at Michigan. Previously, she chaired the Department of Psychology at Princeton University.
Cantor holds a bachelor's degree from Sarah Lawrence College and a doctorate in psychology from Stanford University. Cantor is recognized for her scholarly contributions to understanding how individuals perceive their social worlds, pursue personal goals and regulate their behavior to adapt to life's most challenging social environments. She has been elected to membership in the Institute of Medicine of the National Academy of Sciences and is a fellow of the American Academy of Arts and Sciences.
Rutgers-Camden Chancellor Wendell Pritchett, who chaired the search committee, said:  "The search committee had a clear commitment to identify a proven leader who can help Rutgers-Newark to expand its strengths in the areas of teaching, research and service. Nancy Cantor is that candidate. Comprised of diverse members from the Rutgers-Newark community, the committee worked with great diligence and consideration in reviewing the many strong candidates for the chancellorship. Their passion for Rutgers-Newark's future is reflected in the choice of Dr. Cantor. I am confident that she will partner with the faculty, students, staff, alumni, families and civic stakeholders to advance Rutgers-Newark."
President Barchi also announced today that Todd R. Clear, dean of the Rutgers School of Criminal Justice, will serve as interim chancellor of the Rutgers-Newark Campus from July 1 until Dec. 31.
Clear has served Rutgers as Criminal Justice dean since 2010; prior to that he was a faculty member at John Jay College and associate dean of the School of Criminology and Criminal Justice at The Florida State University. He earned his master's and doctoral degrees at the School of Criminal Justice at the University at Albany, State University of New York.
With more than 12,000 undergraduate and graduate students, Rutgers-Newark is home to eight schools and colleges, 42 undergraduate programs, 33 master's programs, 22 doctoral programs and more than 40 research centers and institutes. Since 1997, U.S. News & World-Report has ranked Rutgers-Newark the nation's most diverse national university.
Established in 1766, Rutgers, The State University of New Jersey, is America's eighth oldest institution of higher learning and one of the nation's premier public research universities. Serving nearly 60,000 students on campuses in Camden, Newark and New Brunswick, Rutgers is one of only two New Jersey institutions represented in the prestigious Association of American Universities.
To read a biography of Nancy Cantor click here.