Menus of Change Come to Rutgers
Rutgers has joined a nationwide initiative to encourage healthier food choices that take a smaller toll on the planet
'We are trying to get back to whole, minimally processed foods without refined sugars and develop a palate of globally sourced spices, rather than putting so much sodium and preservatives into our food.'

 

– Ian Keith, Chef, Harvest Cafe at the New Jersey Institute for Food, Nutrition, and Health
Chicken nuggets and cold cuts are on their way out as Rutgers joins a nationwide effort to change the face of college dining with new menus that offer more plants and less processed food.
Students will soon find turkey in the dining halls – roasted and smoked by Rutgers chefs – along with poached salmon and halal lamb. Fresh spices will replace hot sauce from a jar on wing night, and the wings will be baked instead of fried. Hash browns that went from a box into the deep fryer are also out. In their place, students will be able to order purple Peruvian hash made with heirloom potatoes, spinach and roasted onions.
The transformation is expected to start in April with a new take-out menu at the Neilson Dining Hall on the Douglass Campus and will expand to the three other dining halls at Rutgers University-New Brunswick in the fall. Cooked-to-order stations in the dining halls will be revamped next.
"For too long we all have been heavily dependent on processed food,'' said Ian Keith, a Rutgers chef who is leading the effort to redesign menus in the dining halls.
"We are trying to get back to whole, minimally processed foods without refined sugars and develop a palate of globally sourced spices, rather than putting so much sodium and preservatives into our food,'' Keith said.
The changes that students will start to see are the result of Rutgers' involvement in Menus of Change, a collaborative of research universities led by Stanford and the Culinary Institute of America which encourages healthier food choices that use less resources, and take a smaller toll on the planet.
Rutgers is working to incorporate the principles of Menus of Change – which call for making vegetables, whole grains, nuts and beans the center of the plate, serving less red meat while offering a greater variety of seafood, and reducing added sugar and salt – into much of what is available in the dining halls.
Changes will start with breakfast and the menu for sub night, said Keith, the head chef for Harvest, a café at the New Jersey Institute for Food, Nutrition, and Health at Rutgers which serves whole, minimally processed food.
Instead of pork sausage, students will find smoked chicken sausage served with spinach on a whole grain English muffin. A new bagel bar will feature a vegetable cream cheese mixed in house and loaded with broccoli, squash and scallions. Processed meats will also disappear from the sandwich menu.
"Students aren't going to see salami and boiled ham,'' Keith said. "They are going to see more natural food.''
The move to revamp the dining hall menus and join initiatives like Menus of Change was driven in part by students, who have been requesting healthier items, said Joe Charette, executive director of dining services.
"Our students are concerned about what they are eating and where it comes from,'' Charette said. "They ask a lot of questions, and they are eating smarter, so we have to make more choices available that are not only better for their health but better for the planet.''
---
Related Stories:
---
For students concerned about what they eat the anticipated new menu is a welcome change.
"I think everyone is looking for healthy options and I am glad that dining services is taking that into account,'' said Alex Kania, who serves on a student advisory committee for dining services and is vice president Rutgers veg society, a vegetarian and vegan student organization.
"A lot of people are trying to eat healthier and I think we all know chicken nuggets aren't doing us any favors,'' she said. "That kind of processed junk food is going to slow you down. But students are going to eat what is convenient for them and, right now, what is convenient is processed food. If we make it more readily available for people to eat healthy, they will.''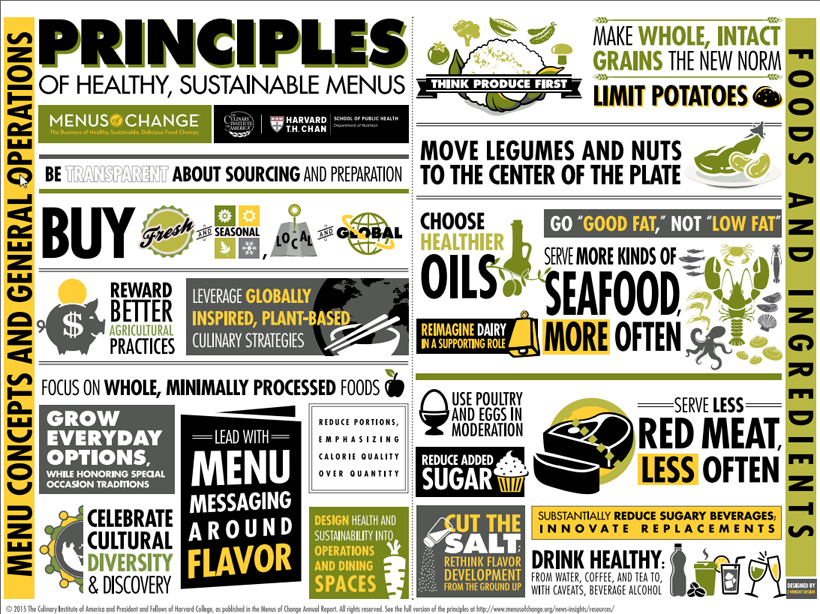 Students might have already noticed some changes on the menu. Dining services recently introduced fresh catch Friday, which offers some less common sustainable varieties of seafood.  
Filtered water dispensers are also coming to all the dining halls as an alternative to sugary drinks – and will be more prominent than the tab on the side of the soda machine. A fresh juice bar, similar to what is available at Harvest, is expected to open up in dining halls in the fall, Charette said.
Dining services has developed a relationship with professors and student groups that grow produce at Rutgers and incorporates those fruits and vegetables in the dining halls whenever possible – fulfilling the Menus of Change principle to eat local, fresh and seasonal.
"The produce was in the sun a couple of hours ago and all of a sudden we are cooking it and serving it in the dining hall,'' Charette said. "You don't get any fresher than that.''
In addition to inspiring a transformation in college dining, Menus of Change gives students an opportunity to get involved with research. Rutgers recently participated in the first Menus of Change study, which tested student reaction to a "blended burger" that mixed mushrooms and ground beef.
The purpose of the project was to gauge what would appeal to students while reducing the amount of red meat consumed, said Peggy Policastro, director of behavioral nutrition at the New Jersey Institute for Food, Nutrition, and Health – which engages in research and community outreach to foster a culture of health at Rutgers and throughout the state.
Students who work with Policastro as part of the Healthy Dining Team organized the study and regularly coordinate with other universities that participate in the research collaborative including Harvard, Stanford, and Boston College.
"Being part of menus of change gives us a focus as to our goals and mission and it is setting up lifestyle changes for our students that will affect the rest of their life,'' Policastro said.