Meet Alesi, a 13-Million-Year-Old Ancestor, at Rutgers Geology Museum This Weekend
Museum's 50th annual Open House and Mineral Sale will feature exhibits, lectures, activities for kids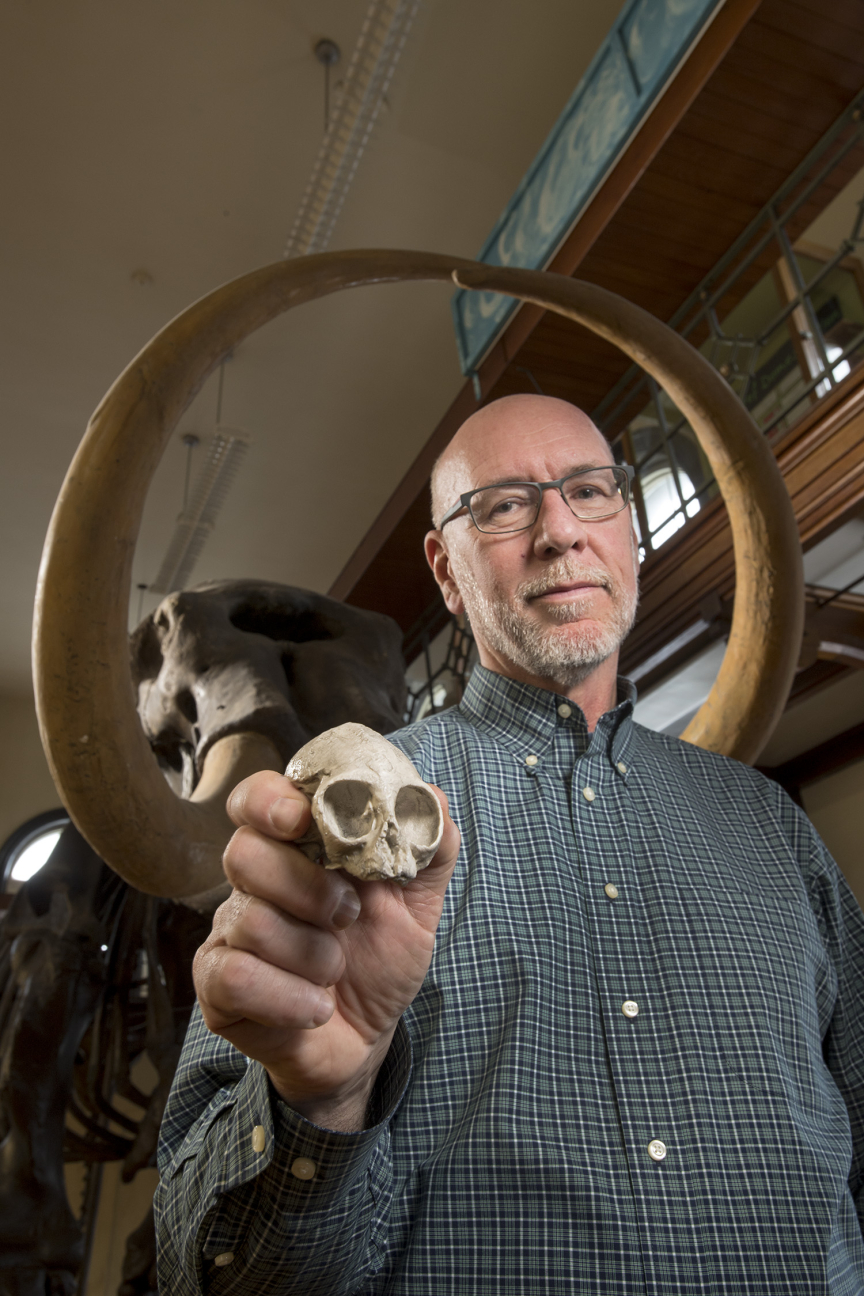 About 13 million years ago, a distant ancestor of modern apes and humans suffered an untimely death on the arid landscape of northern Kenya.

Last year, a Rutgers scientist helped bring its tiny skull to light, filling in a huge gap in the evolutionary record.

And on Saturday, members of the public are invited to come face-to-skull with that ancestor, known as "Alesi," at the Rutgers Geology Museum's 50th annual Open House event. The museum stands on the College Avenue Campus of Rutgers University–New Brunswick. Admission is free.

A full replica of Alesi's cranium – no bigger than a lemon, its comparatively huge eye sockets indicating it was just an infant when it died – will become one of the museum's prized permanent exhibits, along with its celebrated Mastodon skeleton and a 2,000-year-old Egyptian mummy.

But this weekend's open house will be Alesi's first introduction to the public in New Jersey.

The Rutgers Geology Museum, founded in 1872, is the oldest geology museum in the U.S. Its diverse exhibits, which focus on geology, paleontology and anthropology, highlight the natural history of New Jersey. The museum – which is free of charge – has held Open House and Mineral Sale events since 1968 to educate the public about geology, natural history and new discoveries.

This 50th annual open house will include a gem, mineral and fossil sale; lectures by Rutgers scientists and others ("New Jersey Fisheries in a Global Context," "Empire of the Apes: the Recent Discovery of an Ape and Human Ancestor in Africa," and "The Appalachians and How They Got That Way: Structure and Dynamics of Eastern North America"); children's activities ("Tracking Skulls," "Mapping Our World" and "Tag-A-Fish"); arts and crafts activities; exhibits to explore; and mineral and fossil identification.

"The museum is a hidden gem," said Lauren Neitzke Adamo, a geology instructor at Rutgers and museum co-director. "It has been open to the public as a free museum for almost 150 years and when people discover it, they are amazed that this place has been hiding here right under their noses."

As for Alesi, its Rutgers connection comes via Craig S. Feibel, a professor of geology and anthropology who chairs Rutgers' Department of Anthropology. The diminutive skull, the oldest known fossil of its kind, was found at the Middle Miocene site of Napudet in South Turkana, Kenya. Feibel and a former doctoral student dated the skull after uncovering the complex geology at the site. The newly discovered species was dubbed Nyanzapithecus alesi; the Turkana word for ancestor is Ales.

The Rutgers Geology Museum's 50th annual Open House, scheduled for 9 a.m. to 3 p.m. on Sat. Jan. 27, will be held at the museum in Geology Hall (the 2nd Floor) at 85 Somerset Street in New Brunswick, and in Scott Hall at 43 College Avenue in New Brunswick.