Jason McCourty and Devin McCourty, Alumni, Super Bowl Champs and Philanthropists, Named Rutgers University's Commencement Speakers
The McCourty twins return to Rutgers to receive honorary Doctor of Humane Letters degrees during 253rd anniversary commencement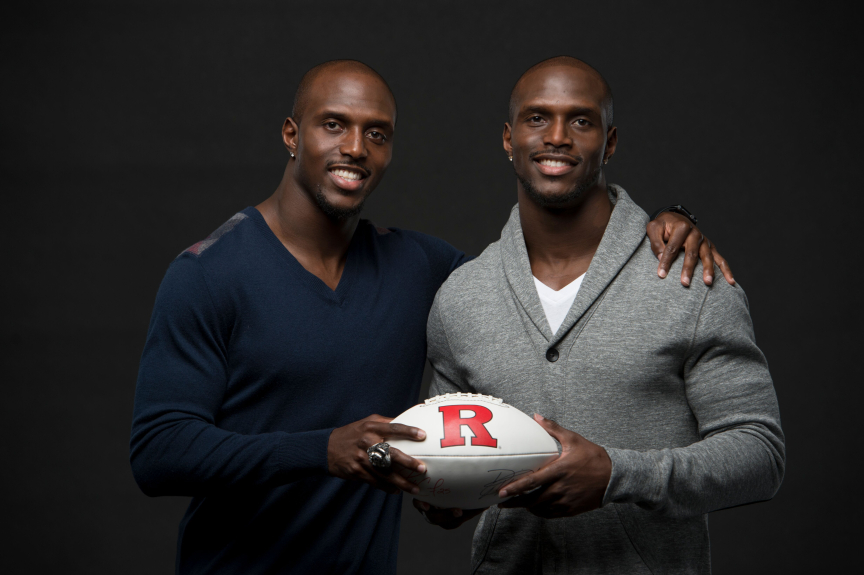 The Rutgers Board of Governors today voted to award honorary degrees to Super Bowl LIII champions and Rutgers alumni Jason McCourty and Devin McCourty of the New England Patriots when they address graduates at the 253rd anniversary commencement of Rutgers University-New Brunswick and Rutgers Biomedical and Health Sciences on May 19, 2019.
On the field, the McCourtys made history on Feb. 3, 2019, when they became the first set of twins to play together in, and win, a Super Bowl. Off the field, the former Scarlet Knights continue to make headlines as they dedicate their time to the fight against sickle cell anemia by collaborating with the New Brunswick-based nonprofit Embrace Kids Foundation.
Their commitment to community service and philanthropy makes them a perfect fit to receive honorary Doctor of Humane Letters degrees at the May 19 ceremony at HighPoint.com Stadium in Piscataway. In fact, after delivering their address to Rutgers graduates, the pair will head to the Heel to Heal Plus Tackle Sickle Cell 5K at Liberty State Park in Jersey City, N.J.
Jason McCourty, a 2009 graduate, and Devin McCourty, a 2010 graduate, arrived at Rutgers-New Brunswick in 2005 and were standout members of the Rutgers football team. While the brothers took slightly different paths after college – they made the leap to the NFL one year apart and landed on different teams, Jason McCourty in Tennessee and Devin McCourty in New England – they have remained united, personally and publicly, known as the McCourty Twins through social media and in their efforts to give back to the community.
The McCourtys often return to Rutgers to inspire current Scarlet Knights and to lead fundraising events with Embrace Kids Foundation, which helps families whose children are facing cancer, sickle cell and other serious health challenges. 
"Rutgers University has always been a special place to us," said Jason McCourty. "The education we received on and off the field helped lay the foundation for so much of what we've accomplished. Returning to Rutgers now is certainly humbling and we're grateful for the opportunity. We hope to deliver a message that will inspire the Class of 2019 to chase their own vision of success."
Jason McCourty spent eight seasons with the Tennessee Titans and one with the Cleveland Browns. Devin McCourty, who was drafted a year after his brother, has been with the New England Patriots since 2010, when coach Bill Belichick took him in the first round. This year was the first season the brothers played together since 2008 when they were Rutgers teammates. That shared experience as Scarlet Knights is a time they often reflect fondly on.
Relationships formed at Rutgers remain some of the most important in their lives, Devin McCourty said. "Rutgers is where we launched our athletic careers and where we met our wives," he said. "The sense of community created more than a decade ago has kept us connected to the university no matter how far we've traveled from New Brunswick."
In 2013, the McCourty twins launched Tackle Sickle Cell in honor of their aunt Winifred, who lost her battle with the disease earlier this year. The goal of the program is to educate the public, increase blood donations and raise funding and awareness for the fight against sickle cell disease. Tackle Sickle Cell has organized major blood drives and fundraising events in the fight against sickle cell. Their support is not in name only, as both Jason McCourty and Devin McCourty regularly attend these events to support the cause. Together, the twins have raised more than $1.5 million to support families battling sickle cell.
The brothers' philanthropic success does not end with Tackle Sickle Cell. Jason McCourty and Devin McCourty regularly run kids' football camps, visit schools and children's hospitals, volunteer at community centers, support disaster relief aid and promote food drives for the underprivileged. The McCourtys have also been strong advocates in the fight for criminal justice reform, fair educational funding and racial equality at the federal, state and local levels through awareness, education and allocation of resources.
In 2016, the McCourty twins were both inducted into the Rutgers University Hall of Distinguished Alumni, the highest honor any alumnus can receive. The members of this prestigious group are selected based on their outstanding achievements in professional and civic life. Two years earlier, both Jason McCourty and Devin McCourty were named Walter Payton Man of the Year nominees by their respective teams. Both brothers were nominated for the 2014 and 2015 Byron "Whizzer" White Award, the highest honor the NFL Players Association can give a player. The award recognizes players who go above and beyond to perform community service in their team's cities and hometowns.