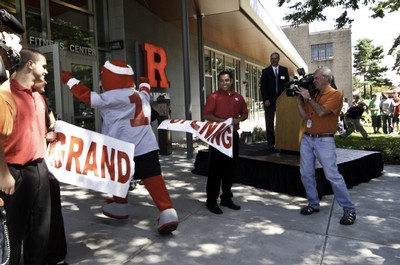 CAMDEN - "It's a great day to be a Scarlet Raptor," said Jeffrey Dean, Rutgers University—Camden director of athletics and recreational services to a crowd in the hundreds, gathered to tour the newly renovated athletic and fitness center. The Scarlet Raptor, Rutgers-Camden's mascot, however was first in line – make that the first to cross the finish line – of the much anticipated grand reopening of the school's new, state-of-the-art facility. With student leaders, athletes, alumni, and campus and university leadership, including Rutgers-Camden chancellor Wendell Pritchett and Rutgers University president Richard L. McCormick, a special "ribbon cutting" ceremony today marked the official start of a healthier, and happier, "student body."
The 75,000 square-foot renovated space features top-of-the-line cardio and strength-training equipment; a resistance pool; temperature-controlled showers; first-ever team locker rooms; and a team lecture hall with smart technology.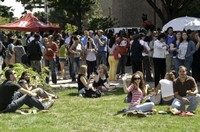 Rutgers–Camden is an NCAA Division III school that offers 16 sports programs, including women's lacrosse, which will begin its intercollegiate season this spring. In the past decade, Rutgers–Camden Athletics has celebrated an NCAA National Championship, an ECAC Metro title, an NJAC Championship, and 14 All-American athletes. Imagine what the Scarlet Raptors will achieve once they begin training in this new, cutting-edge facility.
All renovated from the original 1973 Gymnasium and its 1989 Auxiliary addition, the Rutgers–Camden Athletic and Fitness Center will also offer aerobic classes and recreational sports, including spinning, dodge ball, and yoga.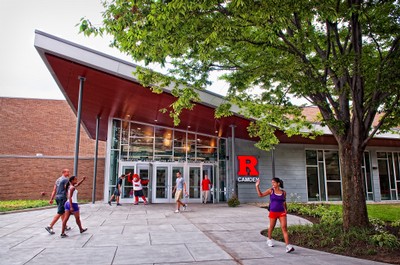 Special features of the facility include:
Cardio equipment by Life Fitness: 14 treadmills, 12 elliptical trainers, 4 stair climbers, 4 upright bikes, 4 recumbent bikes, 2 cross trainers, 11 spin bikes, and 4 concept II rowers.
Strength equipment by Life Fitness/Hammer Strength: 30 individualized strength stations, 10 benches, dumbbells ranging from 5 lbs.-100 lbs., 1,400 lbs. of Olympic plate free weights, and a squat rack.
An endless pool: offering wave resistance for recreational swimming, therapy, and group exercise classes.
Main gym: refinished flooring, new back boards, new sound system, new bleachers, and conference space with birds-eye view of gym.
Recreational program space: refinished floors and mirrored walls for yoga, spinning, Pilates, and more.
Locker rooms: temperature-controlled showers, comfortable environment for before and after workouts.
Team support: first-ever locker rooms for teams, easy access to on-staff trainer, individual offices for coaches, and team lecture room (35 seats, wireless connectivity, projection screen).
To view a video of the Scarlet Raptor touring the Rutgers–Camden Athletic and Fitness Center, visit here.
For hours of operation, visit here.
Media Contact: Cathy K. Donovan
(856) 225-6627
E-mail: catkarm@camden.rutgers.edu