In honor of Valentine's Day, we asked faculty from around the university to tell us their favorite romance or relationship in literature from anywhere in the world or throughout history. Here's what they had to say: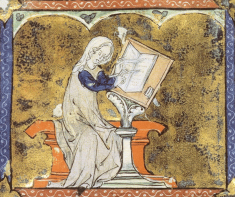 Lanval and the fairy woman in Lanval by Marie de France
Selected by Aaron Hostetter, professor of Old and Middle English, Rutgers University-Camden
­My nomination is Lanval by Marie de France, a short romance written in Anglo-Norman French and probably produced in England around 1200 CE. It's one of about a dozen short romance poems that involve love entanglements and usually some form of magic or supernatural intervention as resolution.
Lanval is a knight in King Arthur's court, and comes from a faraway land. As the story begins, he is in the forest, dejected about a slight at court. There he meets a woman who's radiantly beautiful, provocatively dressed and absolutely drenched in wealth.
The woman seems to be a fairy of some sort and tells Lanval she's been in love with him from afar for a very long time. If he accepts her love, he will have all the wealth that he needs and can enjoy the company of her presence in any place discreet enough to do so. The price of this is that he can never speak her name or tell anybody about her – basically, he has a girlfriend in Canada nobody has met.
This invisibility of his heterosexuality causes him to be accused of sodomy by the queen, and, in anger, Lanval tells the queen that his lover is far more beautiful. Now distraught by the disappearance of his lover, Lanval is put on trial, but his life is spared when the lover appears to prove her superior beauty. Then, Lanval climbs onto the back of her horse, and they ride away to the island of Avalon.
This story appeals to me because of its sly manipulation of heteronormative courtly behavior – that one must be visibly engaging in them. Lanval now has a connection to desire that isn't public or legible to others, and so seems deviant.
The story also ends in an acknowledgment of Lanval's subordinate position to his fairy lover. He submits to her love and gets everything he could want — but it isn't a love that can exist in the world of King Arthur, in our world, so they must go away to a fairy land in order to exist outside these patriarchal, spectacular rituals of romance and eroticism.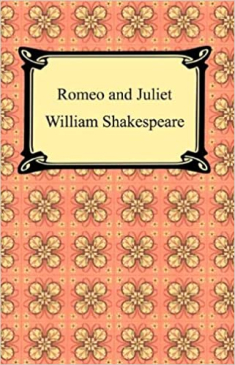 Romeo and Juliet in Romeo and Juliet by William Shakespeare
Selected by Anthony Tobia, associate professor of psychiatry, Robert Wood Johnson Medical School, Rutgers Biomedical and Health Sciences
As someone who found every way possible to avoid required reading in high school (and most of college), it was only recently that I began to appreciate the Bard and the complex characters who populate his many works. 
Shakespeare's Romeo and Juliet is the quintessential romance and gets my vote as the number one literary relationship. Beyond the obvious reasons for its century-long popularity, the psychoanalytic interpretation of Romeo and Juliet allows for an introduction to Freudian theory and, therefore, personality development. As such, the tragedy is included in our didactic, Shakespeare in the Dark, where modern Shakespearean adaptations are discussed to review topics germane to psychiatry.
By referencing literature to teach psychiatry, learners more readily overcome prohibitions about discussing "taboo" topics such as suicide. Not only is this helpful to future physicians, but similar discussions at libraries and other community events serve to raise awareness and overcome the stigma of mental illness.  
Adaptations also allow for discussion of sociocultural determinants of behavior. The 1961 musical adaptation West Side Story, focuses on group dynamics' influence on behavior set in a "ghetto" in the Upper West Side of Manhattan. Fans may ponder how the decade's social climate (e.g., anti-Latinx sentiment stemming from the sociopolitical issue of Puerto Rican independence) may have affected Tony's behavior towards the Sharks in ways different than Romeo (Grease is another musical with social commentary on the greaser generation).
Based on the Bat Out of Hell (album) by the late Meat Loaf, Bat Out of Hell: The Musical captures the common theme of forbidden love set in the dystopian city of Obsidian (former Manhattan). Despite being set in the same city, the two musical adaptations take place in different decades, underscoring the role social determinants such as chronocentrism (the assumption that certain time periods are better or more significant) play in human behavior.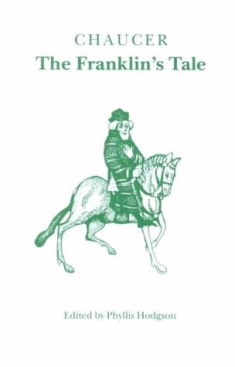 Dorigen, Arveragus and Aurelius in The Franklin's Tale by Geoffrey Chaucer
Selected by Carol Heffernan, professor of English, School of Arts and Sciences-Newark, Rutgers University-Newark
One of my favorite love stories is Chaucer's The Franklin's Tale. In this Canterbury tale, a wife – Dorigen – temporarily bereft of her husband is taken by friends to a garden party to forget her cares. The wife's friends have seen that in her husband Arveragus's absence, Dorigen has been grieving obsessively: "She moorneth, waketh, wayleth, fasteth, pleyneth." The marital happiness of Dorigen and Arveragus had continued uninterrupted until Arveragus decides to return to the knightly pursuits of chivalry to win "worshipe and honour" in arms. He stays away for the maximum time projected: two years.
It is there at the garden party meant to ease her cares that a would-be lover, Aurelius, having loved Dorigen in silence for two years, makes his love suit. "Servant to Venus," Aurelius is designed for temptation. And Dorigen does what medieval ascetical writers warn the victim of temptation not to do; she stays to talk instead of fleeing. She agrees to love Aurelius if he can make all the rocks in the sea that threaten mariners disappear. Dorigen does not consciously want the opportunity to cheat, but her famous "rash promise" may be viewed as a moral hapax legomenon, a "just this once." The unrequited lover, Aurelius, enlists a magician who creates the illusion of rocks that have disappeared through complicated astronomical calculations.
The real magic is that Dorigen's "fall" is suspended when Aurelius is moved to compassion by her obedience to the returned husband's urging her to keep her promise. Aurelius discharges Dorigen from keeping the bargain.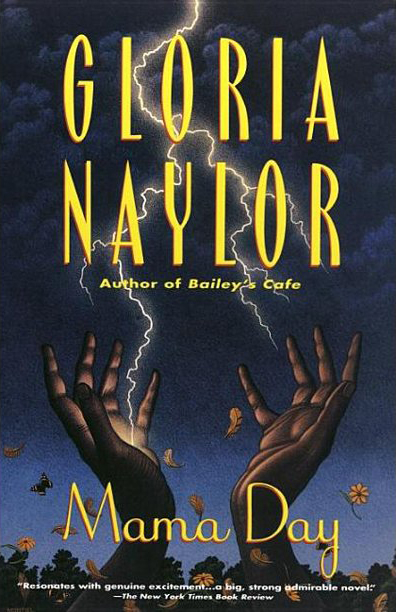 Ophelia and George in Mama Day by Gloria Naylor
Selected by Evie Shockley, professor of English, School of Arts and Sciences, Rutgers University-New Brunswick
There are many literary love stories that mean a lot to me, but if I had to pick just one to mention, it would be the story of Ophelia and George in Gloria Naylor's 1988 novel Mama Day.
The novel has two narrative threads that slowly come to connect: one set in Willow Springs, a Black community on a fictionalized Sea Island off the coast of the U.S. South, where Ophelia grew up; the other set in New York City, where George grew up and where he and Ophelia both live in the novel's present. 
The tale of their meeting, getting to know each other, and falling in love is amazingly rich, because Naylor gives each of them so much individual and cultural depth. Through the couple, Naylor shows us two contrasting yet equally representative experiences of Blackness, capturing the sense of historical rupture and the sense of deep cultural continuity that can both describe African Americans' relationship to our collective past. 
We learn about George and Ophelia's similarities (each is stubborn and proud, but generous and vulnerable), as well as their hard-to-navigate differences, through their distinct ways of seeing the busy streets of NYC and the slow roads of Willow Springs. The novel makes me adore them both, so their string of problems with trust and communication, in the face of their obvious love for each other, always ties my heart in knots.  I don't believe in spoilers, so I won't give away the ending, but I will say that I've never read it without laughter and tears.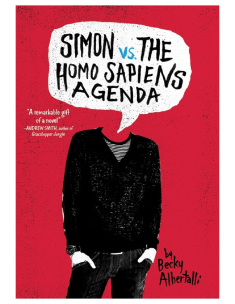 Simon and Blue in

Simon vs. the Homo Sapiens Agenda

by Becky Albertalli
Selected by Perry N. Halkitis, dean, School of Public Health and director, Center for Health, Identity, Behavior and Prevention Studies, Rutgers Biomedical and Health Sciences
My must-read this February is Simon vs. the Homo Sapiens Agenda by Becky Albertalli.
The book is a coming-of-age story that focuses on Simon Spier, a gay high school teenager who is forced to come out by one of his classmates and highlights the plight that many young people face navigating their sexuality, love, and ability to come out on their own terms.
The novel follows Simon and Blue (a fellow classmate), who establish a romance via email, and finally meet each other at a carnival after corresponding for several months. While same sex love has been pathologized in literature all throughout the 20th century, this book celebrates its beauty. It is a story of young love, same sex love, and is a powerful depiction of how two men can love each other in a healthy, romantic, and inspirational way.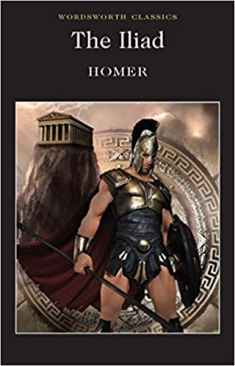 Patroclus and Achilles in Homer's The Iliad
Selected by Petros Levounis, professor and chair, Department of Psychiatry and associate dean, New Jersey Medical School, Rutgers Biomedical and Health Sciences
The Iliad's Patroclus and Achilles are my favorite lovers in world literature. Their deep relationship has all the elements of eros in a classic Freudian sense of the word--an intense drive for life, love, sexuality, creativity, and "anabolism" (Aufbau). While the demi-god Achilles is egocentric and callous towards everyone else, he is sweet and tender towards Patroclus, and open to accepting Patroclus's affection.
Their romance plays out in the context of the Trojan War with all the triumph and tragedy that war entails. When Patroclus dies in battle, the brilliance of The Iliad swings full force. As soon as the terrible news of his lover's death is broken to Achilles, we come across one of the most chilling descriptions of thanatos, Freud's second fundamental drive of our humanity besides eros. Thanatos is the drive towards death, violence, aggression, destruction, and "catabolism" (Zerfall).
When the most profound bond of love is broken, and our psyche unleashes its most powerful opposing force, Homer's words ring haunting and true: "The black darkness of unspeakable pain came upon Achilles. In his two hands, he picked up the dark dust and poured it over his beautiful face. He threw himself on the ground and lay there, with his fine body stretched out, like a great statue fallen. Then he cried out aloud with such a dreadful cry that his mother Thetis heard him from the depths of the sea. Three times Achilles let his cry ring out over the Trojan plain, like a bearded lion when a hunter has killed one of his cubs."