Bridget Gellert Lyons Remembered for Her Legacy as a Consummate Teacher  
Her career at Rutgers spanned more than three decades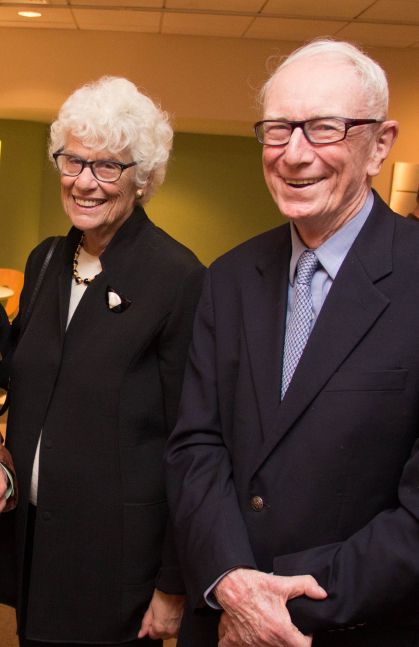 Bridget Gellert Lyons, who earned accolades as a scholar of English Renaissance literature and rose to become dean of humanities at the School of Arts and Sciences, is being celebrated for the legacy she built through the connections she made with students during her 36 years at Rutgers.
The former English department chair and longtime professor died on May 8 at the age of 90 after a brief illness.
"Teaching is what she most relished," said her husband Robert Lyons. The couple met in 1965 when she joined him on the faculty of Rutgers English department and were married for 52 years.
"Bridget was smart. She was charming. And we shared many interests – music, theater, and of course literature," he said. "Her specialty was Renaissance and mine American literature and film, but that didn't hinder us," he said with a chuckle. The couple celebrated Gellert Lyons' 90th birthday last September in their beloved second home in Jacksonville, Vermont.
Rutgers Professor Emeritus Barry Qualls began sharing office space with Gellert Lyons when he joined the English department in 1971. "She had such an intellectual presence without being intimidating," Qualls said. What captivated him was how "remarkably generous she was toward her students and indeed everyone."
Qualls, only 26 when hired, confided to Gellert Lyons after his first semester that he felt inadequate as an instructor. "She told me to 'throw out your education and start over,'" he recalled. "She was telling me to stop being a graduate student. And from her I learned more about classroom teaching and educating students in the close reading of literary texts. I know I owe my career to her," said Qualls, who specialized in Victorian literature and went on to become Rutgers' vice president of undergraduate education.
Gellert Lyons taught a popular Shakespeare class that attracted 400 undergraduates and served as director of graduate studies for nine years. She also chaired the English department for three years before being appointed dean of humanities. In 1989, she decided to return to full-time teaching, and Qualls replaced her as dean.
"She was a wonderful teacher," said Brian Lockey, a St. John's University English professor who earned his doctoral degree in English literature at Rutgers in 1999. "She made sure you knew everything so you could teach it. Over the years she would check in on Lockey, most recently to congratulate him for an article he published in Renaissance Quarterly, the leading American journal of Renaissance studies where Gellert Lyons had been a long-time editor. "My time at Rutgers was intellectually challenging and very rewarding, and she was a big part of that for me," Lockey said.
Gellert Lyons was born in Prague in 1932. Her family left Czechoslovakia before the Nazi invasion, moving to England and then Cuba before immigrating to the U.S., her husband reported. She studied history and literature at Radcliffe College in Cambridge, Massachusetts.
Annette Liberson-Drewry recalled how she met the woman who would become a lifelong friend: "It was 1951, in our sophomore year at Radcliffe. Someone in an adjoining room started whistling a passage from Mozart's "Eine kleine Nachtmusik." I went next door to compliment the person—it was Bridget; she was a champion whistler." The friends became roommates, and then kept in touch while Gellert Lyons attended England's Oxford University for her master's degree.
Gellert Lyons worked in publishing for several years before pursuing her doctorate at Columbia University in New York and launching her career at Rutgers. She wrote several books, including Voices of Melancholy, which focused on literary treatments of melancholy in the Renaissance, and a detailed analysis of Orson Welles's Chimes at Midnight, based on Shakespeare's Sir John Falstaff.
Despite her rigorous professional life, "Bridget always had time for family and friends," Liberson-Drewry said. "She was a great cook and loved having people over for dinner. She had a great fund of stories and a marvelous sense of humor." 
At the start of the pandemic, Gellert Lyons asked Qualls to lead a reading group on Victorian fiction; five people met on Zoom almost weekly through December 2022, completing 23 novels.  "Bridget (Bob too) was always looking for ways to give pleasure to the people she cared about," Liberson-Drewry said.
Gellert Lyons' support for Rutgers remained strong even after her 2001 retirement. The couple endowed the Bridget Gellert Lyons and Robert Lyons Travel Fellowship in 2012 to provide graduate students in Renaissance studies up to $5,000 to travel for their research. "We saw it as being a useful way to support the English department," Lyons said. To date, 72 students have received the fellowship.
Lyons, who retired from Queens College/CUNY, occasionally collaborated professionally with his wife. In 2000, they co-taught a Rutgers course on Shakespeare's plays and film versions. "That was really enjoyable," he noted. Lyons said he finds comfort living in the apartment the couple shared for more than five decades. "I can imagine her, what she'd be doing, what she'd be saying." A private memorial will take place in mid-September.