Cuban Immigrant Follows in Her Family's Footsteps, Majoring in Astrophysics and Art History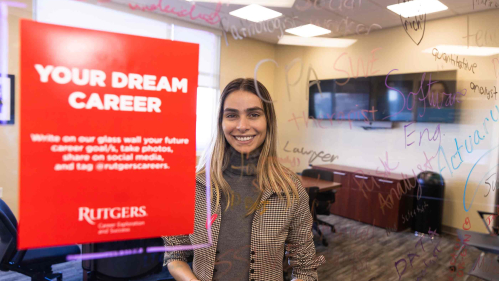 Celín Hidalgo, who graduated from Rutgers–New Brunswick in May, found common ground in two seemingly distant academic fields 
A Cuban immigrant who came to the United States at age 11, Celín Hidalgo worried about her command of English. So, as a college student, she found herself gravitating toward the universal languages of art and math. 
Hidalgo, a senior at Rutgers University–New Brunswick, graduated this spring with dual majors in astrophysics and art history from the School of Arts and Sciences.  
She said that for art, as with numbers, "you don't really need to speak the language to understand other people. It is an international language. Everyone can just look at a painting and get the same feelings." 
Coming from Cuba, Hidalgo recalled turning to the arts and math during her middle school years to "get away from speaking English." 
"I didn't know English," said Hidalgo, before adding her interest in astrophysics "came from math" and that she was drawn to the sciences "to find passion in the numbers, since I didn't know the language."  
As a high school student, Hidalgo took an online class about gravitational waves through the Autonomous University of Madrid. The Elizabeth resident said the experience for her "opened the field of observational astrophysics, which is what I want to do."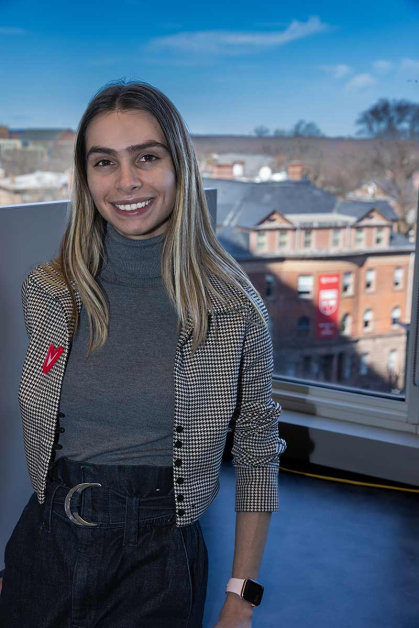 Hidalgo's two academic passions are directly tied to family: Hidalgo's mother pursued a career in education, but her first love was art.
"Her dream was always to be an art historian," said Hidalgo. "So, I grew up basically in a museum. She would take me to every new exhibition."
Hildalgo's father, on the other hand, is a math professor at the University of Las Tunas in Cuba, "so, I also grew up in a classroom with him," she said.
"When it came time to decide which field to go for – either humanities or sciences – I couldn't because I grew up with both and I love them," said the 21-year-old. "Throughout my life, I also found ways to connect them both. They don't really have to be different."
Earlier this year, Hidalgo spoke to fellow students about Theo Jansen, a Dutch artist who creates kinetic sculptures from plastic tubes.
"He creates art pieces that move using physics," said Hidalgo, adding that she puts her photography abilities to good use when taking pictures from telescopes.
Hidalgo said she enjoys balancing the creative and the analytical.
"It's actually really fun because it gives me a break from astrophysics," Hidalgo said of art history, explaining that she will step away from her math work to look at paintings or analyze the historical context of the art.
Conversely, "if I'm writing too many papers for art history, I can always go back and just wander around black holes" and return to her astrophysics coursework, she said.
Hidalgo, a founding member of the Union of Cuban American Students organization at Rutgers, was selected to develop a fall seminar called "Exploring Art History," a one-credit, 10-week college class she taught as part of the university's First-Year Interest Group Seminars (FIGS) program, which is overseen by the Office of Career Exploration and Success.
"She had the unique challenge of making the class about art history, but also introducing the first-year students in her class to the Rutgers community and all of the resources that they have at their fingertips," said Susan Bennet, associate director of first-year career engagement who coordinates the FIGS program. "Her lesson plans were really exciting for students. She made art history accessible to them, which might be hard for 18-year-olds without much exposure to it. All of her work demonstrated her deep care for her subject and for her students."
When it came time to decide which field to go for – either humanities or sciences – I couldn't because I grew up with both and I love them. Throughout my life, I also found ways to connect them both. They don't really have to be different.

Celín Hidalgo

2023 Rutgers–New Brunswick graduate
Andrés Zervigón, a professor who teaches photo history at the Department of Art History, said Hidalgo took one of his classes, an online course on 20th century photography, during the COVID-19 pandemic. He took note of the essays she submitted.
"Her work was consistently good," said Zervigón, adding that Hidalgo chose to write about a Cuban photographer. "I thought, 'Oh, good writer, someone who really understands the nuances of Cuba in its history and photography of that moment.'"
Zervigón, who advised Hidalgo on her honors thesis, said the student's detail-oriented science mind is evident in her art essays.
"These are definitely two different parts of her mind that are at work, and it's exciting that she can do this," said Zervigón, who added his family is part Cuban. "She is able to write and think from a position as a migrant to the United States and also to negotiate the tricky politics of the Cuban government today and its relationship to the U.S. It's exciting to see that." 
In February, Hidalgo was one of two student speakers who took part in TEDxRutgers, a TED Talks-like series of presentations held at the Livingston Student Center in Piscataway. She spoke about her experiences and identity as a Cuban immigrant as well as breaching language barriers through math. 
 
"It's a universal language that I could speak with teachers, even though I didn't speak English," she said. 
 
As for art, "maybe I can find a way to combine both in the future," said Hidalgo, who was selected as a Brooke Owens Fellow and will be interning at NASA's Goddard Space Flight Center in Greenbelt, Md., this summer.