Chancellor-Provost Conway Appoints Lawson as Permanent Executive Dean of the School of Environmental and Biological Sciences
Laura Lawson, an accomplished researcher and leader in the fields of urban agriculture, participatory design and community garden and open neighborhood space design and management, has been appointed permanent executive dean for Rutgers School of Environmental and Biological Sciences (SEBS) and executive director of the Rutgers New Jersey Agricultural Experiment Station (NJAES).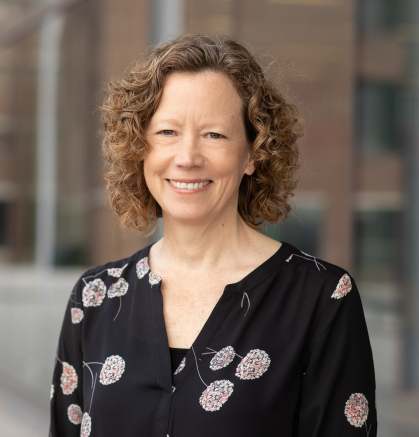 Lawson has served as interim dean and interim executive director since 2020. During that time, Lawson oversaw: the completion and analysis of an operational assessment of both institutions and adopted its recommendations; the completion of the SEBS/NJAES Diversity Action Plan and efforts to begin its implementation; the reprioritization of outreach and education efforts by Rutgers Gardens staff to align with President Holloway's priorities; and the transition to remote learning during the pandemic, among other accomplishments. She and her team have strengthened institutional relationships with the agricultural community in New Jersey through engagement with stakeholders and reinvestment in the research farms, coastal facilities, and programs across the state.
Rutgers-New Brunswick Chancellor-Provost Francine Conway said, "Under Dean Lawson's leadership, SEBS and NJAES continue to exemplify the Rutgers-New Brunswick distinction – a commitment to community service, student success and research that touches on the well-being of our lives and society in myriad ways. Her ability to bring people together and develop industry partnerships makes her the right leader for SEBS and NJAES. We proudly congratulate her on her continuing service."
A Commitment to Agriculture and the Student Experience
Before becoming interim dean in 2020, Lawson was the dean of academic programs at SEBS. Her contributions to the school include the development of campus living labs, improving the student experience with hands-on learning and igniting a passion for community-based projects, enhancing out-of-state and international undergraduate recruitment and participating in the school's strategic planning process.
As a professor of landscape architecture, Lawson is known for her research on urban agriculture, community gardens, neighborhood open space and participatory design. She came to Rutgers as chair of the Department of Landscape Architecture, and during her tenure enrolled the first students into a new graduate program, oversaw accreditation, established two endowments for student scholarships and expanded student enrollments.
Leading the Way in Environmental and Biological Sciences
As the land grant university of the state, Rutgers includes the New Jersey Agricultural Experiment Station as a resource to conduct research and provide technical assistance and education opportunities pertaining to agriculture in its broadest sense, from farming to food systems and natural resource stewardship. A key component of NJAES is Rutgers Cooperative Extension, which includes county agent faculty and staff working in every county of the state to provide technical and educational support.  According to NJAES, their twenty years of research investment in fruit, vegetable, nursery and aquaculture have created disease-resistant, drought-tolerant and high-yield products. Cooperative Extension also includes 4-H programs that engage thousands of New Jersey youth in STEM, arts, animal husbandry, nature programs and a wide range of nutrition and health programs that bring the best in research and education to New Jersey residents to promote health, reduce risks from chronic diseases and eat healthy on a budget.
Originally established in 1864 as a college of agriculture, SEBS has played a large part in agriculture, environmental and health advancements in New Jersey and around the globe. Today, world-renowned researchers at SEBS address the pressing needs of the 21st century in the environment, climate, marine and coastal, agriculture, microbiology, nutrition, plant biology, landscape design, food systems and beyond. As stated in the 2020 strategic plan, SEBS faculty, staff, and students are committed to "a healthy and sustainable future that balances the well-being of all living organisms with the health of the earth."
From groundbreaking hands-on research projects to service-learning opportunities, SEBS prepares students for professional school (medical, dental, veterinary medicine and law), graduate study and positions in government, business and health-related industries. SEBS offers 22 majors and over 30 minors, all committed to providing experiential learning, from students working in labs to internships in health care and industry.  The school also offers a number of graduate programs that provide advanced research opportunities.