Cafeteria Trays Dropped from Dining Halls at Rutgers to Reduce Waste
Move saves $300K in food costs and reduces food waste by 20 percent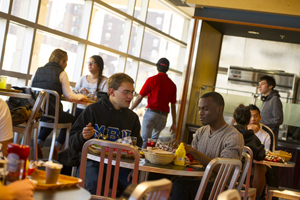 'We buy the food, put energy into cooking the food, then we pay to have someone take it away. We are not expecting students to consume any less than they ever did, we just expect them to waste less.'

 

– Joseph Charette

 
Lindsay Yoakam used to load her tray in the dining halls at Rutgers with three or four plates: usually soup, salad, dinner and a dessert that she may, or may not, eat. It was easy to carry a lot of food, so she didn't have to think about how much she took.
Whatever she didn't eat went into the trash at the end of her meal.
"I was probably throwing out a good amount,'' said Yoakam, a senior nutritional sciences major from Mount Laurel. "I know it wasn't sustainable, but when you have a tray you figure you will take it all and decide what you want when you sit down.''
But the days of students loading their trays with as much food as they can carry, even when it's more than they can eat, are ending at Rutgers University-New Brunswick. Rutgers is joining a growing list of colleges and universities that have eliminated trays in the dining halls. The change helps save on everything from the cost of food and water to the sanitizer used to wash dishes. Eliminating trays also has a significant environmental benefit by dramatically reducing the amount of food that is wasted.
"We buy the food, put energy into cooking the food, then we pay to have someone take it away,'' said Joseph Charette, executive director of Rutgers University Dining Services. "We are not expecting students to consume any less than they ever did, we just expect them to waste less.''
In the first 10 weeks since trays were eliminated this semester in three of the four dining halls, Rutgers has saved $300,000 in food costs and seen a 20 percent reduction in the amount students toss after they eat, Charette said. At a university that serves 130,000 meals a week, the new policy prevents a significant amount of food from ending up in the trash.
Students used to return their trays with picked over dessert, cold bowls of soup that were never touched, half eaten meals and glasses full of milk. Dining services kept that food out of the landfill by paying a farmer from Hillsborough to haul away about 4 million pounds of waste a year to use as animal feed. Rutgers won accolades for the arrangement and was singled out by the U.S. Environmental Protection Agency for the sustainable handling of its food waste.
But Charette said dining services was still disposing of a significant amount of food.
"It's great that we are doing the recycling, but it would be better if we didn't have all that waste,'' he said.
Dining services had considered eliminating trays for some time. Charette said that over the years students suggested joining a list of schools that includes the University of Michigan, Purdue, the University of Massachusetts Amherst and dozens more.
With the cost of food rising 8-10 percent a year, dining services eliminated trays this semester at the Neilson, Busch and Livingston dining halls. Brower Commons, the last dining hall where trays are available on College Avenue, would have to be redesigned to make the switch, Charette said.
Not all students welcome the switch. Some complain it's hard to balance all the food they want to take, and they feel self-conscious about going up for second or third helpings. But the initiative was never about limiting how much students eat, only what they waste.
 "Now students can take all they want, but they eat what they take,'' said Nicholas Emanuel, assistant director of Rutgers Dining Services. 
The savings in food costs help defray any increases in student meal plans and are invested back into programs for students.
"When food prices increase, we are faced with a situation where we have to react,'' Emanuel said. "It is something we should have done earlier but we found that it is a great thing to do.''
In addition to saving money and reducing food waste, some students found that eliminating trays led to healthier eating..
"There are so many options in the dining halls – you see everything and you want to try everything,'' said Taylor Palm, a senior nutrition major from Mays Landing.
But without a tray she can fill with several plates, she has to make the decision to go back for seconds. Most of the time, she realizes the first plate of food she took was enough.
"It is making me watch what I eat because you can't take too much,'' she said.
---
Media Contact: Andrea Alexander 848-932-0556 or aalexander@ucm.rutgers.edu