Hall of Fame Women's Basketball Coach to Be Honored at Rutgers
On Sunday, Rutgers will mark C. Vivian Stringer Day with a dedication ceremony to name the Jersey Mike's Arena basketball court for the Hall of Fame coach. Prior to the noon game vs. Ohio State, there will be a brief ceremony at 11:50 a.m. with an additional recognition at halftime.
The date will be added to a list of countless other memories Stringer has made during her 25 years and 800 games as head coach of the Rutgers women's basketball team.
"I'm honored. I'm grateful, happy and excited," she said. "My sons and daughter and several former players will be there. I really appreciate it."
Rutgers Today challenged Stringer to rank the top five memorable moments she's had here between 1996 and 2021. Certainly, there were more than five experiences that stood out, including her very first Rutgers win, played in Piscataway on Nov. 25, 1995, against Penn State.
There was also Feb. 17, 2001, when Rutgers knocked off the nation's top-ranked team, Notre Dame, 54-53 in front of 8,587 fans. The Irish went on to win the National Championship, losing only twice. On March 6, 2007, Rutgers won the Big East Tournament with a 70-44 win over Connecticut. The Huskies had beaten Rutgers twice during the regular season.
And during an eight-day stretch from Dec. 29, 2004 to Jan. 5, 2005, Rutgers defeated powerhouse Tennessee, ended a 41-game home winning streak at Texas and returned home – in front of a crowd of more than 7,000 – to beat the nation's No. 1 team, LSU, in overtime.
All memorable moments, but none of the above are among Stringer's top five at Rutgers.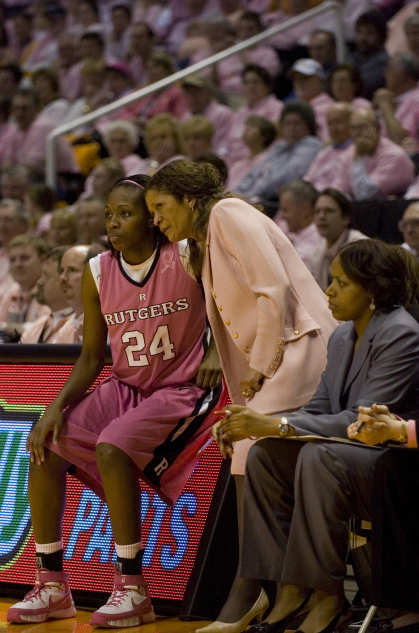 Feb. 11, 2008: Frozen Clock Game
Rutgers was beating Tennessee 58-57 in the final seconds down in Knoxville, and following three missed shots before the buzzer, the Scarlet Knights began to celebrate. Replays showed the clock pausing at .02 when the whistle blew. The referees determined there was still time on the clock, thus allowing Tennessee senior Nicky Anosike two free throws. She swished both, and the place erupted.
It was reported the next day that the inventor of the timing device suspected "human error," suggesting the wrong team won. Fourteen years later, YouTube confirms that the clock was inadvertently stopped at 0:02.
"I was very upset,'' Stringer said, "because our kids came off the floor and they knew they had won, as well as I. This was a shame, because (coach) Pat (Summit) was a good friend, and she knew that wasn't right." 
Tennessee went on to win the national championship with a 36-2 record.
March 24, 2007: Duke Road Trip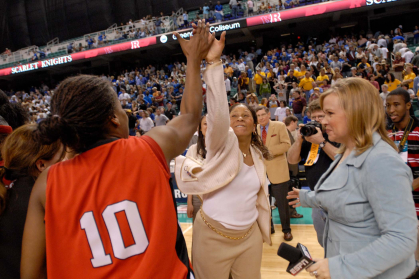 Rutgers took on 34-1 Duke in Greensboro, North Carolina, in the Sweet Sixteen. The Scarlet Knights had lost to the Blue Devils earlier in the season by 40 points. But on this day, Rutgers was leading 53-52 when with 0:01 to play, National Player of the Year Lindsey Harding was fouled.
"I was standing there thinking, 'Oh god. I don't believe you would bring me this far to leave me. It was hope against hope. Are you serious? That was in my mind, and I was praying at the same time. Two free throws. Think about that. And she was a great free throw shooter. But on this day, at this time, she missed both of them. I truly believed that it was our destiny."
The next day, Rutgers blasted Arizona by 19 points, advancing to the Final Four in Cleveland.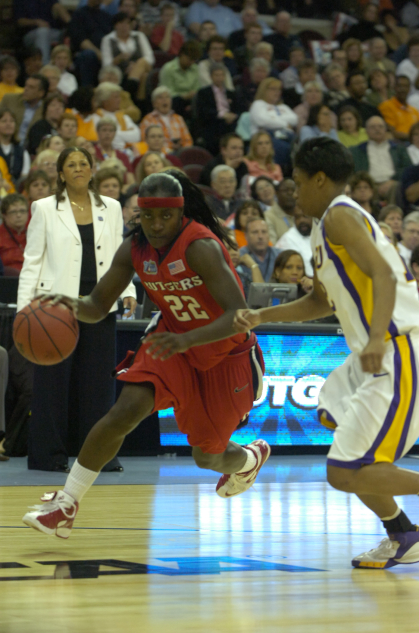 April 1, 2007: On to the Finals
In one of its most memorable seasons, Rutgers came and crushed Louisiana State in the Final Four, 59-35. Rutgers limited LSU to 26.4 percent shooting. A month earlier the Tigers had knocked off Connecticut by 23 points and eventual national champion Tennessee by 9. In the final Coaches Poll, LSU was 4th, UConn 5th and Duke 6th.
"I remember watching the tape of the LSU game, and the basket looked wider than the ocean," Stringer said. "It was one basket after another. I was thrilled. I can't express how excited I was; the most amazing thing I've ever seen."
Dec. 4, 2005: A Bittersweet Return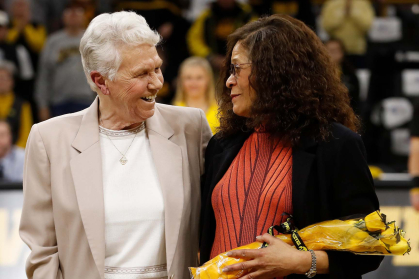 Having taken a job back east, Stringer never fathomed returning to Iowa City. But 10 years later she did, facing her former school. The Scarlet Knights would win the game against University of Iowa, 57-51, a victory with mixed emotion.
It was strange enough to walk onto the floor at Carver-Hawkeye Arena, but looking into the stands to where her late husband Bill used to sit made the moment even tougher.
"I felt like a traitor," she said. "I cried. It was a heartbreaking situation. I don't know how to explain it. I wasn't happy we had to play them."                      
April 4, 2007: A Great Moment Overshadowed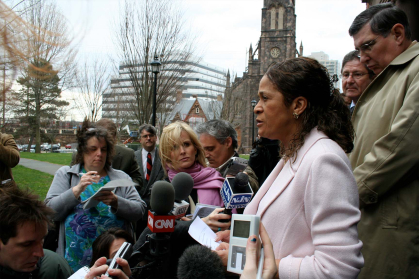 After arriving home from Cleveland following the Final Four, the team was bombarded with the news that radio shock jock Don Imus had used a racist slur to describe them. The criticism went national, and the host of "Imus in the Morning" was fired shortly thereafter.
"That was my most memorable 24 hours," Stringer said. "With that said, oh wow. Oh, my God. I spent so much time trying to explain to the players that it wasn't okay. I was so upset about this. That was a moment we should have been so proud and happy."
On Dec. 4 she will be both.