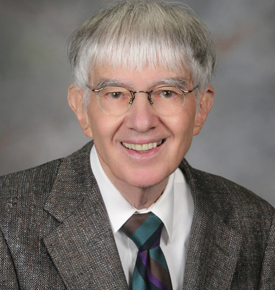 Allan H. Conney, a world-renowned pharmacologist and cancer researcher at Rutgers University Ernest Mario School of Pharmacy whose decades of research demonstrated that such common sense activities as drinking green tea and getting more exercise may help prevent the spread of cancer, died suddenly on September 10.  He was 83.
Conney, the William M. and Myrle W. Garbe Professor of Cancer and Leukemia Research and Director of the Susan Lehman Cullman Laboratory for Cancer Research, had a long and distinguished record of research, teaching and service and in recent years made important discoveries on how caffeine, exercise and liposuction inhibit skin cancer.
"Allan Conney has been an icon here at the school for decades," said Rutgers School of Pharmacy Acting Dean Joseph Barone. "He has been a teacher, mentor and colleague to many of us. He will be truly missed."
Conney, a beloved Rutgers faculty member in the Department of Chemical Biology since 1987, was the driving force behind the creation of the Susan Lehman Cullman Laboratory for Cancer Research at Rutgers and was honored with the prestigious Daniel Gorenstein Memorial Award in recognition of his outstanding scholarly achievement and exceptional service to the University. He was among the seven most cited scientists in the world in the field of pharmacological science from 1965-1978, according to the Science Citation index.
Elected to the National Academy of Sciences (USA), Conney spent decades researching the toxicological effects in everyday life that act as triggers in the formation of cancer. He was a Fellow of the American Association for the Advancement of Science and the New York Academy of Sciences, and was selected as a Pioneer of Cancer Prevention. Conney published more than 500 articles of original work in scientific literature and was featured in journals such as Cancer Research, PNAS, Nature, Science, Toxicological Sciences, and the International Journal of Oncology. He served on the editorial boards of the New England Journal of Medicine, Journal of Clinical Investigation, Journal of Pharmacology and Experimental Therapeutics, Molecular Pharmacology, Proceedings of the National Academy of Sciences (USA), Cancer Prevention Research and the International Journal of Oncology.
 Well-known for his research into the anti-cancer properties of exercise and caffeine in relation to skin cancer, and as an advocate for individualized cancer prevention and treatment, Conney was recognized for his achievements by the Society of Toxicology and the Academy of Pharmaceutical Sciences.  He was awarded the Arnold J. Lehman Award from the Society of Toxicology, the Outstanding Investigator Award from the National Cancer Institute, the Ernest H. Volwiler Award from the American Association of Colleges of Pharmacy, and the IBM-Princess Takamatsu Cancer Research Fund Lecturer Award. He also received international recognition for his research, having a laboratory at the Guangdong University of Technology in Guangzhou, China – the Allan H. Conney Laboratory for Anticancer Research – named in his honor.
"Throughout his illustrious career, Dr. Conney made countless strides in the field of cancer prevention," said oncologist Robert S. DiPaola, director of the Cancer Institute of New Jersey. "He was an invaluable role model to dozens of students and scientific researchers and guided many in the field of cancer chemoprevention."
Conney, who was born in Chicago, and lived in Princeton, received his Ph.D. from the University of Wisconsin. He is survived by his wife, Diana Conney, two sons, Steven Conney and Michael Conney, daughter-in-law Yulin Conney (Michael's wife), Granddaughter Melissa Conney (Michael's daughter) and one sister Ruth Adrian.  A memorial service will be held at a later date.  Donations can be sent to Rutgers University, c/o Renping Zhou, Chair, Department of Chemical Biology, Ernest Mario School of Pharmacy, Rutgers, The State University of New Jersey, 164 Frelinghuysen Road, Piscataway, NJ  08854-8020.